Woman Reveals How To Tell If 'Gym Creeps' Are Staring in 'Genius' Video
A woman shared a trick in a now-viral TikTok video showing how people can find out if someone is staring at them at the gym.
Posted by Emily Wolf to her TikTok and Instagram accounts @emilywithanimals on May 26, the clip has since amassed more than 600,000 views.
"This video is probably going to upset some men lol #equinox #gymcreeps #whydomen #iphonetricks #lifehacks," read the caption of her video.
A study conducted by Fit Rated found that about 70 percent of women had an uncomfortable experience while they were working out at the gym.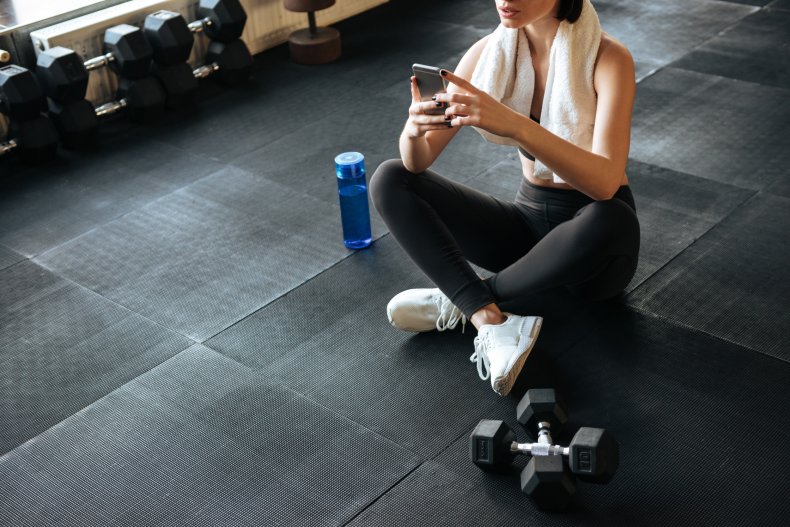 An overwhelming majority of respondents also shared they do not enjoy being stared at while working out, even if it is in admiration, and do not enjoy being flirted with while working out.
"Of the nearly 76 percent of women who reported being watched by someone at the gym, almost 72 percent changed their routine to make sure it didn't happen again," the organization stated.
In her video, Wolf said that someone who feels that they are being watched can use the camera on their phone to find out if that is the case.
"Point your camera down low and just pretend you're texting, totally not suspicious," she said. "Without moving your phone, switch to wide-angle and now you'll be able to see their face and whether or not they're staring at you."
Wolf concluded her clip by showing a man at the gym who she discovered was staring at her.
Viewers took to the comments section to share their thoughts.
Some wrote that there was nothing wrong with people looking at others while at the gym.
"Wait, why is looking at someone bad now?" a viewer asked.
One wrote that they find themselves accidentally staring at someone if they happen to walk into their line of vision.
"So checking people out is a crime now," another wrote.
Wolf replied and said there was a difference between briefly checking someone out and staring at someone.
Other viewers shared that they would have been more direct with the person staring at them.
"I always just straight up ask them if they have a problem," a viewer shared. "That's [what] other men would do."
"I will literally call out 'what are you [staring] at?' and then look at them be embarrassed," commented another.
"Nope—I'm looking them right into their soul," one commenter wrote. "I'll make them more uncomfortable."
The trick was helpful to other viewers who said they planned to try it at the gym themselves.
"Genius," one wrote. "Thank you so much."
"This is really good advice," commented another.
Wolf told Newsweek in an email that she works as a personal trainer, and her clients are exclusively women.
She said that she knew the video would attract some comments claiming that "boys will be boys," but was glad to see some people have not dealt with "leering men."
"I couldn't begin to tell you the number of times I have heard from women that these men make them too afraid to go to the gym," she said. "It might not seem like much, but I'm hoping that this trick I came up with might help a few women to feel a bit braver."
Many other gym-goers have shared their uncomfortable experiences when they went to work out.
A man wrote a Reddit post on the forum "Am I the A**hole" explaining that he tried to give advice to a woman at the gym about a workout routine, but commenters criticized him for his approach.
A fitness influencer shared a video on TikTok that shows her reaction to a man that walked close to the area she was working out.
Another woman posted a video that captured a conversation in which a man reportedly threatened to hit her with a dumbbell.