A woman has revealed the realities of living inside a van full time, including how she showers and cooks meals.
Georgia Broderick is documenting her van-life journey on social media, as she shares home tours and explainer videos on her lifestyle.
Broderick, originally from Australia but now based in Canada, has been living in the ProMaster 2500 for the past two years with her boyfriend.
She began posting TikTok videos at the start of this year, as she revealed the best and worst things about living in a vehicle.
The 27-year-old told Newsweek: "We converted it ourselves and we probably put about $10,000 into the original build and at the moment we are renovating and are probably going to put another $5,000 into it."
One question she has been asked often is how she uses the bathroom while on the road.
Holding a shovel and some toilet paper, she explained: "If I'm out in nature I'll just dig a hole. If I'm in the city or it's the middle of the night I'll just use a Shewee and just pee into a bottle. Otherwise I just use public bathrooms. You don't need a fancy composting toilet to van life. Also outhouses and truck stops are great too."
As she doesn't have a bathroom on board, it also makes showering tricky.
There are a few options Broderick has turned to depending on where she is: "We actually don't have a shower in the van. So I'll pack up my soaps and a towel and put them in a bag, and I'll pop over to my local climbing gym to have a shower there. I'll usually take this time to wash my hair, since there's unlimited access to hot water. And then I'm all clean.
"Sometimes I'll go down to the river and use biodegradable soap. Otherwise I'll have a sink shower. But most of the time I shower at the gym."
Broderick, a music teacher, revealed that alongside online and in-person classes, she also works at a gym allowing her access to its facilities.
But it seems the gym lacks a washing machine, and Broderick has been forced to make arrangements every time she needs clean clothes.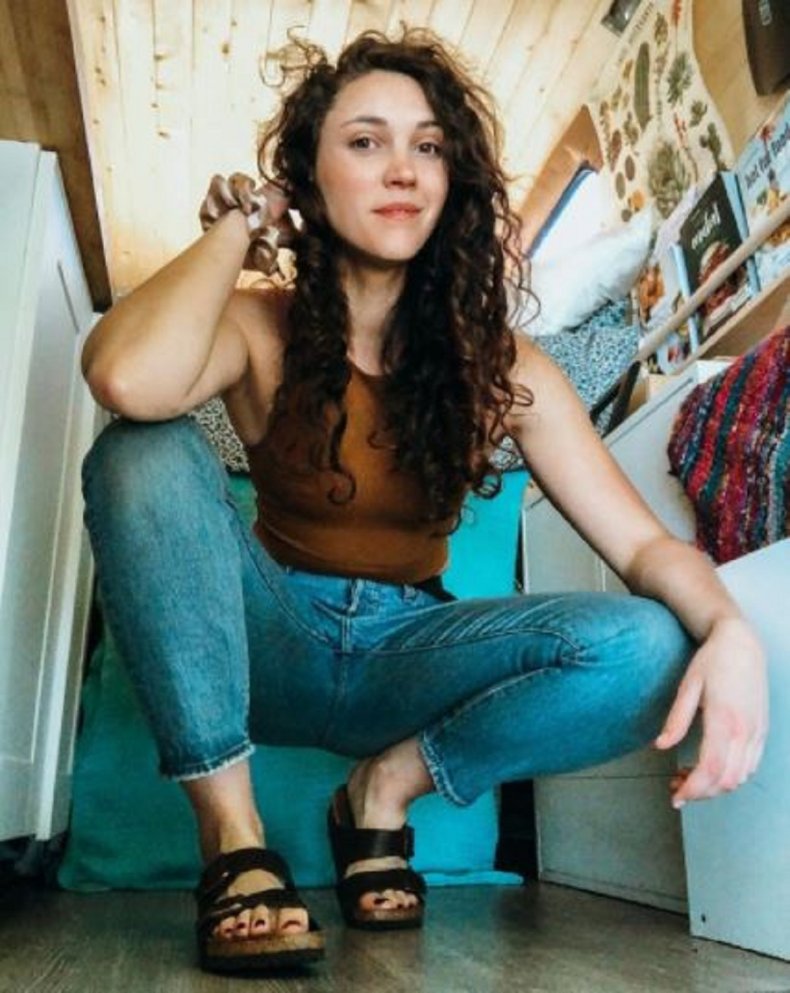 Broderick said she tries to avoid laundromats as they cost around $20, and instead washes at home a lot of the time.
"Let me show you how I do laundry in my van because laundromats are really expensive and I try not to go there unless I absolutely have to," she said.
She uses laundry detergent strips, and takes half that she then rips into small pieces.
Demonstrating, Broderick said in a video: "In the pot, next I'll add water. Today I'm just doing underwear and socks so in they go. Rub them together until they're clean. Going to lay my clean laundry on here, and rinse them all."
While washing and cleaning requires some forward-planning, Broderick's able to whip up delicious and healthy meals with ease— even though she doesn't have a fridge.
In another video, she said: "Is it hard to cook in a van? In short, no. I absolutely love cooking and that love didn't go away when I moved into the van. We also went with a really big kitchen in our build so I have lots of space for prepping and cooking.
"At the moment we've been using this camp stove but we're saving up for a permanent proper oven. We also have the fan for ventilation and if that's not enough we open up the doors."
And for creature comforts she has an iPad and a sim card, allowing her to access the internet without hot-spotting her phone.
"However if I know I'm going somewhere with no reception I'll download a movie first," she added.
In one candid video, she shared the four most annoying things about living in a van.
She listed them, saying: "Running out of water, and then having to find a place to refill the tanks. Constantly having to tidy up and clean because it's a small space and it gets messy quickly. Always trying to find restrooms, especially when you really need to go. And having to reorganize your clothes every time you do laundry."
And some things are more expensive, despite overall living costs being cheaper, as Broderick continued: "My phone bill is astronomical, because that's how we get internet. Food is more expensive because it goes off faster which means we're buying more of it. Insurance, I think that's self-explanatory. And petrol, because our van isn't diesel."
She explained to Newsweek: "The pros are the freedom to travel and move around, having your house with you everywhere you go, very handy for taking the groceries in, you have your own little apartment that you built yourself, you aren't paying rent so someone else can pay their mortgage, we don't have to have roommates and you can save a lot of money.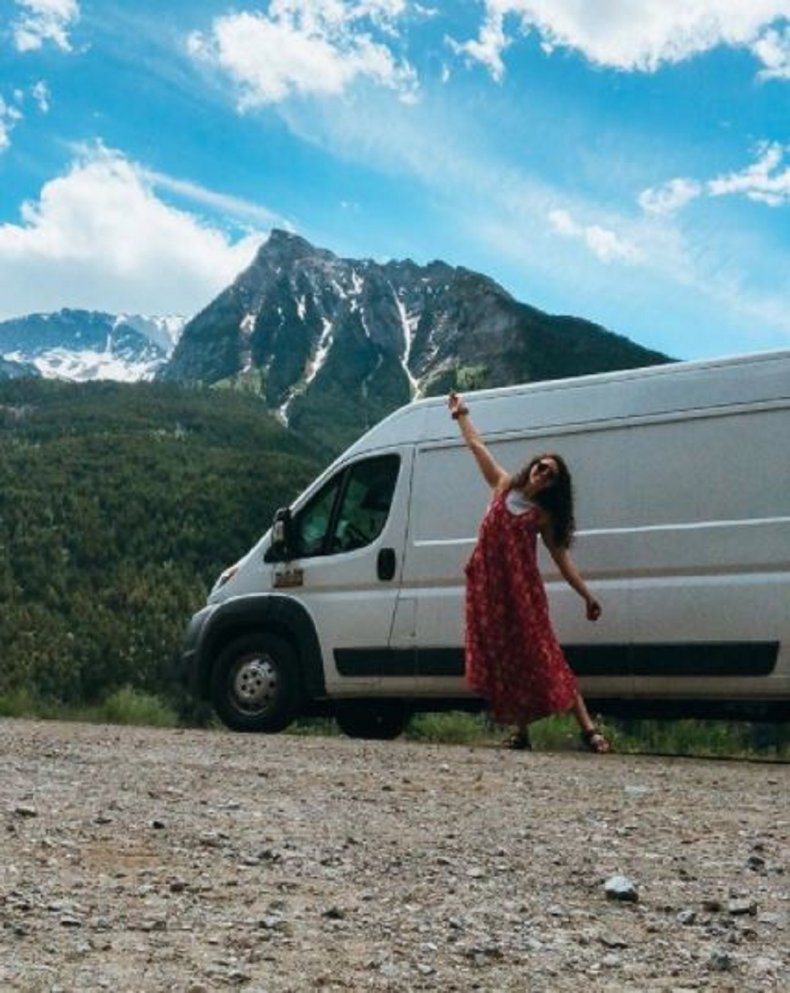 "The cons are finding a bathroom and shower can be annoying sometimes, having to keep track of your water so you don't run out, same with the propane. The cons really aren't that bad and the pros outweigh them by a mile. It's always nice to have access to a bathroom and shower whenever you want, dishwashers are also great because I hate doing the dishes."
Overall she reckons she's in a better financial position, as she went through how much her lifestyle costs.
"How much money do you save while living in a van? Let's go through it. When I was living in Vancouver I was paying just over $2,000. Living in a van I pay about $800-$900. That is a massive difference.
"When I was living in a house I was working 50 to 70 hours between five different jobs and I could barely afford to survive. Living in a van has given me the opportunity to work 30 to 35 hours a week save $1,000 a month and still buy the things I want or need."
She told Newsweek van life was very similar to living in a house, saying: "We have electricity, running water, a gas stove. Almost everything is exactly the same we just go to the bathroom and shower in public places, although some people have these things in their van with them."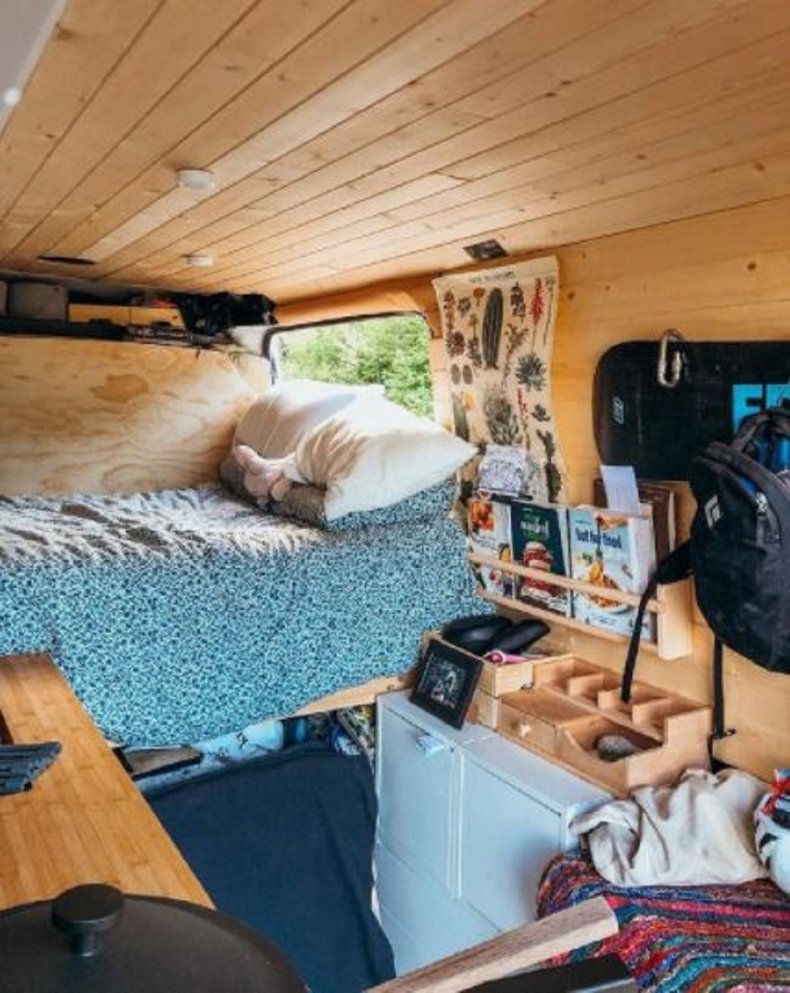 She also revealed the perks to her way of her life, saying her favorite thing is waking up to a new view every morning.
She continued: "Being able to brew your own cup of coffee whenever you want. Waking up in a new location with a new view every day. Having the freedom to enjoy our favorite activities from skiing to hiking and climbing. And being able to prepare healthy snacks and meals whenever we want."
She's currently in Ontario as the pair renovate their home on wheels, while staying at the house of her boyfriend's parents.
Broderick admitted it was a surreal experience waking up in a bedroom for the first time in years.
She uploaded Day 1 of their renovation on Sunday, as they insulate their van, make repairs, deep-clean it and sort through all their stuff—as well as install a fridge.
Despite enjoying their life on the road, she confirmed to Newsweek they're saving up for a deposit.
She said: "We are actually saving for a down payment at the moment, we are unsure as to whether we will move in or rent it out but eventually yes we want to move back into a house and keep the van for trips. We lead very normal lives just with a little more freedom and at a way cheaper cost."
Update 6/21/21, 11:30 a.m. ET: This article was updated with comments from Broderick, along with photos and video.