Any parent will know laundry is a never-ending chore, with the washer and dryer almost constantly on.
But a stay-at-home mom has sparked outrage after revealing she's stopped folding her children's clothes—claiming it's made laundry a breeze.
Courtney Bavis, from Canada, shared her hack on her TikTok, Playroom Inspo, in a video entitled: "No more folding kids' clothes."
The mom-of-two shared her system, using Ikea furniture, which involves putting clothing straight into drawers for hats, pyjamas, long and short-sleeve tops and pants.
Bavis said: "Normalize not folding your kids clothes. I timed putting these away and it was four minutes. So much better than clothes piled up for days waiting to be folded. I couldn't handle it anymore. I don't even pair socks. No fold system for the win."
The mom, who like most parents admitted she was in "survival mode," added: "A couple wrinkles that smooth out on clothes that get dirty quickly is not worth it to me. If you love folding clothes, do what makes you happy mama! My kids are 1 & 3! So much more time now for other tasks as well as for folding everything else."
Bavis, who's a mom to 18-month-old Austin and 3-year-old Ryker, explained to Newsweek that the laundry was beginning to pile up in her house, and she needed to find a solution.
She said: "Doing multiple loads of laundry each week while taking care of two toddlers (one with autism) was causing clean laundry to pile up in our home. When I finally was able to fold, my toddlers would then go into the drawers and unfold everything! Sorting instead of folding has become our new system and has become a huge time saver.
"I started this system after realizing that I could no longer do it all and that as moms, our time [is] valuable! I feel priorities are sometimes very difficult to set and folding clothes was definitely at the bottom of our list when it came to keeping our house clean and organized. It was time to say 'no' and let go of the mom guilt."
She added it may not work for everyone, but encouraged parents who are struggling to find a routine that works for them.
"These systems need to be personalized based on your own circumstances and what matters to your family at that time. I now am able to put laundry away in minutes and it is no longer such a daunting task! My young children also are able to help me sort," she added.
But the clip, which has racked up more than 3 million views since it was uploaded last week, has been divisive. It sparked fierce debate among parents, with other moms calling Bavis' tip "lazy."
"Really? What happened to self-discipline? I say we normalize self care by being clean and neat. Lead by example mom," ChaoticLioness33 snapped.
One woman, Tatiana, replied: "I wash, dry, iron, fold and put everything away."
Another, called WifeLife47, said: "I just fold them as I take them off the washing line or airer, they aren't ever 'waiting' to be folded. I'm such a perfectionist though."
Sharing their similar system, Megan Ogg revealed: "I just fold clothes as they come out of the dryer. If not, the clothes look wrinkled and soiled! But if it works for you. . . have at it!"
Mother Russia admitted: "As far as I remember we asked to fold our own clothes and if it wasn't done right we were asked to refold."
While Pearland Dairy Queen reckoned: "Lazy ppl just say 'normalize. . . this' in front of anything they don't want to do."
But some thanked Bavis for sharing her approach, with Emily Roach writing: "I'm so overwhelmed with my life and I feel like you just saved me a chunk of sanity. I never considered I could do this."
Kayla Sachse agreed, saying: "We don't bother folding cuz kids rifle through and throw all over the floor anyway."
And DrunkAtTheHelm pointed out: "Tbh is it worth wasting time on things you don't see value in if you can find a solution that works? The kids aren't gonna care."
Others called Bavis' idea "genius," and a "power move."
Bavis, who documents the parenting journey she shares with her husband, Jacques, and various tips on social media, uploaded a follow-up clip responding to the barrage of comments she received.
"It doesn't mean that I'm lazy, a bad mom, that I'm never going to teach my kids how to fold and take care of their clothes. It definitely doesn't mean that my kids are going to show up to job interviews with wrinkled clothes," she replied.
Bavis told Newsweek she was "shocked" with the response, and nearly removed the video as a result.
"I sadly did also receive a lot of backlash primarily calling me lazy and that I am not setting an example for my children. I was very shocked by these comments and almost took the video down when it went viral. Men came at me in the comments especially hard," she said.
But she focused on the positive responses she received instead, adding: "However, as I saw all of the parents that I seemed to be helping, I kept it up. This has been an extremely hard time for parents with young children and I believe we need to let go of what we 'should' be doing and focus more on what will make our families happier as a whole. I have had thousands of supportive comments on my video from other parents who are doing the same system or that are trying it now and thanking me for taking away their guilt."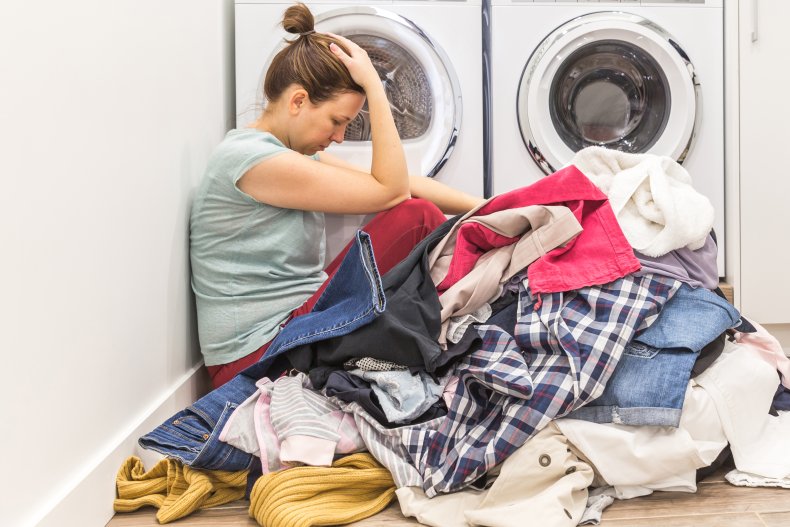 Update 5/07/21, 4:10 a.m. ET: The article has been updated to include comments from mother-of-two Courtney Bavis who shared her story on TikTok.