Woman Says Popeyes Employees Refused to Let Her Buy Homeless Man Food
A Georgia woman went viral after sharing footage of employees at a Popeyes restaurant in Atlanta allegedly refusing to let her buy food for a homeless man.
Jo Ortega, known as @thegirlyjo, posted several videos of the incident on TikTok where they received more than 6.5 million views total and 30,000 comments. The video can be found here.
Homelessness in America
The National Alliance to End Homelessness reported that 70 percent of the estimated 580,466 homeless people in America in 2020 were individuals.
Nearly 40,000 of the reported homeless were unaccompanied minors and more than 171,000 were people in families.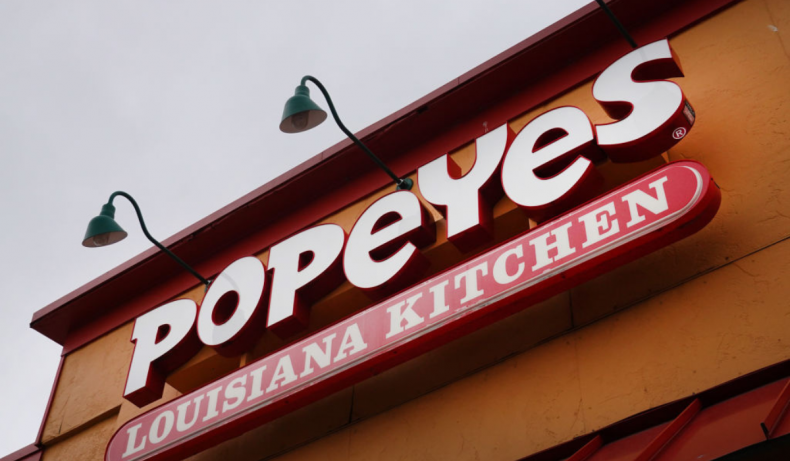 Men are more likely than women to experience homelessness in America, with about 22 out of 10,000 males experiencing homelessness compared to 13 out of 10,000 women.
In 2020, the estimated number of homeless individuals in Georgia was approximately 10,234 compared to more than 90,000 in New York and 161,000 in California.
'He's Asking for Food'
Ortega, a student at Georgia State University, posted the video with the caption "CRAZY Popeyes in Atlanta would not let me purchase food for homeless!"
In the video, Ortega showed a man standing next to her passenger side door while she attempted to order at the drive-thru window.
As Ortega requested to purchase a two-piece dinner for the man, one employee closed the window and turned their back on her.
Ortega then asked to speak with a manager but received no response.
"He's asking for food," Ortega said.
"No ma'am you can't do it," another employee said through the drive-thru window. "I don't care about you recording me baby."
The employee then closed the drive-thru window again and ignored Ortega when she asked for their names.
'This Is Crazy'
In another video, Ortega said the employees called the cops on her.
"I can't order for this homeless man right here who asked for food, he didn't ask for nothing," Ortega said as she showed the police lights behind her car. "He didn't even ask for no money and they being so rude. This is crazy."
Ortega told Fox 5 Atlanta that she was "terrified" when she saw the police because she thought she might be arrested.
"The officer pulled me to the side and said, 'I really thank you for doing that, thank you for buying him food. I appreciate that,'" Ortega told the news station.
The video then cut to the man—who said his name was Jazz—holding a drink from Popeyes.
"The manager in the Popeyes she turned this lady down when she offered me something to eat," the man said.
Afterward, Ortega was able to get in contact with the store's general manager who let her and the man order their food free of charge, Fox 5 Atlanta reported.
Ortega has since created a GoFundMe to raise money for Jazz.
"I want to help get him off the streets and buy him a new tent and socks," the fundraiser read. "All of the proceeds will go towards him and I'm currently looking for any programs in Atlanta Georgia that could help him out in his situation."
A spokesperson for Popeyes told Newsweek they were aware of the incident.
"At Popeyes, we are committed to treating everyone with dignity and respect," the statement read. "We have ensured all employees at this restaurant have been provided with re-training to help navigate a range of guest interactions, such as the situation highlighted in the video."
Popeyes in the News
Back in June, footage circulated online of a Popeyes employee being struck by another employee at a restaurant in Florida.
The video received more than 776,000 views and showed an argument between a male who is purportedly the manager at the Popeyes location and a female employee.
In March, another Popeyes employee gained local fame after footage of her charming guests with her singing went viral.
Another restaurant in Louisiana also went viral in March after sharing the story of a chicken named Rocco that arrived at the restaurant after Hurricane Ida in September 2021.
"This is both adorable and morbid," read a post on the Reddit forum r/NewOrleans. "Meet Slidell Popeyes's Rooster Mascot: Rocco."
Newsweek reached out to Popeyes and Jo Ortega for comment.