A viral Reddit post that received more than 12,000 votes detailed a woman's experience going through a job interview for a plumbing mechanic position.
The post, which was shared by u/bisqueef_munchies on the "Antiwork" Reddit forum, included screenshots of an email in which the poster alleged that she was told she would not be paid as much as what was shared in the job posting and noted that the receptionist told her she expected a man when she arrived at the interview.
The Chicago Women in Trades (CWIT) reported that there are barriers when it comes to recruiting women for trade careers.
"Women are not recruited into the industry and there are very few visible tradeswomen—entering the industry requires more drive and confidence to overcome these challenges," the organization noted as one of the barriers.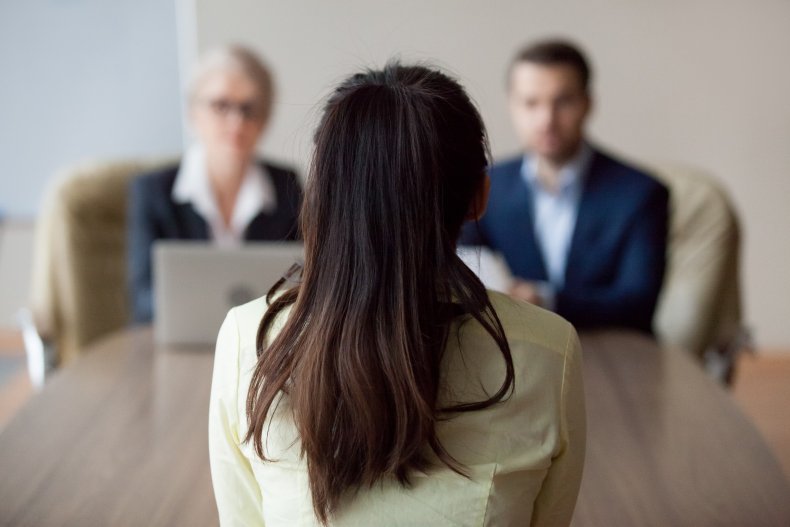 Furthermore, it stated that there is less confidence that women will have the same access to fair and equitable treatment in an apprenticeship.
In her post, u/bisqueef_munchies showed an email she received from a company employee who invited her to apply for the plumbing mechanic position through Indeed, which required two years of plumbing experience. The job listing also noted that the salary range was between $24 and $34 per hour.
Her experience quickly went downhill after her interview, as she outlined in an email she sent to a member of the company.
"I arrived on time for my interview and introduced myself to the receptionist, [name redacted]," the email read. "She said to me, 'oh, I was expecting a man.'"
After filling out an application, u/bisqueef_munchies began her interview. During this process, she was told that she would not be paid $24 per hour because she "did not have enough experience as a plumber."
However, the Redditor said her resume stated that she worked as a plumber's helper for five years and is enrolled in an apprenticeship program.
"I also pointed out that I met all the qualifications on the job listing, and [name redacted] contacted me, not the other way around," the email continued.
After the interview wrapped up, u/bisqueef_munchies wrote that the interviewer informed her that one master plumber worked for the company along with three plumbers who work under his license because they are unlicensed themselves.
"I have contacted Indeed and filed a complaint based on misleading wage information, false advertising, and the discriminatory sexist comment said to me by [name redacted]," the email concluded.
The account shocked readers who shared their thoughts in the comments section.
One Reddit user who said they work as a plumber said "older generation types" tend to have the mindset that "women can't physically hang with the boys."
"Old school mentality will be the death of this line of work," they wrote.
Another commenter suggested that female mechanics face similar treatment.
One wrote that the women they worked with at an auto repair shop were "extremely competent," but faced a patronizing attitude from fellow employees.
"As an insider, it is pretty obvious why there aren't more women in these trades," they commented.
Others shone their own light on the situation.
"As someone who has a penis, I can count the number of times it was important to the work being performed on 0 fingers," u/crypticedge said.
A commenter asked if u/bisqueef_munchies received a reply from the company, and she said she did not.
Newsweek reached out to u/bisqueef_munchies for further comment.
Reddit's "Antiwork" has sparked conversations around a number of various incidents, including a post in which an employee claimed they were asked to postpone their vacation.
One Reddit post got viewers talking about a questionnaire that asked if an applicant would be available to work between 50 and 100 hours each week.
Another Redditor shared in a viral post that their boss asked employees to share when they make plans for their days off in order to know if they can call them to work.