Woman Shares Moment She Realized She Was About to Be Struck by Lightning
A woman shared the heart-pounding moment that she realized she was about to be struck by lightning while out for a hike in a now-viral TikTok video.
Posted by @emilydjgr on June 21, the video amassed more than 7 million views as TikTok users watched her sprint down the mountain after seeing her hair sticking up.
Hair that is standing on end is a sign that lightning is about to strike, per the National Weather Service.
According to the Centers for Disease Control and Prevention, there are no safe places when someone is outside during a thunderstorm, but there are ways people can minimize their risk.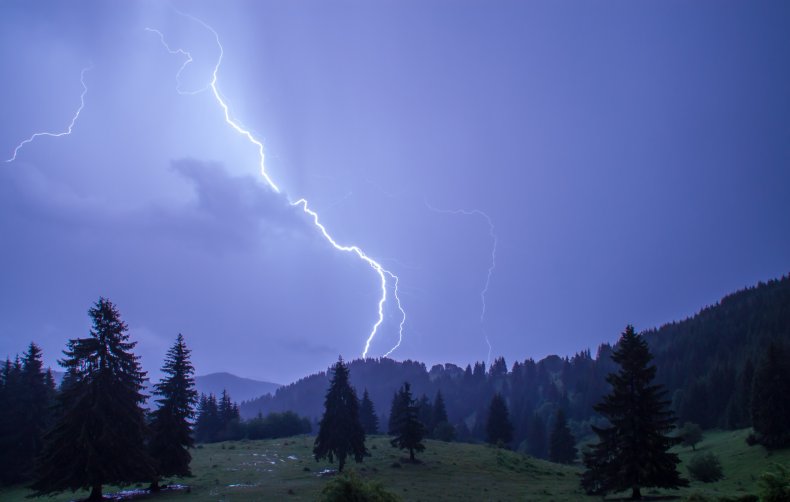 If thunderstorms are in the forecast, people are encouraged to postpone any outdoor activities and plans.
"If you are caught in an open area, act quickly to find shelter," the CDC recommended. "The most important action is to remove yourself from danger. Crouching or getting low to the ground can reduce your chances of being struck, but it does not remove you from danger."
Those who find themselves in an open area without a shelter should get off elevated areas and crouch in a ball-like position. They should avoid finding shelter under a lone tree, a rocky overhang and near bodies of water.
"If you are in a forest, shelter near lower trees," the organization advised.
At the start of her video, @emilydjgr is seen looking at herself in the camera and notices that her hair is sticking straight up in the air.
A look of realization quickly crossed her face, and she, along with her brother, began running down the mountain.
She posted a second video that showed her journey down the mountain.
At times, @emilydjgr paused to crouch down. When her hair lay flat, she stood up to continue running. As the two journeyed down the mountain with their dog, hail is heard coming down in the background of the video.
In the comments section, @emilydjgr explained that she heard a buzzing sound and thought a bee was caught in her hair. To get a better look, she took the video to try to find the bee but found her hair was sticking up.
Viewers were stunned by the clips.
"Girl about to become the flash," a viewer wrote.
"Whenever there's a storm I'm constantly checking my hair cause I'm terrified of this," another viewer commented.
"When Father Zeus just wants to say hello after he left some of his children on earth," one viewer wrote.
Some shared that they've had a similar experience.
"This happened to me at the [Grand Canyon], absolutely wild how you could feel it in the air," a TikTok user commented.
"This happened to me once in a field and I had nowhere to run," one comment read.
Newsweek has reached out to @emilydjgr for further comment.
Others have shared their experiences with lightning in viral content.
A woman posted a series of videos opening up about her recovery journey after a bolt of lightning struck the phone on which she was talking.
Videos showing intense lightning strikes during a storm in Los Angeles were shared on social media, and a clip showing what a golf ball looked like after it was struck by lightning went viral.