Woman Shot Teenager In The Face Following Road Rage Argument: Police
A woman has been arrested after she allegedly shot a teenager in the face following a road rage incident in Georgia, according to police.
Douglasville Police Department (DPD) officers said Brittney Griffith, 30, from Temple, was apprehended after a 17-year-old girl was shot in the face on the I-20 on Sunday, May 1.
In a Facebook post, shared on Monday, the DPD said officers were dispatched to Fairburn Road near I-20 at about 4:40 p.m. following reports that a person had been shot.
When police arrived, they found the teenager, who had been sitting in the front passenger seat of a vehicle traveling east from the nearby town of Villa Rica, had been shot in the face.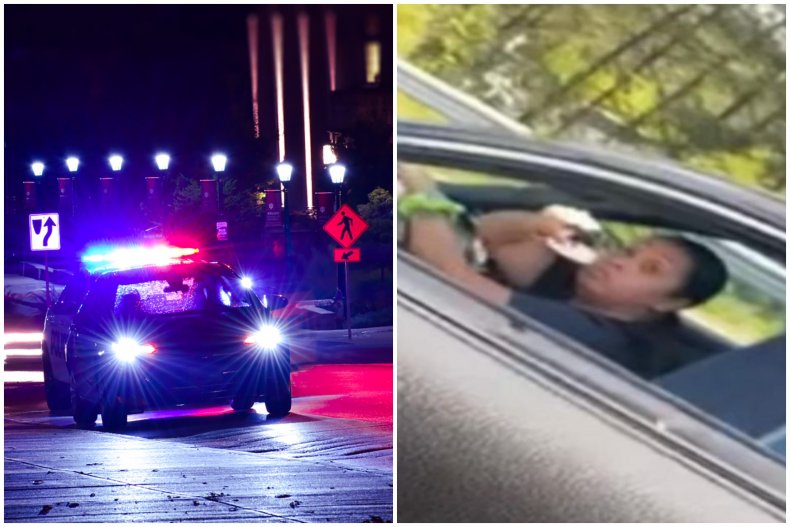 "Witnesses in the victim's vehicle said a female in a black sedan had been following them since Villa Rica where some type of road rage incident began," the department said.
According to the release, Griffith allegedly pulled up alongside the victim's vehicle somewhere near Highway 5 and fired at least one shot.
The suspect's vehicle exited at Chapel Hill Road and went in an unknown direction. But a passenger in the victim's vehicle was able to take a photo of the suspect at the time of the incident, the police statement said.
The teenager was taken to hospital and was said to be in a stable condition, according to the DPD.
After an image of the suspect was shared online, Griffith voluntarily surrendered to police and officers later learned her three children, aged between 4 and 9, were in the vehicle at the time.
She has been charged with four counts of aggravated assault, three counts of cruelty to children and one count of possession of a firearm during commission of a felony.
Griffith was denied bond at her initial court hearing on Monday, May 2, according to the DPD.
Newsweek has contacted the DPD for comment.
According to the Gun Violence Archive, a database that collects information about shootings across the U.S., 13 girls aged between 12 and 17 have been injured in shootings across Georgia this year.
Two people have been injured in shootings in Douglasville so far this year, including this latest incident. The previous shooting occurred on April 6, according to the archive.
Newsweek has reported on multiple cases where people have been shot during apparent road rage incidents.
Earlier this year a judge ordered a couple from Costa Mesa, California, to stand trial over the murder of a six-year-old boy who was killed during a road rage incident.
If convicted, Marcus Anthony Eriz, 25, could face 40 years to life in state prison while Wynne Lee, 23, faces a maximum of three years in state prison and one year in an Orange County Jail if convicted of one count of accessory after the fact and one misdemeanor count of having a concealed firearm in a vehicle.