A woman who posted an advertisement to sell her wedding dress is being dragged online for her comments about family members not being able to fit into it.
A TikToker, who narrated a portion of the wedding dress owner's comments from the advertisement out loud in a now-viral post, captioned the video: "'Will be?' how old are the grandchildren of this 28-year marriage?" The TikTok has been viewed 174,700 times and liked 22,800 times since it was posted on April 18.
The 1-minute and 5-second clip, posted by TikToker @katnaps5, or Kat, begins with @katnaps5 sitting down in front of a brick wall as she read the comments of the woman who posted the advertisement selling her "vintage wedding dress."
The advertisement, which is accompanied by three pictures of presumably the bride and her husband, lists the dress for sale for $800 in Las Vegas. @katnaps5 included the ad in the upper left corner, and in the upper right corner, she added snippets of the dress owner's comment.
The wedding dress owner then went into elaborate detail in a comment to another person. "If I had daughters I would, but even my daughters-in-law were too big," the woman said in a comment back, as recited by @katnaps5 in the clip.
The wedding dress owner revealed that she's had the dress since 1994 when she got married, and she had it "professionally hand-boxed to protect it."
Then, she made some comments about her grandchildren, as again narrated by @katnaps5 in the footage: "Even my granddaughters will be bigger and not fit the dress. I always hoped that one of them would have been able to, that's why I've kept it all these years."
"It's also why I paid to have it professionally packed and preserved," the wedding dress owner continued on. "Unfortunately, my boys married bigger girls, and my granddaughters will also be bigger than I am."
The wedding dress owner went into more detail about the wedding gown she wore on her special day, and she said that it's "too bad," as the dress is "gorgeous," adding: "And the way it flows when walking is breathtaking. When I bought it from David's, it was their top-of-the-line dress."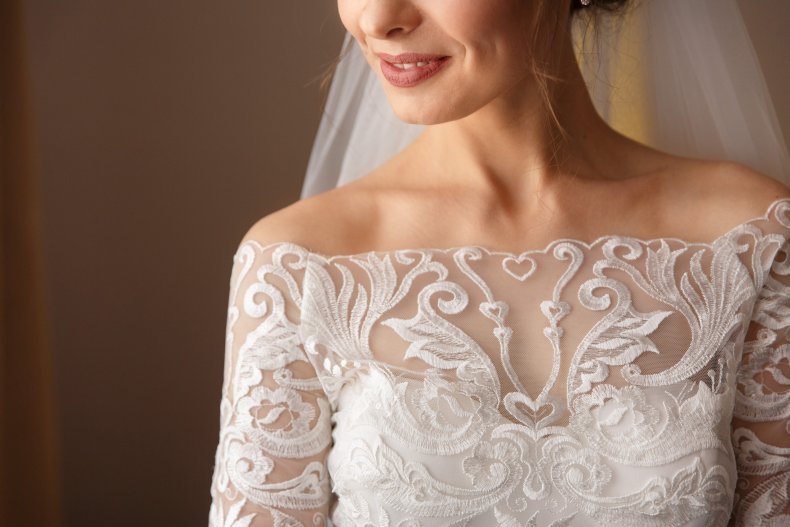 But the comment didn't end there. "I always thought one of my boys would marry someone small enough to wear it, or at least one of my granddaughters would be able to wear it," the wedding dress owner said. "Well, no such luck."
She said that she will most likely send it to a bridal consignment shop, adding it offered her more than she's asking for.
"I just think those places are just so cold, and they will sell it for far more than I was asking," the wedding dress owner concluded.
A 2016 survey published in the International Journal of Fashion Design, Technology, and Education found that the average woman in America is a size 16 and 18.
Statista reported that in 2021, the value of the plus-size women's clothing industry was around $6.67 billion.
Meanwhile, over 700 comments arrived in response to the wedding dress owner's comments, and people seemed to wholeheartedly disapprove.
"I think this mommy-in-law has a lot of issues she needs to work through," a commenter expressed.
Some people honed in on the dress owner's remarks about bridal consignment shops.
"Oh, the consignment shops are cold?" a viewer asked. "Because she just screams warmth."
Others remarked on the dress specifically. "Every single dress in the 80s and 90s looked [like] that," a viewer said. "Nothing special."
People also applauded @katnaps5's voice interpretation of the wedding dress owner's ad. "I feel like you got the voice of the poster exactly!" another person said.
Others tried to determine how old the wedding dress owner's grandkids even are at this point.
"If she was married in 1994 her granddaughters are probably babies, and she's already commenting on their bodies," a commenter pointed out. "No ma'am."
Some would have their own ways of dealing with a family member like that. "And that's when mom goes into time out," a viewer said. "No contact. Nope."
Another person didn't mince words when they said: "So I'm thinking it's a good idea that she didn't have daughters. Her poor daughters-in-law and granddaughters."
@katnaps5 later told Newsweek: "I would say the reason that particular video has so many views is because, unfortunately, a lot of people could relate to it. Of course the way the seller continuously mentions her "petite frame" is comical, but it is at the expense of other women in her life. Body comparison is really a problem that has perpetuated eating disorders for years—this grandma just put it out there in a way that made us all laugh while we shook our heads."
This isn't the only viral video in the same vein as a wedding. For instance, a man flashmobbed his ex-girlfriend at her wedding, while in another clip a couple used a coin toss to determine their last name. In addition, a couple's first dance ended in an unexpected way.
Update 4/20/22, 5:08 PM ET: This story has been updated with comment from @katnaps5 to Newsweek.