Couple Uses Coin Toss to Choose Last Name During Wedding in Viral Clip
A couple used an unconventional method to choose their last name during their wedding with a flip of a coin, igniting a debate over changing last names after marriage.
The now-viral TikTok video, captioned, "Congrats my friends #WeddingTiktok #WeddingTraditions #WeddingTrends #WeddingTok #WeddingTiktok2022 #WeddingDay #FriendsGettingMarried #BridgertonScandal #WomenOwnedBusiness #OscarsAtHome #UnsealTheMeal," has been viewed 1.6 million times and liked 200,700 times since it was shared on March 27.
The New York Times reported that The Upshot found via a number of Google Consumer Surveys that women are increasingly choosing to keep their last name after marriage since 2000. However, around 73.5 percent of women went on to change their last names after getting married between 2010 and 2013.
The 11-second clip, which was shared by TikToker @diaryofasolotraveler, or Alyssa Danielle, was accompanied by the song "Just a Cloud Away" by Pharrell Williams.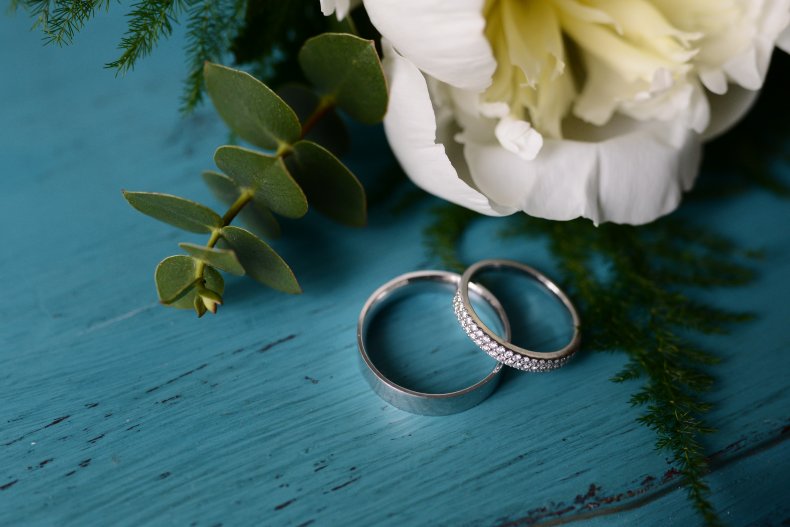 The video began with the newly married couple at the altar during their wedding, with bridesmaids and guests looking on. The bride wore a white dress with a shawl to match and the groom had on a suit with a boutonnière.
They stood on a blanket positioned outside in the grass beside a body of water in front of a decorated archway while an officiant stood nearby.
"POV: Your friends decide whose last name they are taking by a flip of a coin at the altar," the screen read in text overlay.
Suddenly the officiant tossed a coin into the air, flipping it over onto the back of his wrist to determine the winner. When the bride and groom learned the results, they laughed.
In a follow-up video, the creator revealed the groom won and that his last name was chosen during the coin toss.
"Now I present to you, Mr. and Mrs. Nathan," the officiant said as the bride and groom turned to face the crowd, all smiles. Everyone cheered as they began to walk back down the aisle to conclude the ceremony.
Over 500 comments came in over the viral wedding choice, and a debate ensued over the practice of taking last names after marriage.
Some people used alternative means to determine whose name would be chosen. "I know a couple whose families had a paintball match to decide," a TikToker said. "Winning side determined the last name."
Other people might choose to hyphenate their name with their partner's last name after marriage. "I have a hyphenated last name from my parents," a TikToker revealed. "I'll be triple hyphenating."
Choosing an entirely new last name is always an option as well. "My wife and I chose our own last name!" a viewer pointed out. "So cool to see so many people open to this now."
While one viewer admitted they chose to take their husband's last name "because mine was boring. That was 100 percent of the thought put into the decision."
An additional option is to have two separate last names entirely. "Another idea: No one changes their name," a TikToker weighed in. "Works too."
A viewer called the video a "cute idea," adding, "I actually wanted to take my husband's name when we got married."
Apparently, the idea of flipping a coin to determine the couple's last name isn't a new concept for some. "My parents did this!" a TikToker said. "We all have my mom's name now!"
Comments of approval over the content included things like, "Wait, that's hilarious," "Honestly best idea I've ever seen," and "This is how it should be done."
Newsweek reached out to TikToker @diaryofasolotraveler for comment.
This isn't the only recent viral video involving a wedding. A couple laid out their rules and expectations for guests at their wedding. In a TikTok clip, a couple's first dance didn't go as planned in a viral wedding mishap. In addition, another couple's wedding dance was interrupted by some children in a comical video.