'Creepy': Woman Slammed for Telling Roommate to Let Dad Sleep in Her Bed
Commenters criticized a woman after she told her roommate and her boyfriend to leave their bedroom so her father would have a place to sleep during graduation weekend.
The anonymous woman, known as u/notatypicaltaurus, posted about the situation in Reddit's popular "Am I The A**hole" forum where it received more than 9,000 upvotes and 1,300 comments.
Student Health Services at Georgetown University estimated that about 1 in 3 college students in the U.S. has reported a problem with their roommate. It is also estimated that roommate difficulties affect academic performance in about 17 percent of students.
In the post titled "AITA if I don't let my roommates dad sleep in my bed?" the woman, 21, explained that she and her boyfriend, 22, live in a two-bedroom, two-bathroom apartment with a roommate, 22 and that both are university students.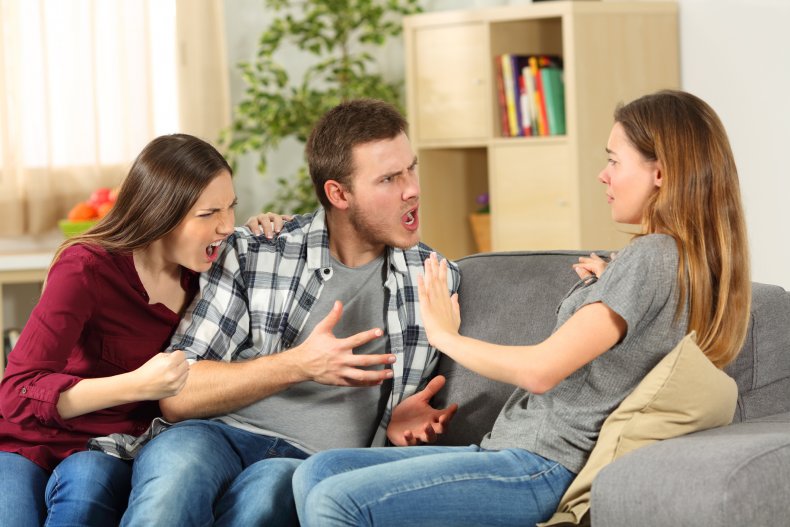 The roommate, named Mary, pays one-third of rent and utilities, leaving the OP and her boyfriend the other two-thirds. The woman also explained that her and Mary's names are on the lease because it is university housing.
"Yesterday Mary texted me that her dad is flying out for graduation and she is looking for hotels but they're too expensive so he needs to stay in my bedroom," the post read. "I was very confused and taken aback by this request because it seemed completely strange and inappropriate."
The woman told Mary that she and her boyfriend will be using their room since they live there, but Mary replied that they "needed to leave" so her dad could have the room.
She then offered to let Mary's dad use the air mattress and when she declined, the woman's boyfriend offered an extra twin bed that he could use. Mary replied no and said she "needs to babysit him."
"She told me she has no choice but to ask me and my boyfriend to leave our apartment so her dad can have my room," the post read. "When I said my boyfriend and [I] would be staying in MY room, she said I was being unreasonable because it's her only graduation (this is not true, she's going to medical school next year)."
The woman added that it is also her boyfriend's graduation and that he obviously needs to stay.
"Not only do I need my room, which I pay for, but I'm not comfortable with a man I've never met sleeping in my bed and staying in my room with my personal belongings without me being there," the post concluded. "AITA if I don't let her use my room for her dad?"
Nearly 1,300 users commented on the post, with the majority calling out Mary for being unreasonable and out of line.
"This is gross, creepy, and completely over the line. Her lack of planning is not your emergency, and the idea of a stranger sleeping in YOUR bed should rightly disgust you," one user commented. "You need to put your foot down and make sure your landlord is aware of what Mary is asking in case she lets her dad in to take your bed when you aren't home."
"NTA, it's your room and your roommate is insane," another user commented. "If he can't sleep on an air mattress for whatever reason, she sleeps on the mattress and he sleeps in her bed. This is not difficult."
"I'm not sure why your roommate believes she's entitled to be able to kick someone out of a room that they pay for to make room for her father," another user wrote. "But this is a life lesson that she's gonna have to learn."
Newsweek reached out to u/notatypicaltaurus for comment.
In October, Newsweek reported on another woman who went viral on Reddit after revealing that her roommate allowed her drunk friends to sleep in her bed, and instead of kicking them out, she decided to crawl into bed.
Commenters backed the woman's decision, saying it was her bed and those other people should not have been there in the first place.
Another woman went viral on Reddit's "Am I The A**hole" forum after she played the piano while her roommate was on a call with her boyfriend.
One 18-year-old recently went viral after finding out her freshman roommate was 52-years-old.
The teenager shared her situation on TikTok where it was viewed more than 1 million times.