Woman Slammed For 'Traumatizing' Sister's Foster Kids: 'No Right'
A woman is being bashed online after she made some inappropriate comments to two foster teenagers her sister is looking after.
The now-viral Reddit post, titled, "AITA for making my sister and nephew move out," has garnered 8,600 upvotes since it was shared on May 29. Redditor @Havylift shared the post to the subreddit "Am I the A**hole," and 600 comments have poured in over the situation.
According to Children's Rights, on any single day in the United States, there are 424,000 children in foster care. In 2019 alone, there were more than 672,000 kids in foster care. Most kids are in foster care for more than a year and a half. In addition, five percent of kids have been in foster care for five years or more.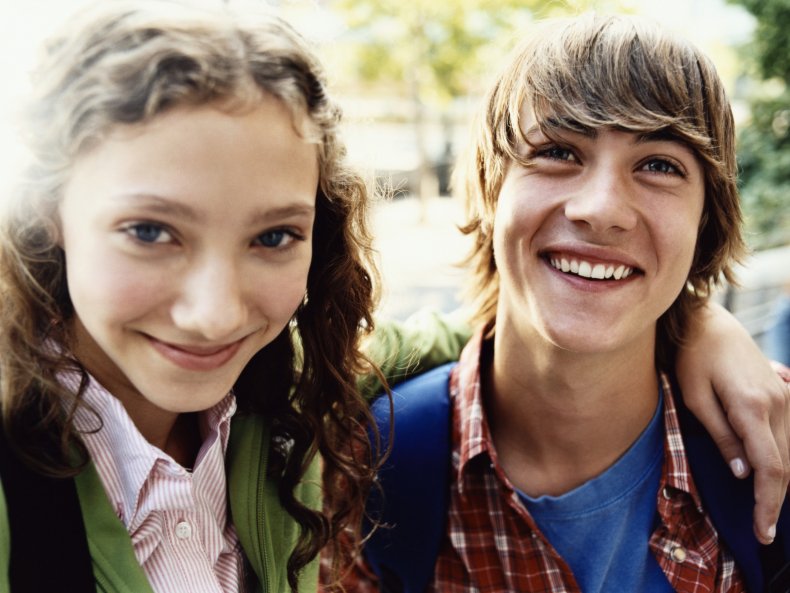 The original poster (OP) is a 45-year-old woman who has been a foster mother for nine years. While she has two foster kids now, she said she's had the same boy, who is now 16, under her care for seven of those years. She's tried to adopt him, but the issue with his birth mother is "complicated," and the situation "fell through."
However, the OP considers the teen her own son. They live in an apartment with three bedrooms—one for the OP, one for her son, and a spare guest room.
During COVID-19, the OP's sister, who is 37, and her son, who is 17, moved in with the them. The sister and nephew have been sharing the guest room despite the Redditor's sister saying that the teen boys should share a space so she could have a room to herself.
"I refused to change my son's life like that, and since they were only supposed to be temporary guests, I saw no need," the OP reasoned. "My sister hasn't been looking for a job or anything, she kind of expected to stay here forever I guess."
Two weeks ago, the OP started fostering a 15-year-old girl, and it is a "longer period placement."
A week before the girl arrived, the Redditor told her sister that she and her son would have to move out in 30 days because the girl was coming to stay.
But the Redditor's sister "begged" her "not to do this" to her, and she said that all three of the kids could share a room and that the sisters could keep their own rooms and things didn't have to change. However, the OP wasn't going for it, and she said, "absolutely the f not," adding, "that's ridiculous."
The OP continued, "Then she said that at least my two foster kids could share a room, and she and her son will stay in the same room. I said that I am not about to put a scared anxious 15-year-old girl in the same room as a 16-year-old boy because that's just crazy and unreasonable."
The woman revealed her sister cried often for a week, and she "begged" her sister not to take the girl into her home. The teen finally arrived, and she took the OP's room, and the Redditor has been sleeping on the couch and will continue to for another week until her sister and nephew finally move out of the apartment.
"Yesterday I came home from work and found my son upset and foster daughter crying," the OP wrote. "I asked them what happened, and they said that my sister told them that they are just foster people and she and [my] nephew are family, so they ([my]sister and nephew) will stay, while they (foster kids) will have to leave."
The foster mother admitted she "lost it," and she told her sister to have her stuff packed in a week because if she doesn't "disappear on the thirtieth day, she's calling the police and having her "dragged out."
The OP concluded: "She has been begging me all day to let her and the son stay for a little while longer and just make the [kids] share a room for a while because otherwise, she'll be homeless."
Redditor Reactions
Numerous commenters believe the OP's sister is the a**hole in the situation, and the majority are supporting the Redditor.
One such user expressed that the OP's sister's "homelessness" isn't her issue.
"I just want to thank you for taking in these kids that need a loving parent," they added. "Your sister is the AH [a**hole] for saying what she said to these children."
One Redditor, whose comment received 11,800 upvotes, reasoned the foster mother gave her sister 30 days, "and she chose to belittle and undermine your kids in an effort to bully you into giving her what she [wanted]. Your job is to protect your kids."
Other users think it sounds like the OP's sister was "taking advantage" of her sister's "kindness," adding, "and her saying what she said to the children was completely unnecessary. She's lucky you gave her a week to get her stuff packed and get out and didn't tell her to get out that evening. Where is her son's father? He can't go stay with her?"
Another added, "...she sounds like an absolute monster."
One commenter reasoned, "Yeah she's freakin' lucky she isn't getting her stuff tossed out the window after traumatizing foster kids like that."
Yet another Redditor who doesn't think the OP is in the wrong pointed out that her sister was allowed 30 days, and instead of applying for a job or saving, she attempted to "guilt trip" the OP and her foster son.
"Belittling your foster children in your house, however?" the user asked. "Way too far, she needs to get in line and understand that it's not her house and that she should be financially supporting herself."
Another questioned why a 15-year-old girl would share a room with a 16-year-old boy she doesn't know.
"That's completely bananas!" they expressed. "You live in an already limited space. I don't know how or why she thought she was going to stay there forever. Good on you for sticking up for your kids!"
One user had harsh criticism for the sister, calling her a "witch and a mooch," and they wondered how she dares to play with the kids' "minds and stability."
"Mama, I'd [have] thrown her and [her] son's a**es out on the spot," they added. "What she did was uncalled for and inexcusable. So glad you protected your kids."
On The Other Hand...
However, not everyone was on the side of the OP.
One user, who chose "everyone sucks here," or ESH as their verdict on the post, believes the OP's sister "had no right to do that," but they wonder why the Redditor would choose "a stranger" over her own sister and her nephew. They asked questions, such as whether or not her sister and nephew were able to get a place on their own.
"Because it seems like you all of a sudden decided to take in some other kid and kick them out," they said. "Do they even have anywhere to go? Would you really let your nephew be on the streets just to take in a stranger? Because that's what it seems like. You know they don't have money. What has it been like living with them? If they have been horrible and slobs and rude and disrespectful I could understand."
Newsweek reached out to Redditor @Havylift for comment.
This isn't the only viral moment involving siblings.
A woman was slammed for demanding breast milk from her sister.
A man was backed for excluding his step-siblings from a trip.
In addition, a teen was backed for demanding to use her brother's possessions.