Woman Soon Regrets Picking the Quietest Husky Puppy: 'Found His Voice'
A woman who picked the "quiet" puppy in a litter when getting her Siberian Husky has shared how appearances can be deceiving in a hilarious TikTok video.
Jennifer Flaherty, 38, is from Seattle, Washington, and adopted 2-year-old Tikanni as a puppy and picked him out as one of the quieter pups.
"When he was a puppy he wasn't near as loud," Flaherty told Newsweek. "But once he adjusted and met my other husky Kita they became howling buddies! He definitely found his voice once he warmed up and felt comfortable in his new home."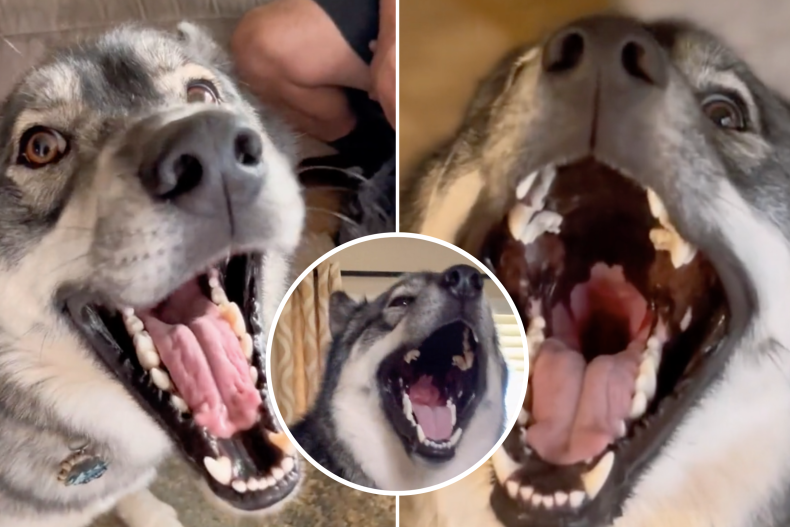 Siberian Huskies are well known for their vocal personalities. The American Kennel Club (AKC) reports that huskies are known to whine, scream, howl and yelp often sharing a large range of sounds that are often even considered "talking."
Developed as a sled dog, huskies are meant to work in large packs and their vocal communication developed as an essential survival skill.
"Huskies use and can differentiate between different tonal patterns to communicate and these sounds carry over long distances," explains the AKC. "The variations in vocalizations convey their meaning. Anyone who owns more than one Husky knows they often seem to be having actual conversations."
Once the "quiet" one, Tikanni has developed his own voice, too.
"When he was younger he would howl and sing with Kita but it wasn't until he was a little older that he started his screaming," said Flaherty. "We have 3 huskies and he is always the instigator. He starts by barking a few times to get the others attention and then it's full throttle from there.
"He does this at least once or twice a day and it's usually for no reason other than to get the other two pups attention," she added.
In the TikTok video that has been viewed over 31 million times, in the caption Flaherty wrote: "Jokes on me," as clips of Tikanni howling and shouting play through.
"As a husky mom, I love this," said one TikToker.
Another commenter wrote: "Byeeee order my casket this just took me out."
"Huskies love to sing," said another reply, while one viewer joked: "I get it, I too wait until I'm comfortable then show the crazy."
For the last few months, Flaherty has been sharing a "daily howl" featuring her three huskies on TikTok.
"Huskies in general are vocal but Tikanni's screaming is next level," said Flaherty. "I decided to put together the reel just for fun and to show that the 'quiet' ones aren't actually always quiet."
The huge viral response was a shock to the owner, but she was delighted to see how many people enjoyed the video.
"I absolutely love my dogs—they are like my children. Each of them is uniquely different, but Tikanni is so different than any other dog I've had," she said. "He's very in tune with peoples feelings and in a way empathetic. If I'm not feeling well or am anxious or upset he is next to me licking my face cuddling up close. He's just so full of personality—almost too much. He's definitely my heart dog."
Do you have funny and adorable videos or pictures of your pet you want to share? Send them to life@newsweek.com with some details about your best friend and they could appear in our Pet of the Week lineup.