A woman has spent 16 hours painstakingly gluing $77 worth of pennies to her bathroom tiles, creating an incredible bespoke floor.
Jordan Darian, a creative director, decided to revamp her bathroom, which had beige walls, a standard white suite and wood-effect tiles.
Darian shared the transformation to her TikTok account on Friday, where it has already amassed more than 20 million views.
"$77 that no one can ever spend again," she joked, as she filmed herself individually sticking down each coin by hand.
Darian, who co-founded Humble Flower, a female-focused CBD skincare brand, shared follow-up clips after her initial video blew up.
In footage uploaded on Friday, she said: "POV me over here trying to make cents of the penny floor comments, when we all know I can't change what's done.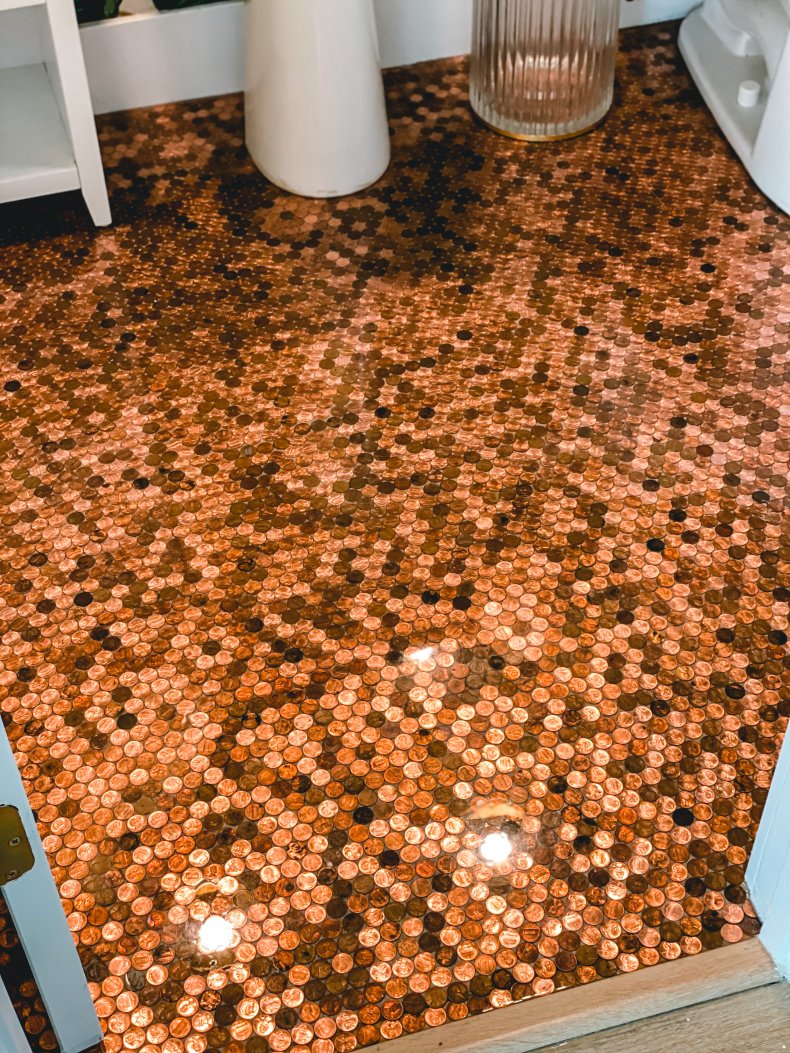 "Took me 16 hours to penny the floor. I used Elmer's glue to secure the pennies. I sealed the floor with epoxy resin, it cost around $300."
The 36-year-old told Newsweek she bought the three-bed, two-bath home in West Hollywood with her husband in 2018, and has been renovating it ever since.
"The first year was an actual living nightmare but the labor of love was worth it and everyone tells us if we made it through a live-in renovation our marriage will stand the test of time, and I'd have to agree," she joked.
Darian decided to cover the guest bathroom in the pennies, revealing her mom was the inspiration behind it.
She said: "I decided to penny the bathroom floor because it was something my mom had always talked about doing and I loved the idea! How many penny floors have you seen? I love fun decor and design surprises in a home. When we were in the market buying our first home I was horrified by all the cookie-cutter, "cut and paste" houses that had so obviously been flipped by someone who was just in it to make money. Very rarely do you come across a home with character and thoughtfulness and when we resell our home one day I want it to really wow the new buyers. I want it to stand out in the market and with unique features like a penny floor bathroom, it will."
Despite loving the finished product she admitted it took her "a lot longer than I had anticipated," claiming the resin was the hardest part.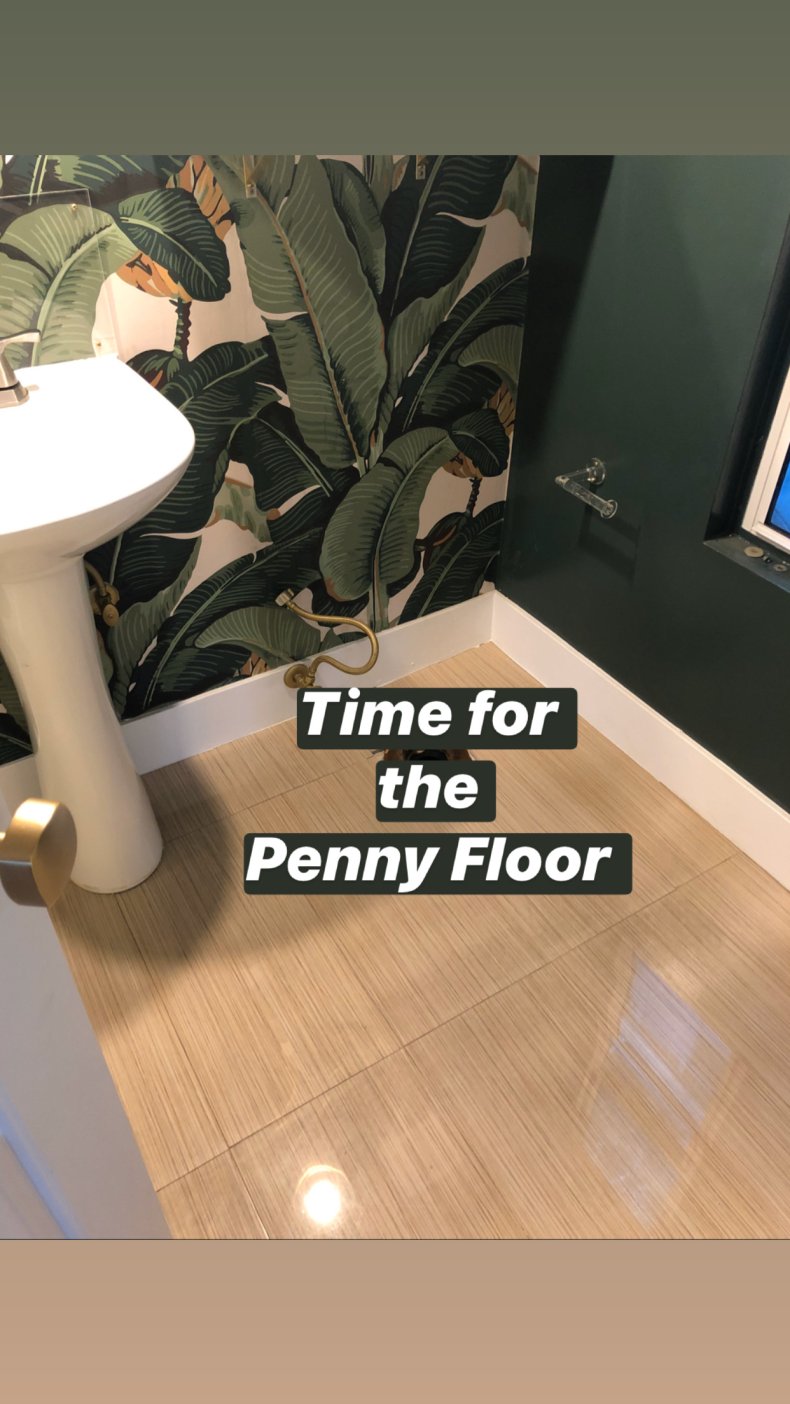 Darian continued: "Instead of ripping up the tile, I chose to just penny right over it. I researched how to do the pennies on the internet and found that Elmer's glue was what would work best to secure them to the floor.
"It was pretty challenging for several reasons. It took me way longer than I had anticipated to glue pennies down and it wasn't exactly fun to sit in the floor for hours gluing pennies to the floor. Once the pennies were secured I then used epoxy resin to seal them and create a smooth hard surface. It turned out better than I had hoped and we absolutely love it. It is the showstopper I was hoping for and people are always pleasantly surprised when they see it!"
Despite it taking hours, she added she's not put off doing it again, and would even take on a bigger project.
Numerous people commented on the clips, asking her if it was illegal, while some thought they spied some vintage coins.
Addressing claims it's against the law to use money as decoration, Darian filmed herself in front of a green screen where she'd googled "is it illegal to penny your floor."
"It is most definitely not a felony. But really glad we have so many citizens out there upholding the law," she said.
Responding to some eagle-eyed fans who reckoned they saw a rare coin, in particular a 1943 copper penny, Darian shared another clip where she zoomed in on various coins.
"Since posting the video to TikTok I learned I may have made a very big mistake by not checking the pennies prior to permanently adhering them to my floor. I had no idea a penny could be so valuable and there are at least eight wheat pennies, upside down, so we are unable to check the year.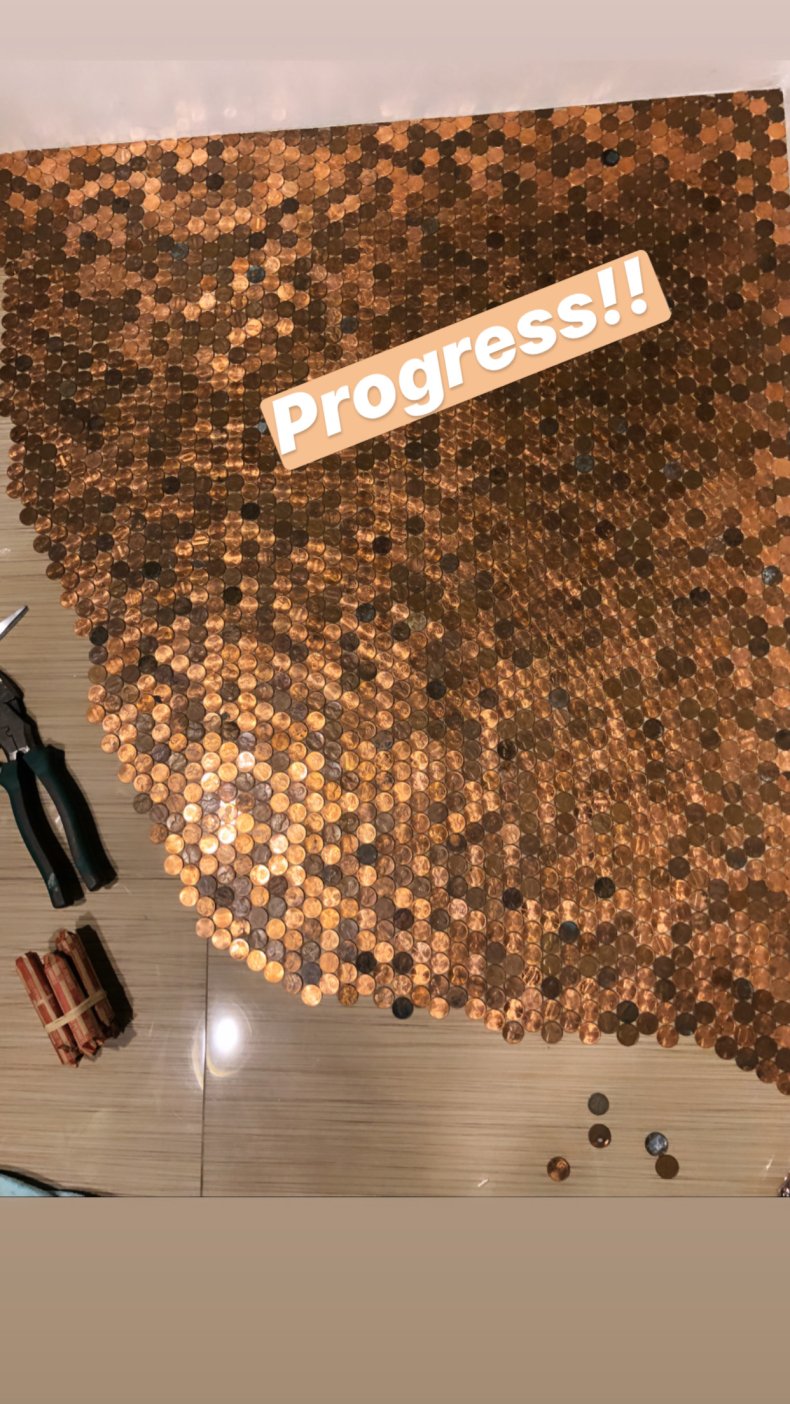 "As well as many other potentially very valuable pennies that have been brought to my attention by other TikTok users and coin experts. All I can say is live and learn and I wish I had been using TikTok in 2019 when I did the floor (prior to the coin shortage.)" she added.
The U.S. Mint states 1943 copper-alloy cent is one of the most "idealized" and sought-after coins to have minted.
The website explained why they're so rare, and valuable, saying: "Approximately 40 1943 copper-alloy cents are known to remain in existence. Coin experts speculate that they were struck by accident when copper-alloy 1-cent blanks remained in the press hopper when production began on the new steel pennies."
They revealed a copper cent sold for $82,500 in 1996, the highest amount ever paid.
While it couldn't be confirmed whether Darian has genuine copper-alloy cent, people joked her house could potentially have risen in value.
Zana joked: "It will increase the value of your home."
Carly raved: "Your patience level is top tier."
While Elian Reyes said: "Don't get mad if I walk out with your bathroom floor."