Woman Stabs Man After He Asked Her to Wear Mask Inside Store
A man is believed to be critically injured after being stabbed by a female shopper in the West Town neighborhood of the city.
NBC Chicago reported the victim was attacked after telling the shopper to wear a mask inside while browsing for items at a convenience store on the 500 block of North Halsted Street at approximately 12.35 p.m.
Police say the suspect pulled out a knife and stabbed the man, 48, after he told her to wear a mask, as per the state-wide mandate.
The victim was then rushed to Northwestern Memorial Hospital in a critical condition.
Police have so far made no arrests, while Area Three detectives continue their investigations.
Newsweek has contacted Chicago Police and Northwestern Hospital for updates.
Since August 30, all individuals in Illinois older than 2 have been ordered to wear face coverings when in an indoor public place.
Illinois Governor J.B. Pritzker wrote in his Executive Order: "Illinoisans should also consider wearing a mask in crowded outdoor settings and for activities that involve close contact with others who are not fully vaccinated."
Exceptions to this rule include allowing face coverings to be removed temporarily while actively eating or drinking and if workers are capable of consistently maintaining a distance of 6ft from others.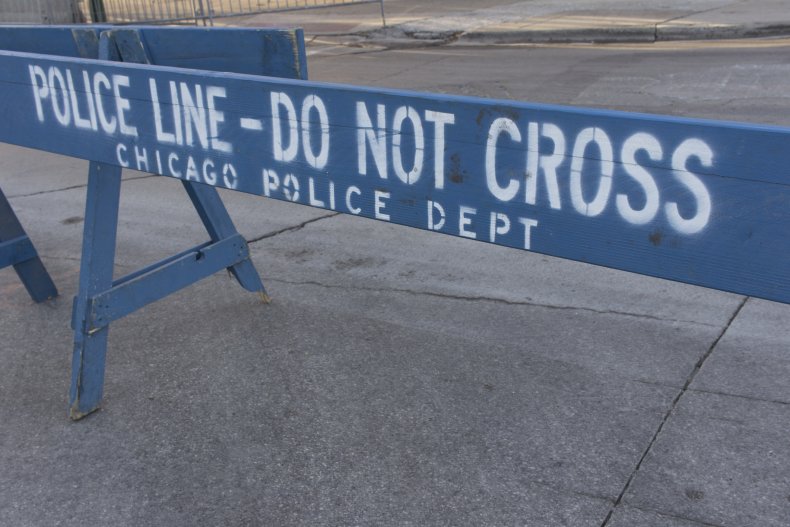 The Illinois Policy Institute has suggested the indoor mask mandate may end only when coronavirus transmissions fall to levels last seen in June.
Pritzker is reported as saying on October 4: "We're watching to make sure that we're on a good downward trajectory.
"That's what we were looking for back in May leading into June; it's what we're looking for now in order for us to possibly make changes."
The London General Practice's Dr. Paul Ettlinger explained why the majority of medical professionals consider wearing masks "beneficial" to battling the virus.
He told Newsweek: "Face masks block the transmission of viruses, a preprint study by [author] Melo and others posted June 2021 showed their effectiveness in that viral DNA was only detected on the inner part of the mask i.e. that in contact with the face not on the outside of the mask i.e. that in contact with the external environment.
"This reinforces that wearing masks are beneficial to the community and block the exhalation and inhalation of infectious viruses and this was irrespective of the type of mask worn."
His thoughts are echoed by his colleague Dr. Sanjay Mehta who beliefs masks can "reduce some of the spread." He said: "Particles containing the COVID-19 virus may be released and inhaled by others, when an infected individual breathes, speaks, coughs or sneezes.
"These particles can stay in the air indoors for several minutes, especially if there is poor ventilation. Covering of the nose and mouth with a face covering will at least reduce some of the spread of these particles, helping to protect others, especially when worn indoors in crowded settings and with poor ventilation."
Authorities in Chicago have this month attempted to respond to a rise in violent crime by installing hundreds of "bleeding control kits" in buildings across the city.
WTTW has reported police data showing last month was the deadliest September the city has experienced since the early 1990s.