Woman Stages Lavish Maternity Photo Shoot for Her Pregnant Cat
A woman has become a viral hit after deciding to mark her cat's pregnancy with an extravagant Beyoncé Knowles inspired maternity photo shoot.
In an image shared to Reddit by the user Creepy_sock_puppet, the cat can be seen spread out across a chaise lounge adorned with cushions, flowers and gold fabric.
To further emphasize the comparison, a picture of Beyoncé in a similar pose is included below.
The image comes from the singer's February 2017 shoot announcing her pregnancy with twins Sir Carter and Rumi which was titled, "I Have Three Hearts."
In the case of this particular pet owner, however, there could be twice as many new arrivals on the way with cats birthing an average of four kittens in each litter.
The striking photo of the expecting feline was first posted to the discussion-based website on July 14 by a user purporting to be the cat owner's highly amused sibling.
Writing alongside the image, Creepy_sock_puppet said: "My sister did a maternity shoot with her pregnant cat. LMFAO."
The humor of the situation was not lost by those following along online with the post garnering over 20,000 likes and more than 200 comments from fellow cat fans.
One Reddit user, Dead-head277353, spoke for many when they declared: "I want more pictures of your cat."
Meanwhile mznh poked fun at a familiar Instagram trope, commenting: "Kitty literally woke up like that. No make up no surgery nothing. Flawless."
Others were a little confused by the post, believing, in fact, that the Redditor was one of Beyonce's three siblings, Solange, Nixon and Koi, and that the Destiny's Child star had, in fact, staged the shoot for her cat.
NaturalFaux wrote: "Wait, that's NOT Beyonce?! Oh, my dumbass thought you meant that the second picture was your sister."
"Haha same!" Daver456 concurred.
Ultimately it took the intervention of original poster Creepy_sock_puppet to clarify the situation.
They wrote: "So sorry everyone for confusion. Got too excited about the cute cat forgot to actually read what I was saying. My sister is not Beyoncé , still amazing lovey and beautiful but not Beyoncé. I should have clarified the title better."
Responding to the explanation, Kafshak wrote: "Yeah, I thought that was your sister, and was going to ask if your sister is a Beyonce look alike. Good for your sister's cat though."
That sparked off another debate with EvulRabbit commenting: "Who wore it better? Cat hands down!" Before asaggese corrected them "Paws down."
CaptKalc was among those to also pick a side, declaring "The cat does it better, sorry lady."
Others were simply happy to bask in the glory of what pixie_led described as "two beautiful pregnant queens."
The woman behind the photo shoot also came in for high praise with InImprPa describing her work as "genius."
Purplemonkey_123 concurred: "I love this type of over the top stuff. It makes my heart happy."
Speaking to Newsweek, Creepy_sock_puppet revealed that their sister's cat is actually called "Cat Meow."
"My sister loves Beyoncé so when her cat got pregnant she decided to do a maternity shoot for the cat based off Beyoncé's," they said.
"I think it's so funny and I love that my sister found a fun creative outlet."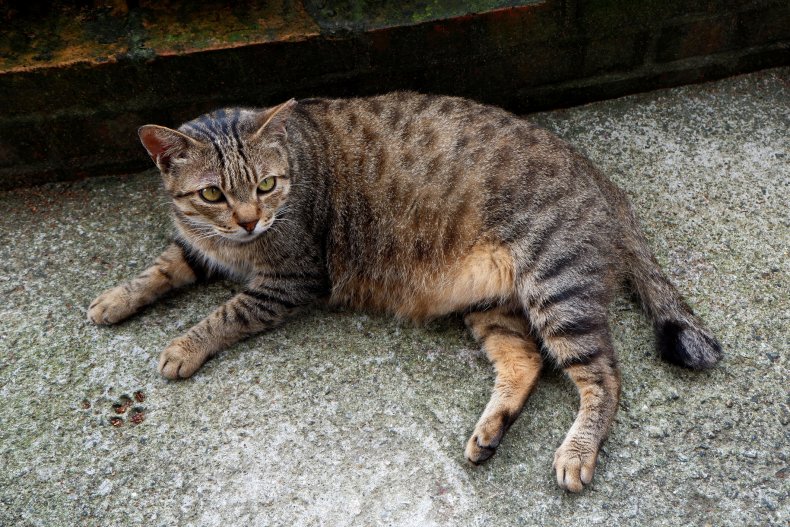 While it's not clear how far along this particular cat is in the pregnancy, according to Veterinary Centers of America, her owners can expect her to undergo some changes during this time·
"Most develop an unusually sweet and loving disposition and demand more affection and attention during pregnancy," it says.
"During the latter stages of pregnancy, the expectant mother usually begins to look for a safe place for delivery."
It is recommended that owners install a birthing box lined with absorbent material in a quiet, dark, corner of their house, with enough room so that the cat can move around freely.
Update 07/17/21, 9:30 a.m. ET: This article was updated with comment from Creepy_sock_puppet.