Woman Steals Car With Man's Children Inside After He Tried to Help Her Following Crash
A woman in Virginia was accused of walking away from the scene of a car crash before stealing a bystander's car while his five children were still inside. She is facing several charges including five counts of second-degree kidnapping.
On October 3, Currituck County Deputies responded to a two-vehicle crash off the Caratoke Highway. Authorities said that's when a witness pulled off the highway to assist the victims, including Markell Hancox of Chesapeake, Virginia.
According to reports, when the driver of the SUV got out to check on the person in the other vehicle, Hancox jumped into it. She did not realize that she took off with the man's five small children in the back.
The Currituck County Sheriff's Office said in a statement that she drove northbound on the interstate before pulling into the parking lot of a convenience store. Authorities and the children's father apprehended the woman in the parking lot after she attempted to run away from the SUV. According to a statement released by police, "​​the five children were extremely shaken but unharmed during the incident."
Hancox has been charged with five counts of second-degree kidnapping, larceny of a motor vehicle, and leaving the scene of the accident. She is being held at the Currituck County Detention Center on a $210,000 bond.
In July, Newsweek reported about a woman in California who stole an idling car without realizing there was an infant in the back seat. According to authorities, once she noticed the infant, the woman attempted to leave the 1-year-old with a stranger she encountered on the street.
This all occurred after the infant's mother left her car running in front of a community advocacy center while she attempted to get parental assistance. That's when the suspect, Christina Rojas, 30, noticed the empty vehicle was still running and jumped in the driver's seat, and drove away.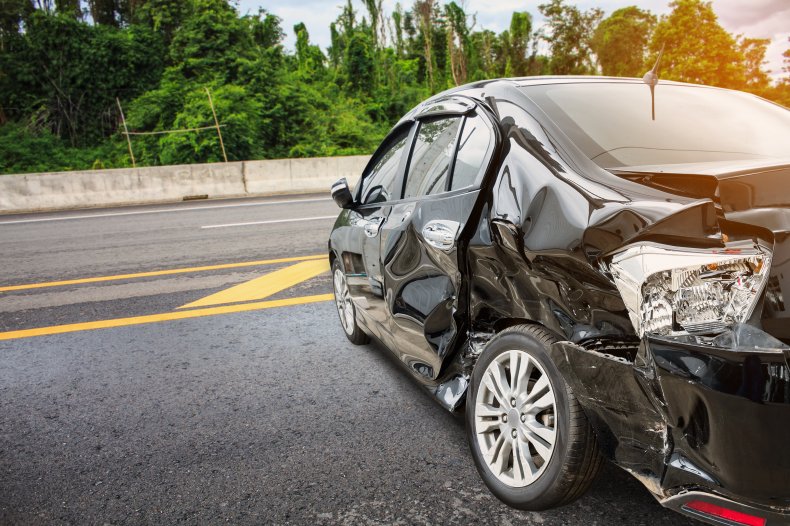 The mother witnessed the woman drive away in her car and immediately called the authorities. Moments later, the authorities received another call from a stranger who claimed they were approached by an unknown female who attempted to give them a baby. They claimed they rejected her offer and she drove away with the child. According to authorities, the description of the female matched the description of Rojas.
Approximately 20 minutes later, an officer with the California Highway Patrol noticed the stolen vehicle. Ukiah police officers and Mendocino County Sheriff's Office deputies located the vehicle and found Rojas inside the car with the child still buckled in the backseat. The victim was reunited with her child who was unharmed.
Police apprehended Rojas and arrested her. She was charged with vehicle theft, kidnapping, and child endangerment, according to police. Authorities are also considering charging the infant's mother with child endangerment, according to a statement.