Woman Stunned to Find She Was Served Fried Paper Instead of Chicken
A woman showed what she said she received when she ordered fried chicken from a Zaxby's location in a now-viral TikTok video.
Posted by @jenaimeints on August, 1, the video has since racked up more than 33 million views as she revealed that she was served fried paper instead of fried chicken.
"I cannot make this up," @jenaimeints said at the start of her video, holding the piece of paper up to the camera while the rest of her order sat on her lap.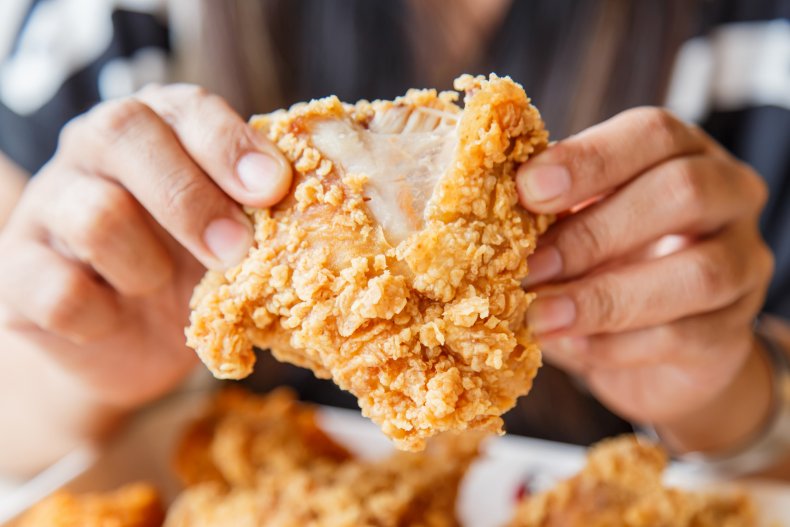 According to HG.org, a law information website, there is a chance that foreign objects may be found in someone's food.
"For example, stones, rocks or small pebbles may wind up in food," the organization said. "Glass, paper and plastic may also make their way into food. Human body parts may even show up in it."
Some objects that are found in food can "reasonably be anticipated," like fish bones in soup or cherry pits in cherries.
In her video, @jenaimeints picked up different pieces of what initially appeared to be fried chicken before smoothing it out and revealing that it was paper.
"They literally fried f**king paper," she said. "They're not about to like me."
Viewers were also taken aback by the unexpected order.
"Health inspector needs a phone call on this place," one viewer wrote.
"Sometimes being a Karen is the right thing to do," a TikTik user commented.
"Lawsuit," another viewer said. "Do not give it back to them...call a lawyer."
Some, however, joked about the startling discovery.
"Why did it look good at first," a viewer asked.
"That's them plant based strips," another TikTok user wrote.
TikToker @jenaimeints posted a follow-up video on August 18 and updated viewers on what happened since she shared the first video.
She said she was contacted by Zaxby's and was offered a refund and a free replacement meal.
"I did get the refund for the meal and the replacement meal, and they did send compensation for said situation that happened," @jenaimeints said.
However, she said that the manager first dismissed her concerns.
In the comments section, she explained that she brought the meal to the manager who asked her what she wanted them to do about the meal.
"It's upsetting, obviously, for that to happen, but for how the situation happened and for how long it took for them to do anything, and that it took me posting a video that went kind of crazy for them to actually care," she said.
A spokesperson for Zaxby's told Newsweek that ensuring a positive guest experience is at the core of its brand.
"The isolated and unfortunate incident at the Dacula, Georgia, location has been addressed, and we're working closely with our franchisee to ensure our rigorous operational and quality assurance processes are consistently met," the spokesperson said.
Newsweek reached out to @jenaimeints for comment.
Other videos have gone viral as they relate to fast food establishments.
A man who said he previously worked at Wendy's went viral after he showed his kitchen that contained a moldy stove and a container of meat that was reportedly left out for hours.
Another video went viral after a woman who said she once worked for Panera Bread shared some "disgusting" insight into the chain.
One fast food employee, who did not reveal which restaurant she works for, showed how dirty the inside of a deep fat fryer was in a viral TikTok video.
Updated 08/30/2022, 12:02 p.m. ET: This story has been updated with comments from a Zaxby's spokesperson.