Woman Sues Police Department After Officers Allegedly Stomp Her Stomach, Leading to a Miscarriage
A woman named Emerald Black is suing the Californian city of San Leandro after an alleged June 7, 2019 attack by police officers that she claims caused her to miscarry. Her attorneys filed a lawsuit against the city and its police on Monday.
According to the lawsuit, on the date in question, Black had just been released from the hospital for a pregnancy exam which confirmed she was at high risk for a miscarriage.
After the exam, Black, still dressed in "hospital clothing," was a passenger in a car driven by her fiancée. When police pulled her fiancée over for having expired registration tags, Black informed officers she was pregnant and she was asked to remain in the car when police talked with her fiancée outside of the car.
Then, police allegedly yanked Black from the car, "taunted her, piled on top of her and stomped on her stomach leaving a shoe mark," according to the court filing.
The attack caused Black to miscarry, she says. Now she's suing for physical injuries, embarrassment, humiliation and emotional distress both from the incident and loss of her child.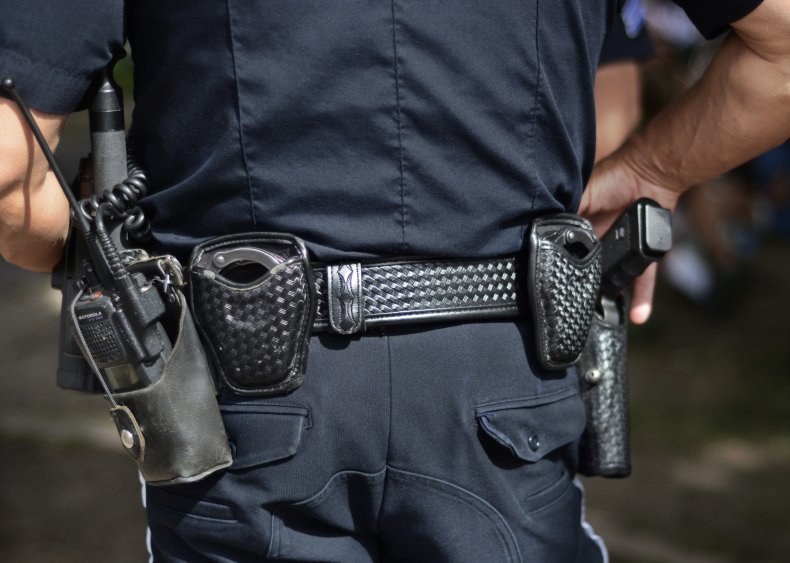 The lawsuit alleges that police violated Black's constitutional rights under the Fourth Amendment which prohibit excessive force and unlawful seizure since Black was allegedly unarmed, noncombative and had committed no crimes.
"Defendants had no probable cause or even reasonable suspicion to use any force whatsoever against Plaintiff. Therefore, the use of any force, was unlawful and excessive."
Black's lawyer also claims that the officers violated the state's Bane Act which protects citizens from any intimidation that interferes with their civil rights. Lastly, lawyers accused police of false seizure and arrest.
Newsweek reached out to Black's lawyers and the Leandro Police Department for comment. This story will be updated with any response.
This is not the first time police have been accused of mishandling a pregnant woman.
In May 2019, a Texas police officer shot and killed a woman during an arrest after she shouted, "I'm pregnant." The woman had allegedly tried to grab the officer's taser to use it against him.
In July 2019, New York City paid a $610,000 settlement to a woman who was shackled and handcuffed by police minutes before giving birth. Shackling pregnant prisoners during labor has been banned in New York state since 2009.
In July 2018, North Miami Beach police officer Ambar Pacheco was arrested after she allegedly kicked Evoni Murray, a pregnant woman, in the stomach. The woman was rushed to the hospital and gave birth to a healthy child. Pacheco was later charged with aggravated battery.