Woman Supported for Skipping Daughter's High School Graduation
A woman went viral online for teaching her daughter a lesson by not attending her high school graduation after being informed she invited her absent father instead.
The anonymous woman, known as u/Hopeful_Picture586, posted about the situation in Reddit's popular "Am I The A**hole" forum where it received more than 8,000 upvotes and 2,700 comments. The post can be found here.
Studies have shown that the absence of a father figure growing up can affect not only the child's mental health but also their education.
The National Fatherhood Initiative estimates that one in four children in the U.S. does not have a father figure at home. These children are two times more likely to drop out of school and face a four times greater risk of poverty.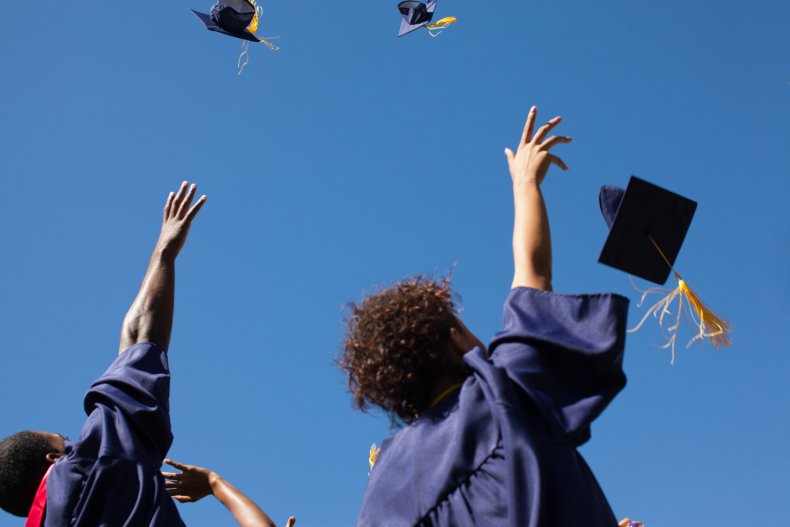 In the post titled "AITA for refusing to go to my daughter's graduation ceremony," the woman explained that her daughter B, 18, recently had her high school graduation but asked her not to attend.
The woman said she and B's father broke up before she was born but that he was very involved in her life until he got married when she was eight years old.
"He barely called and just abandoned her for his new family. This was obviously hard on her and she rebelled a lot," the post read. "But she went to therapy and seemed good. B has not seen him since she was 12 and he speaks to her maybe 3 times a year maximum."
Whenever her father does call, B believes he is back for good before he ghosts her for several more months.
The woman added that her relationship with B is great and that they do everything together. But a week before her graduation, B said she invited her dad and his son and since he doesn't want to see her mom she can't attend.
"B told me that was the only way he was gonna go. I angrily told her, I felt betrayed and won't forgive her for this," the post read. "She just told me I have been there for many of her milestones and she wants her father to experience some too. Things got heated and we argued."
The woman said she pleaded with B the night before her graduation but she said she was not changing her mind.
"I left and cried until my sister offered to take me out during the graduation to take my mind of it and I agreed," the post read.
The woman said she woke up the next day to B crying and wondered why she hadn't left yet–since the ceremony started in five minutes.
"B then tells me her father ditched her and isn't answering anymore. I hug her and tell her to make the most of her graduation," the post read. "She looked shocked and asks if I'm not going to the ceremony now her father isn't anymore."
B said it would be "embarrassing" to be the only one there without parents, but the woman told her she already had plans.
"She then screamed and called me a bad mom. I apologized once again and got ready to meet my sister," the post read. "I chose not to go because I felt betrayed and wanted to teach her actions have consequences, even if it broke me that I didn't go."
She said she is starting to regret not attending and said a mom told her B looked "depressed" at graduation.
"Now I feel bad that I ruined what was supposed to be a day to remember because I wanted to teach my daughter a lesson," the post concluded. "So aita?"
More than 2,700 users commented on the post, many supporting the woman's decision to not attend B's graduation.
"NTA. You gave her an important lesson about maintaining relationships with the people who are there for you and not blowing them off for the next new thing that comes along," one user commented.
"The real AH here is the father. He forced his daughter's hand by giving her an ultimatum," another commented. "He used his daughter to hurt his ex and then took off. The daughter is technically an adult, but she's still his child."
"She is old enough. She is not 5, she's 18. She took you for granted," another added. "Even after her father ditched her, she didn't invite you, she just expected you to fill in the spot as the second class parent you are."
Newsweek reached out to u/Hopeful_Picture586 for comment.
Another mother was recently supported after "begging" her daughter not to have any more children.
One woman recently viral on Reddit after saying she was labeled as a "bad mother" after refusing to care for her son's infant child.
Users also praised a woman online for refusing to get rid of her dog because her husband's affair child is allergic.