Woman Applauded for Threatening To Call Cops on Teen Stepson: 'Lawsuit'
A woman has been applauded for threatening to call the police on her teenage stepson, after he took her car without permission.
The doctor asked for advice on Reddit's Am I The A**hole forum under username u/DrDoneWithBS, as she explained she's on-call three nights a week, twice a month.
As such, she needs her car as a matter of life and death, should she get a call about an emergency, and need to drop everything at a moment's notice.
But her urgent transport needs didn't seem to have registered with her 16-year-old stepson, Rex, the child of her now-ex fiancé, Dale.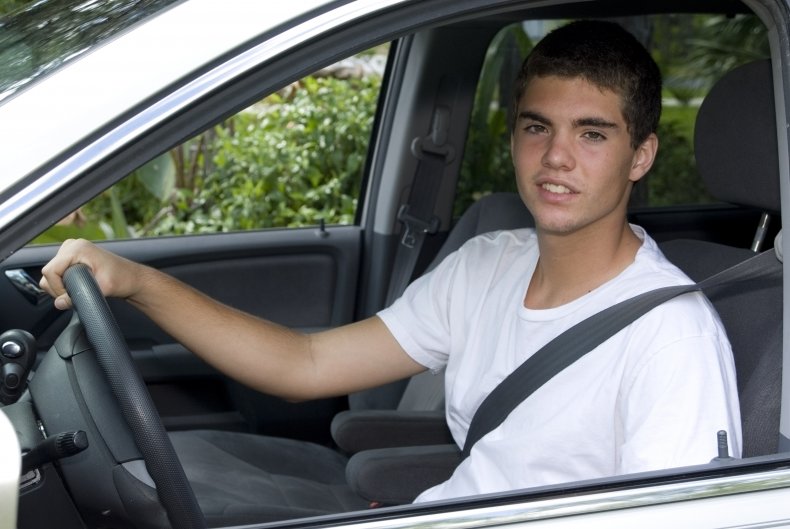 The doctor, 34, explained that Dale and Rex's mom had been saving to buy him a car for Christmas, as he currently borrows his mom's station wagon, or his dad's two-seater pick-up, neither of which is "practical for a teen."
Getting your own car is a rite of passage for many teenagers but they're a high-risk group.
According to The Centers for Disease Control and Prevention (CDC), motor vehicle crashes are the second-leading cause of death for teens in America.
Those aged between 16 and 19, like Rex, are most likely to crash. The CDC website says: "Per mile driven, teen drivers in this age group are nearly three times as likely as drivers aged 20 or older to be in a fatal crash."
And males in that cohort are even more likely to die in an accident, with the death rate for boys more than two times higher than their female counterparts.
"In 2019, almost 2,400 teens in the United States aged 13–19 were killed and about 258,000 were treated in emergency departments for injuries suffered in motor vehicle crashes.
"That means that every day, about seven teens died due to motor vehicle crashes, and hundreds more were injured," the site said.
The stepmom explained Rex texted to ask if he could borrow her car, and she said no, telling him she was on-call.
But a few hours later she spotted it was gone, and as she began to "panic" called Rex.
"Immediately dialed my stepson. He picks up and it's obvious he's in a mall store that plays loud music.
"I told him to get his a** home NOW, and he laughed and said that I am not his mom. He'll be home whenever he pleases.
"I'm not proud but I told him that he has 20 minutes to get home or I call the police and report it stolen. Rex panics and said he couldn't find all his friends and drive home in 20 minutes. Told him tough s**t," she wrote.
Rex texted her 10 minutes later to say he was on his way home, as the doctor called his mom and told her what happened.
"She was madder than me when I told her that I was on-call. She apologized and promised to talk with Rex and Dale ASAP. Rex came in, threw me my keys, locked himself in his room," the medic wrote.
But Dale wasn't happy, and he "DEMANDED to know why I punished his son," she said.
"I put my foot down and explained I am on-call, that means I need my car. Rex stole my car. Dale disagrees. His ex agrees with me and decided she will not be buying Rex a car anytime soon due to his entitlement," she added.
Dale apparently said as she's only been called in twice this year it was "making a big deal out of nothing," but in the comments, the doctor laid bare the seriousness of the situation.
"I could have lost my job because of his selfish actions. If I am on-call and don't respond then someone might DIE...
"So when I noticed that my car was missing, I could do absolutely nothing. In my head, I was jobless with an oncoming lawsuit."
Amid the tense atmosphere, and Rex blaming his stepmom for him no longer getting a car, the doctor said she saw a series of red flags, including a selfish streak in Dale.
"He said my doctor money would have to buy Rex a car to make up for all of the hard feelings. I am astonished at how delusional he is," she said, confirming she broke off their engagement.
The chart below, provided by Statista, shows important factors when buying a car.
The post has amassed more than 9,800 upvotes and comments since being shared on Wednesday. The top comment, from Chicagok8, was upvoted 9,300 times alone.
It said: "Rex took your car even after you said no, and Dale is OK with that?! Teenagers need boundaries and rules, and parents need to enforce those. Dale is the AH (a**hole) and he's setting Rex up to be one, too. Rex owes you an apology, not the other way around."
Others also sided with the stepmom, Raquelitarae commenting: "Mom, acquaintance, stranger, doesn't matter. Not your car, don't steal it."
Blueheronflight wrote: "It's worse because OP is a doctor but honestly NTA (Not The A**hole) if she is on call for retail, fast food etc. Actually as I type this NTA for anyone taking your car without permission."
Effective-Dog-6201 added: "But you can imagine Dale's anger if his son has an accident and needs medical care and can't receive it because Dr on call can't come in because her car was stolen. He really needs to think of the consequences if OP can't make it in to her job."
Newsweek reached out to u/DrDoneWithBS for comment. We could not verify the details of the story.