Woman Cheered for Threatening to Kick Sister Out If She Didn't Babysit
The cost of living crisis has increased the price of everything from food, gas and even childcare, so help from family members is crucial for some parents.
In a viral Reddit post on the AITA (Am I The A******?) channel, u/BlazingFisher explained her sister Ella, 18, lives rent-free in her apartment while she is attending a nearby college.
The mom-of-one, 24, turned to the internet for support following an argument with her sister who refused to babysit when she was called into work on her day off. Explaining the argument, she said Ella refused because she needed to study and suggested finding another babysitter.
"I told her I really needed her to do this for me, I never ask her. She told me I should just find a sitter online. I told her no, you need to watch him, I take care of you and you can do this one thing for me, or you can go back and live with our parents," the Redditor wrote.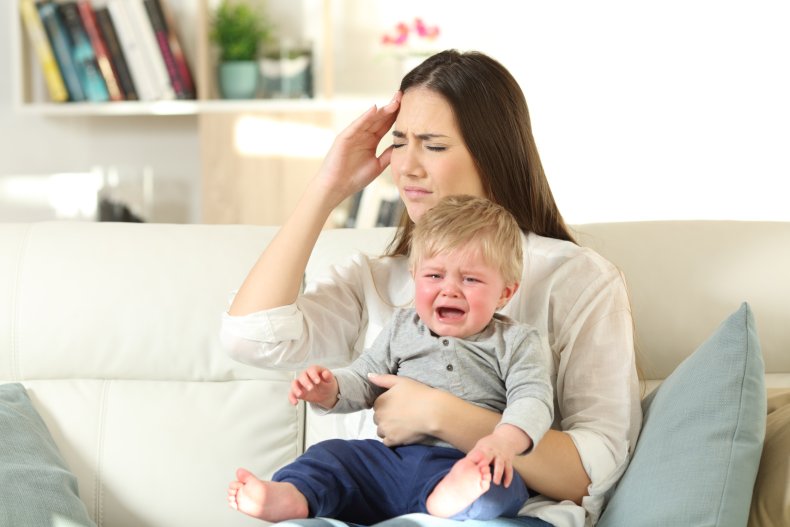 In the end, Ella agreed but the sister was bombarded with texts from their parents who accused her of abusing her power over her younger sibling. They also said her son wasn't Ella's responsibility.
She concluded the post by saying: "I never ever ask my sister for help with the baby. She lives with me so she's able to go to the school she wanted to go to."
Last year, Care.com, an online marketplace for childcare, revealed 51 percent of 3,003 American adults say they spend more than 20 percent of their household income on childcare.
The original poster states her fiancé is deployed and she works five days a week; this extra shift was a one-off. The survey results also revealed that 37 percent of parents find it challenging to book a babysitter.
'The Younger Sister Should Appreciate the Help'
Newsweek reached out to Lesley McGregor, a parenting expert for StellKey, an app that aims to "help families work together," who said the real problem is "miscommunication between the sisters."
"It was very generous of the older sister to provide room and board for the younger sister as well as give her spending money. She had no obligation to do this and the younger sister should appreciate the help," she said.
"However, the older sibling should have made it clear that there may be occasional babysitting help needed," McGregor told Newsweek. "She probably assumed help would be forthcoming anytime. If the younger sibling was free to help then she really should have. The older sister should have given her sister a heads-up at the beginning of the week about the babysitting.
"If the younger sister really had to study for an exam then the sisters could have problem-solved together—maybe the younger sister could ask a favor from a friend. Even if the work demand was sudden, the sisters could have worked something out (get a sitter but the younger sister pays the older one back in kind, the mom coming for the weekend) rather than argue about rights and responsibilities and get upset at each other."
The Reddit post has racked up 11,600 upvotes since it was shared on February 27.
The top comment has over 24,000 upvotes: "NTA (not the a******) I love the people saying 'but the agreement' to what? Not pay any bills and not contribute? The sister can do one f****** thing in the home. It would be more if she was freeloading off me."
"I think the ultimate response would be, oh yes, my son is not your kid therefore not your responsibility. So, you are not my kid therefore not my responsibility, and ship sister back to parents. The money you save from no longer housing your sister can go to babysitting," commented another user.
Newsweek reached out to u/BlazingFisher for comment. We could not verify the details of the case.