Woman Trapped by Extreme Flooding in Yellowstone Shares 'Terrifying' Scene
A woman's video in which she shared that she is trapped in Gardiner, Montana, due to the Yellowstone River floods has gone viral on TikTok.
Jaime Barks—an artist who was two weeks into a two-month road trip with her family— posted the first video in her series to her account @jamjambarks, and it amassed nearly 200,000 views in just one day.
"So, we made it to Gardiner, Montana, and it's stunningly gorgeous, and we may never leave," she said at the start of the video.
The National Park Service reported Tuesday that there has been major damage to several roads entering Yellowstone National Park between the entrance in Gardiner, Mammoth Hot Springs, Lamar Valley and Cooke City, Montana.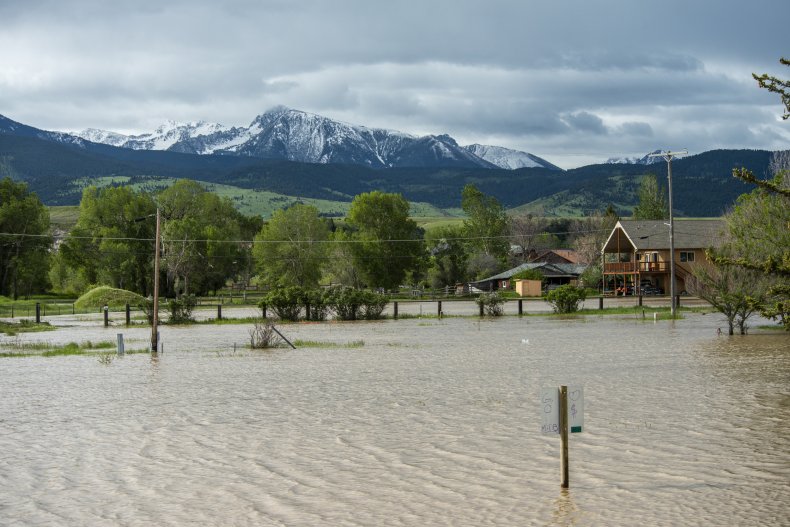 "Many sections of road in these areas are completely gone and will require substantial time and effort to reconstruct," the agency said.
Barks showed the roaring Yellowstone River and said roads have been wiped out because of the flooding.
"There's only one road into Gardiner and guess what? The river also took that out," she said. "So, we are physically stuck here."
Barks, who has been traveling in an RV, said she was "grateful" to be self-contained because the power was expected to go out at some point.
A Stranded Community
Some viewers shared in the comments section that they were also stuck due to the floods, and others urged her to stay safe.
"I used to live here for 5 summers," a TikTok user wrote. "The locals are incredible people. This is terrifying and absolutely devastating to the local economy."
"Stay safe and keep in mind there are locals losing everything today," wrote another commenter.
"Also stuck here," a viewer chimed in. "Just trying to enjoy our honeymoon!"
In a second video, which was viewed more than 100,000 times, Barks said she was "heartbroken" for the small community of about 900 residents.
"I just can't imagine watching these people lose their homes and knowing that they're losing out on all this tourist revenue," she said. "It's super upsetting."
At the time of posting her video, Barks said her family had propane, electricity and water and food if they needed to stay in town for an extended period of time.
A Way Out
In her third video, revealed that she and her family evacuated after officials opened a section of road north of town.
"The water receded enough that it was safe to drive on, and [the] Montana Department of Transportation is fantastic and they got the mudslide cleared," she said. "It was down to one lane, but we were able to drive out."
Barks said she and her family were prepared to stay to avoid causing any additional stress on the delicate infrastructure.
"We knew there were people that needed to get out for medical reasons, they needed to get medical supplies in for the community of Gardiner, so our plan was to remain for another day," she explained.
However, after they attended a community meeting, they were advised they needed to evacuate immediately if they wanted to leave the town. Barks said officials told them they were unsure how long the roads would be safe to drive on because of the rockslides and the floods.
Within 25 minutes, the family had their supplies packed and they were on the road.
While Barks said she was thankful she and her family could leave, she reiterated how upsetting it was for local community members.
"I can't imagine what they're experiencing," she said. "This was an inconvenience for us, but my house and my livelihood [are] OK."
She shared a final video that shows the scene as her family evacuated.
High waters were at the same level as the road, and one brief clip showed cars driving through a muddy roadway.
"We don't have a ton of footage because honestly, it was sort of a scary and intense and harrowing drive," Barks said in the video's voiceover. "We were able to exit the park, so we were no longer a strain on the community of Gardiner because I know that resources were extremely limited and finite."
Many viewers were shocked to see the footage.
"This video made me cry," one wrote. "Paradise Valley like this makes my heart sick."
"How kind of you to have concern for that wonderful community," another viewer commented. "Thanks for sharing. Glad you are safe."
Newsweek reached out to Jaime Barks for further comment.
Other social media users have taken to various platforms to share their own videos of the flooding. An earthquake also hit Yellowstone on Sunday just before the park closed because of the floods.