Woman Tried to 'Shoo' Coyote That Bit Her In Restaurant Parking Lot: Police
A woman was reportedly attacked by a coyote while she was in a restaurant parking lot in Swampscott, Massachusetts.
Fox affiliate station WFXT reported that officials with the Swampscott Police Department said the woman was approached by the coyote while she was with her friend.
Although officials say coyote attacks are "very rare", it's the second in the community in a short time.
Officers said she and her friend tried to "shoo" the animal away in an attempt to dissuade it from coming any closer, but it bit her leg and broke through the skin.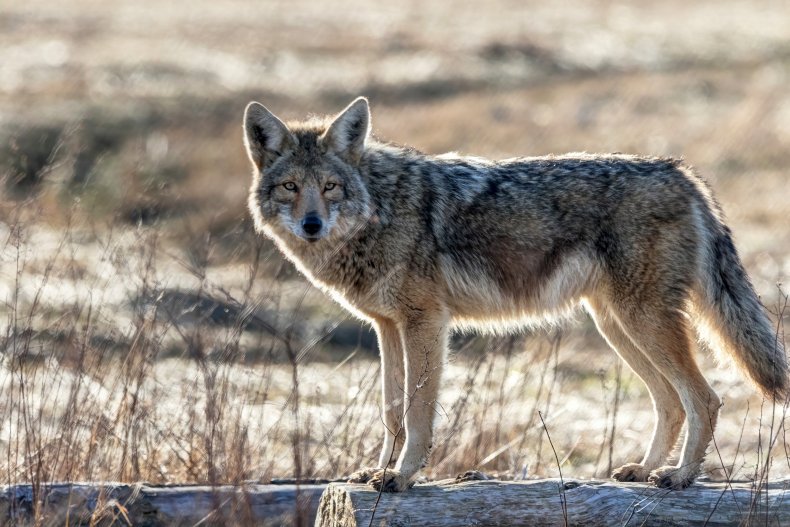 Per the Massachusetts Division of Fisheries and Wildlife, coyotes are found throughout the state, with the exception of Nantucket and Martha's Vineyard.
They are considered "opportunistic feeders" and will eat what is easily available to them.
According to the Humane Society of the United States, encounters between coyotes and humans are uncommon as they are "generally nocturnal." However, a coyote is not necessarily sick if it is spotted in the daytime.
"A coyote who does not run away when encountering humans has, most likely, become accustomed or habituated to people," the organization said. "This generally occurs when a coyote has been fed (in the form of handouts, pet food left outside or unsecured garbage)."
Coyote attacks are "very rare," and the Humane Society said that "more people are killed by errant golf balls and flying champagne corks each year than are bitten by coyotes."
WFXT said the woman went to a nearby clinic to receive medical treatment.
This attack comes on the heels of another coyote attack in the community.
The outlet reported in June that a man was on his phone outside of his truck when a coyote bit him on the calf, per police.
He chased the coyote into a wooded area with a wooden plank that he took from his truck.
Newsweek reached out to Swampscott Police Department for further information.
Other coyote news includes:
A child in Texas was left in critical condition in May after they were attacked by a coyote. Police located the coyote and shot at it, but it was unknown if the bullet hit it.
One video shows the fight that took place between a cat and a coyote on a deck in Texas in June. At one point, the cat jumped up onto the railing and the coyote grabbed it in its mouth for a moment. The cat escaped and climbed up a beam and out of the coyote's reach.
Another coyote reportedly attacked four residents in an Arizona community in October. Although officials attempted to locate the animal, they were unsuccessful.