Woman Tries Removing Alligator Off Road by Kicking It in Video Viewed Over 4 Million Times
A viral video that shows a woman appearing to kick an alligator out of the busy road it is blocking has become a stern warning for others who come across violent reptiles.
Footage of the encounter was posted on TikTok through the account @kelseym417, better known as Lake Charles, Louisiana, resident Kelsey Marcantel. The video, which has since been viewed over 4.2 million times and liked by more than 71,000 viewers, shows a woman wearing only a tank top, shorts and sneakers taking on the gator.
At one point, her foot connects with the alligator's open mouth, and the reptile attempts to bite her in retaliation. The woman then tries to kick the alligator twice more, but backs away as the gator comes closer with its teeth on full display. The video ends as another man approaches the gator with what appears to be a metal pipe in hand.
"Typical day in Louisiana," Marcantel captions the video, which was posted along with the theme music from the Jackass franchise.
The video, which according to a report from KTBC was filmed in mid-June, was posted earlier this week, amid a series of violent alligator attacks across America. On Tuesday, a woman's body pulled from a Florida retention pond was found to have been covered in alligator bites. Shortly after the body's discovery, her family confirmed that she had died in an alligator attack. Last month, another Florida woman walking her dog was reportedly bitten by a 7-foot alligator.
In light of these recent attacks, many TikTok viewers took to the comments section to express their shock that the woman would take on the alligator.
"This animal has one of the most powerful bites among animals. Sure let's use our foot," one person reflected. "A dangerous game," another chimed in.
According to a report from the Louisiana Department of Wildlife and Fisheries, alligators like the one on the Lake Charles road should not be approached by inexperienced citizens.
"If you see an alligator in a roadway, yard, or other unexpected place, DO NOT attempt to move it," the department reported. "It is dangerous and illegal for the general public to handle or possess alligators."
Marcantel later posted a follow-up video in response to comments that called the woman's kicking tactic a "good way to lose a foot."
"I'm not 100 percent sure what she was trying to accomplish by kicking it, but I do know she wasn't trying to hurt it," she says. "They were just trying to get it off the streets.
"The lady kicking the alligator was not actually with the other guy. That was a separate guy," she adds. "He just came, he pulled up and got that little stick out to try to just, I guess, just push it out of the street. You know, you don't want to run over it and kill it."
Marcantel also notes that, despite commenters who dismissed the severity of the situation, finding alligators in her region is a common occurrence.
"I will say, and I know I can probably speak for all of southern Louisiana, that this is something very typical. A lot of people are saying, 'There's no way this is typical,'" she says. "It very much is. Stuff like this happens every single day here. I'm sure the same thing happens in Florida, but Louisiana can be just as bad Florida. You just don't see as much of it."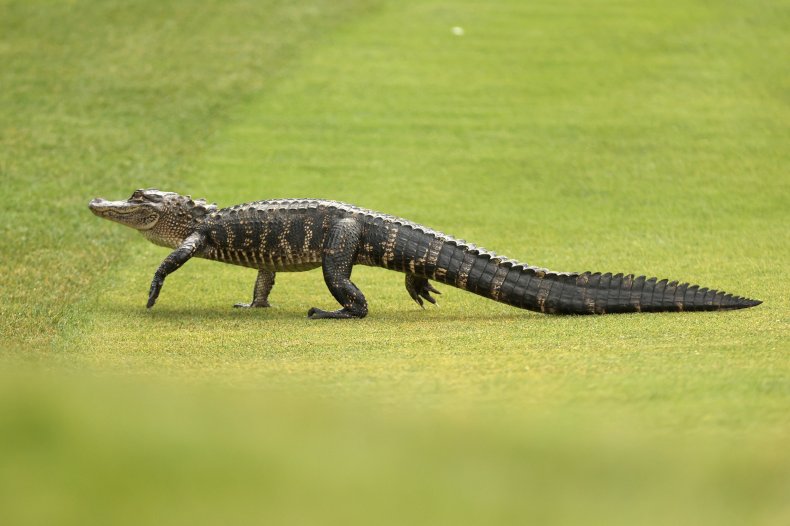 The Louisiana Department of Wildlife and Fisheries also warned on its website that, unlike the woman in Marcantel's video, one should not "kill, harass, molest, or attempt to move alligators," noting that "a provoked alligator is likely to bite."
Newsweek reached out to Marcantel and the Louisiana Department of Wildlife and Fisheries for additional comment on the situation, but did not immediately hear back in time for publication.
Not all alligators making headlines in recent weeks have done so for violent reasons. A Florida alligator recently made its way to a local church, where it was welcomed and reportedly "baptized" by a pastor.