Woman Tries to Return Remade Drinks in Viral Video, Igniting Debate
A woman in the drive-thru at a Dunkin' Donuts allegedly tried to return coffee drinks that had already been remade once, causing a debate over the situation in the comments.
The viral TikTok video, captioned, "It's Karen at the drive-thru for me #dunkindonuts #drivethru #fyp #foryou #fypシ #infamousxdrew," has been viewed 258,000 times so far since it was shared on February 28.
In the six-second clip posted by user @infamousxdrew, or Drew, a woman can be seen at the drive-thru window of a Dunkin' Donuts location holding up two large iced coffee drinks with each hand, allegedly trying to have the drinks remade again.
"Lady at Dunkin' Donuts was not having it with her coffee," the words appeared on the screen and were read out loud.
The TikToker zoomed in to show the coffees in her outstretched arms, and the woman then came into view, pulling the drinks back inside her vehicle.
"Oop she saw me," the TikToker said, appearing to hide behind someone else.
According to Statista, Dunkin' Donuts brought in $646.09 million in revenue in the United States in the year 2019. The website also reported that there were 9,630 Dunkin' Donuts locations in the country that same year with 3,507 locations internationally as well.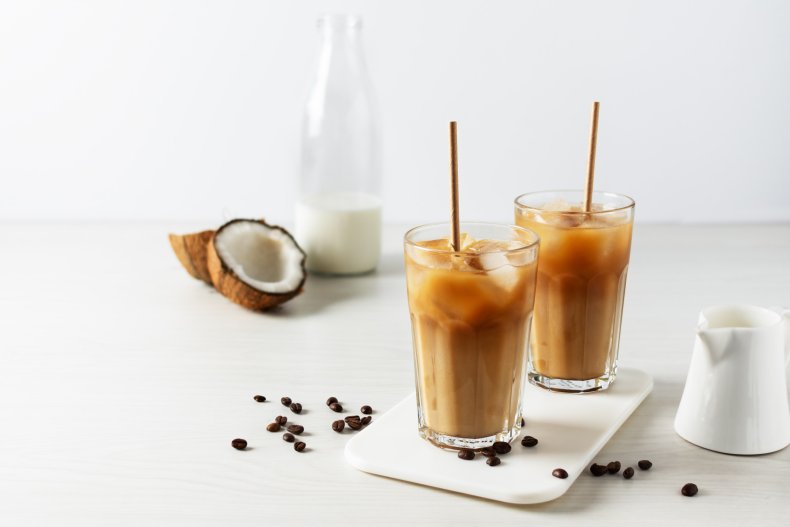 In a follow-up post, the TikToker said that when they were ordering, it was the woman's second time asking for new drinks, adding, "And her attitude, was not it. Was not it. 'Cause babe, I've had my drinks remade before, but not like that. Not like that."
The TikToker continued: "She was literally fed up, and the drinks looked fine to me. Granted, they're not my drinks. I don't know how they were made or anything, but I don't know, she could have been nicer, that's all I've got to say."
The viral clip has 7,000 likes so far, and people had varying opinions on whether or not the woman was in the right to try and have her drinks remade for a second time.
Some viewers thought if the drink isn't made right or they don't like it, they will return it. "If I don't like it, it's going back," a TikToker revealed. "People work hard for their money, nobody should have to pay for bad food."
A TikToker didn't blame the woman, saying that Dunkin' "is never consistent with the way they make their coffee. One day it's good, the next it's not."
Another viewer mentioned their own point that the woman wasn't bringing the coffees back halfway drank. They added, "Just do your job. It's not that hard."
One viewer admitted to drinking a $7 coffee recently that they didn't like. "It's OK to say something, but be respectful," they added.
A TikTok user brought up the people taking the woman's side, saying they "clearly haven't had a Karen at their job. Workers are still human, treat them like it."
While some TikTokers had comments about the establishment. "Dunkin' coffee either tastes like crack or river water, there's no in-between," a user expressed. "It depends on the location."
One viewer thought people are just missing the whole point. "You can have a valid complaint and issue, but also be a Karen by how you're handling it," they said.
Newsweek reached out to @infamousxdrew and Dunkin' Donuts for comment.