Woman Urged To Lie and Keep Her Pregnancy a Secret at Cousin's Wedding
The internet urged a woman to lie to keep her pregnancy a secret so it's not announced at her cousin's wedding.
Published to Reddit's r/AmITheA**hole forum, a woman under the username u/puppy_puppy_love posed the question: "[Would I be the a**hole] if I attend a wedding and my pregnancy is announced because I will not be drinking?"
The popular post has over 5,000 upvotes and 2,000 comments.
The original poster (OP) began her story by saying that she and her boyfriend have been dating for 12 years and have recently started trying to get pregnant. However, she hasn't told anyone that they were trying due to potential marriage and wedding conversations with family. She specifically wrote that they don't want a wedding as marriage isn't important to them.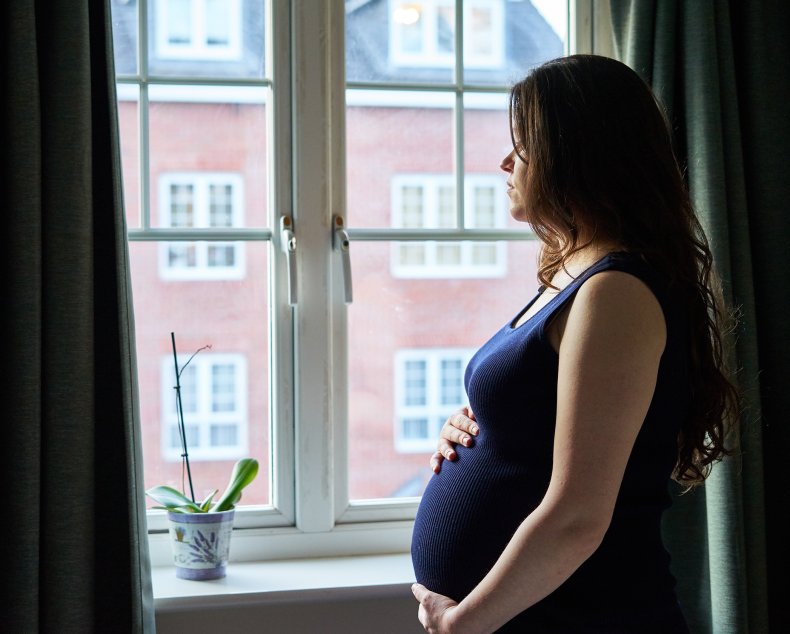 Since they are attending her cousin's wedding in a few days, she wanted to take a pregnancy test to make sure she was able to drink since she described the event to be "a weekend of heavy drinking." Excited to learn that she is pregnant, she decided to wait to announce it until she sees a doctor or until she is past 12 weeks.
"This happened so quickly I am not sure what to do," the OP said, "The bride has been dreaming about her wedding day her whole life and all the attention should be on her. I do not want to take her spotlight. This will be the first grandchild in the family and I assume that everyone will be so excited."
The OP continued, "The problem is that I drink alcohol and get drunk at every family event. My family loves to party and we take shots together, shotgun beer together, and randomly challenge each other to chugging contests. I am fully involved in the festivities and instigate a lot of the drinking. Basically, it will be very noticeable that I am not drinking and refusing shots. I am planning on pretending to drink beers by replacing it with water but I don't think this will actually fool my family."
She couldn't say she was the designated driver as the family is staying at the hotel where the reception is being held. She believes that if she is seen not drinking her family would start pregnancy rumors and take the attention away from the bride.
The OP's boyfriend suggested that they tell the family before the wedding but she doesn't think that would help. She also feels uncomfortable announcing her pregnancy early out of fear of a potential miscarriage.
Newsweek reached out to u/puppy_puppy_love for comment.
Newsweek has published several articles on weddings including a bride who had a meltdown about her husband's pregnant sister and a bride who has slammed after firing her maid of honor over pregnancy.
Things NOT to do at a wedding
During a wedding, the focus should stay on the couple getting married. According to bestlifeonline.com, here are some things NOT to do at a wedding:
Get engaged
Give a drunk speech
Wear white
Arrive late
Post pictures of the bride on social media before they walk down the aisle
Wing a wedding speech
Show up the bride
Bring a random gift
Complain
Change your seat
Be on your phone during the ceremony
Wear something "too tight" or "too short"
Ask for seconds
Get too drunk
Redditor reactions
"[You would be the a**hole]. Just say you're taking a course of antibiotics and can't drink if anyone asks," u/CrystalQueen3000 urged, receiving the top comment with over 24,000 upvotes.
U/RowenaStarr13 said, "Youre on antibiotics. You have a bet going. You've started a clean eating diet. You're prepping for a blood test. And if anyone ask if you're pregnant, just say no. [You would be the a**hole]. A simple Google search gives you a few ideas don't make your cousin's wedding about you. Don't announce it beforehand. It's tacky."
"You would be TA to announce it now. Just don't drink. Order a couple of mocktails that look alcoholic (orange juice looks just like a screwdriver) and don't say anything about it. If anyone notices and questions you (which seems odd to me) just tell them that you are on an antibiotic and cannot drink at this time," u/Strange-Turn9385 explained.
U/PizzaInteraction had advice for the OP, "[Not the a**hole] - I say call the bride and groom and ask them what they want you to do. It's their wedding, so they would appreciate the heads up."