Bride Slammed for Meltdown Over Pregnant Guest: 'Ruined Her Engagement'
Internet commenters were outraged after one expecting mother revealed why she was abruptly uninvited from an upcoming wedding.
In a viral Reddit post published on r/AmITheA**hole, Redditor u/throwaway12account1 (otherwise referred to as the original poster, or OP) said she attempted to hide her pregnancy until after her sister-in-law's engagement party but explained how hours of badgering and one poorly-timed joke let the cat out of the bag.
Titled, "[Am I the a**hole] for telling my sister in law that [I'm] pregnant at her engagement party?" the post has received more than 12,000 upvotes and 1,700 comments in the last day.
"I know this seems bad," OP began. "But hear me out."
Writing that she is four months pregnant, the original poster said she and her husband decided to keep the news a secret until after the engagement party.
The original poster also described her love for wine and blamed her refusal to drink during her sister-in-law's celebration for bringing her pregnancy to light.
"My in-laws own a winery and it's beautiful. It's where my [sister-in-law]...got engaged at and [where] the engagement party was," OP wrote. "I'm known for loving wine.
"At the engagement party, I was drinking water and talking to my in-laws when [my sister-in-law] offered me a glass," OP continued. "I told her that I don't feel like drinking. She kept offering me and I kept refusing.
"I made up so many excuses [until] she asked if I was pregnant as a joke. I nervously smile and try to walk away," OP added. "[But] she screamed that I ruined her engagement party for telling her...now my husband and I are not invited to her wedding."
Like wearing white or proposing to a partner, announcing a pregnancy at someone else's wedding—or wedding-related event—is ill-advised.
Despite the abundance of love and loved ones that come with weddings, it remains imperative that soon-to-be parents allow marrying couples to cherish their moment in the spotlight without the distraction of a guest's overshadowing pregnancy announcement.
"While it might be great to make your news known at a family gathering where everyone is present, it is key to ensuring that you aren't stealing someone else's thunder," doula and author Robin Elise Weiss, Ph.D asserted in a recent article published on parenting website Very Well Family.
"Hold your tongue if someone else has just made a big announcement, like their engagement," Weiss continued. "The same holds true for making the announcement at someone else's wedding."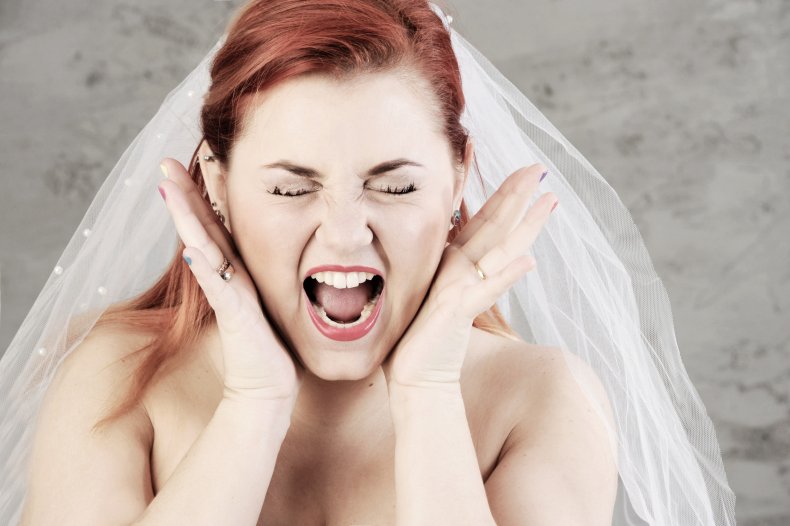 On numerous occasions throughout her viral Reddit post, the original poster stressed that she had every intention to follow this advice to a tee.
It was her sister-in-law who repeatedly pressured her into taking a glass of wine, it was her sister-in-law who suggested that she was pregnant and it was her sister-in-law who drew the ire of many Redditors responding to the viral post.
"Nothing is worse than a bride that thinks the whole world should stop for her and her wedding," Redditor u/LadyGraySky commented, receiving nearly 7,000 upvotes.
"Offering you a [glass] of wine is fine and polite, but if someone refuses why keep offering and even making the pregnancy joke?" they questioned. "Sounds like she was intentionally wanting drama."
Redditor u/Lostintheworl, whose comment has received more than 4,000 upvotes, echoed that sentiment.
"It's not like you said it," they wrote. "You just rejected a drink, she shouldn't have kept pushing. She blew it out of proportion, you kept it discreet."
"Play stupid games, win stupid prizes," Redditor u/tomanonimos chimed in. "You should make it abundantly clear to all of your family what happened."
In the post's top comment, which has received nearly 22,000 upvotes, Redditor u/CakeEatingRabbit assured the original poster she is not at fault for her sister-in-law's wicked reaction to her pregnancy and took issue with her badgering behavior.
"[Not the a**hole]," they wrote.
"But we seriously need to [normalize] women being able to just not drink," they continued. "I'm in the 'getting children age' and always have to drink the 'prove I'm not [pregnant]' drink."
Newsweek reached out to u/throwaway12account1 for comment.