Woman Says She Was 'Viciously Attacked' for Wearing MAGA hat, Claims Police 'Showed Bias'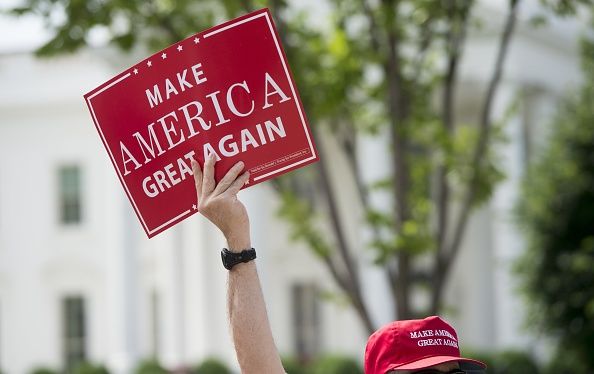 A woman who said she and her friends had been attacked for wearing "Make America Great Again" hats claimed that police did not take the investigation seriously.
The Austin American-Statesman reported that Haley Maddox was attacked on March 2 on East Sixth Street in Austin, Texas. Maddox posted a video to Instagram, claiming that she and her friends had been attacked during Texas Independence week while trying to show support for President Donald Trump.
"On Saturday night me and my girlfriends were viciously attacked by an entire bar of people, men and women included, for wearing MAGA hats," she said in the video posted to Instagram. "We did not go in with the intentions of starting a fight. We were just wearing our MAGA hats out on a Saturday and we wanted to show our support for Texas Independence week. We asked one of the bartenders to help us and he ended up choking out one of my friends."
She said the police were called following that incident and a report was filed, but she then said and she and friends were attacked again because of their hats. The video has since gone viral and has been shared by a political strategist on Twitter, garnering more than 360,000 views.
In the video, Maddox said she believed the police she reported the incidents to "showed bias," and suggested that the hats were the reason they were attacked.
"The cops that we reported this to showed bias, in our opinion, toward us because we were Trump supporters and insinuated that this happened because we wore those hats and that's to be expected nowadays, I guess," Maddox said in the video.
Newsweek tried multiple attempts to reach out to Maddox but she did not immediately respond. In a statement to Newsweek, the Austin Police Department confirmed the incident and said an investigation was ongoing.
"The Austin Police Department is aware of the assault with injury incident that occurred on March 2, 2019, at approximately 11:30 p.m. in the 300 block of E. 6th St. where a woman was allegedly assaulted for wearing a Make America Great Again (MAGA) hat," the statement read. "APD can confirm a report has been filed and the case has been assigned to a detective for investigative follow up. In addition, the Downtown Area Chain of Command is reviewing video of the officer/s interaction with the victims/witnesses."
There has been a rise in alleged criminal acts against people wearing Trump MAGA hats, Brian Levin, the director of the Center for the Study of Hate and Extremism at California State University, San Bernardino, told Newsweek.
"We have a polarized, racially, political infused landscape—this kind of conflict now bleeds over," Levin said.