Donald Trump MAGA Hat Attacks, Intolerance: List of Reported Incidents Against People Wearing President's Caps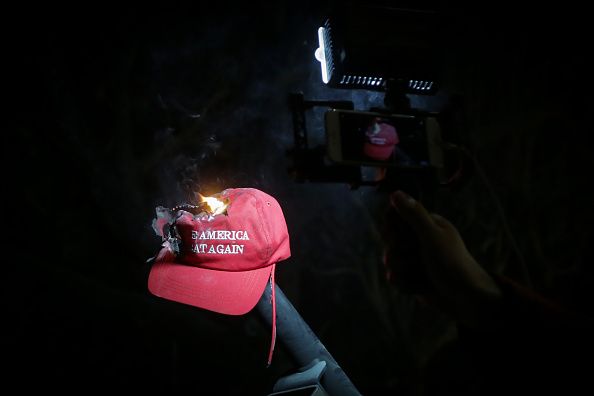 Terry Price has told his children and his wife they are not allowed to wear their "Make America great again" hats in public without him by their side after a man held a gun to his head for wearing the red cap.
Price, from Bowling Green, Kentucky, previously told Newsweek that he and his wife were shopping at Sam's Club in Bowling Green wearing the hats when James Phillips, 57, allegedly pointed a Glock .40 caliber gun at Price's face. Phillips allegedly told Price "this is a good day for you to die." He was arrested and charged with wanton endangerment.
Following the incident, Price said some of his friends changed their party affiliations from Democrats to Republicans because they could no longer "identify with a party that has so much hate."
"It's just gone too far," Price recently told Newsweek. "Republicans, conservatives and Christians need to stand up and take action against this kind of hate."
In 2017, hate crimes in the U.S. increased 17 percent, rising for the third year in a row. Forty-nine percent of race-based incidents were "motivated by anti-Black or African American bias," while 17.5 targeted white individuals, according to the 2017 FBI Hate Crime report. More than 58 percent of religiously motivated attacks targeted Jewish individuals, the report stated.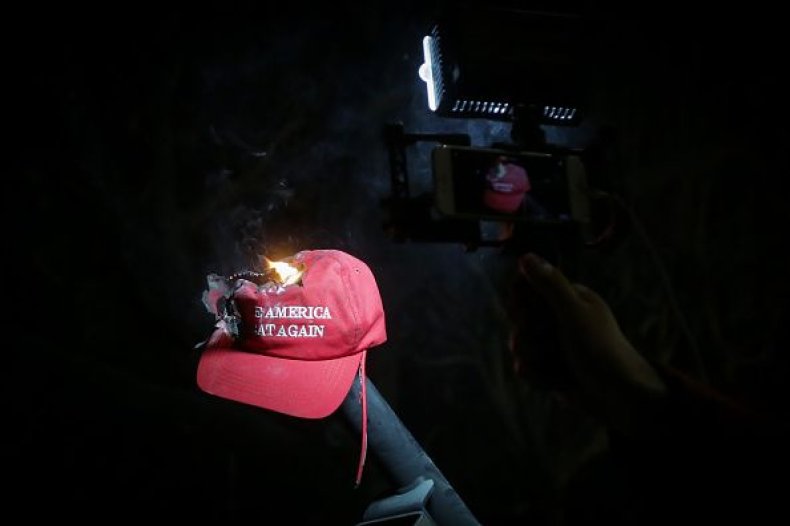 Brian Levin, the director of the Center for the Study of Hate and Extremism at California State University, San Bernardino, told Newsweek that the center had also noticed a rise in alleged criminal acts against people wearing President Donald Trump's MAGA hats and clothing.
"We have a polarized, racially, political infused landscape—this kind of conflict now bleeds over," said Levin.
"Unfortunately, we expect to see more of this. We believe that white nationalists and far-right extremists represent the most prominent extremism threats," Levin continued. "At a time of intense division, as well as the accession of euro or white nationalism, you're going to get these retaliatory movements to arise as well, even though white nationalism is broadly dispersed and has the most followers."
Newsweek has compiled a list of assaults and incidents that have occurred this year toward individuals wearing MAGA garb.
March 6, 2019
Police are investigating an incident after surveillance video from a school bus in Martin County, Florida, showed a bus aide yanking a student's "Make America great again" hat off his head.
Gunnar Johnansson, 14, told WPTV that students at Hidden Oaks Middle School were allowed to wear hats to school that week if they made a donation to March of Dimes. He told the news station he wanted to wear his MAGA hat "to show pride in Trump America." Once he boarded the bus, the unidentified bus aide told him to remove the hat before they grabbed it from him, WPTV reported.
"Boy, if you don't that hat off this bus…take it off," the bus aide said, according to surveillance video obtained by the news station.
March 2, 2019
A woman claimed she and her friends were attacked for wearing "Make America Great Again" hats. The Austin American-Statesman reported that Haley Maddox and her friends were attacked on East Sixth Street in Austin, Texas, during Texas Independence week. In a video posted to Instagram, she said a bartender attacked her friend while they were trying to order drinks.
"On Saturday night me and my girlfriends were viciously attacked by an entire bar of people, men and women included, for wearing MAGA hats," she said in the video posted to Instagram. "We did not go in with the intentions of starting a fight. We were just wearing our MAGA hats out on a Saturday and we wanted to show our support for Texas Independence week. We asked one of the bartenders to help us and he ended up choking out one of my friends."
Maddox said she and her friends were attacked a second time after leaving the bar because of their hats. She and her friends filed a second police report, but claimed the police that helped them "showed bias" for allegedly suggesting the hats were the reason they were attacked.
"The cops that we reported this to showed bias, in our opinion, toward us because we were Trump supporters and insinuated that this happened because we wore those hats and that's to be expected nowadays, I guess," Maddox said in the video.
March 1, 2019
At least one student was suspended from Perry High School in Gilbert, Arizona, for wearing MAGA gear and walking around with a Trump flag during a school spirit day with the theme "Party in the USA," the Arizona Republic reported. Parents and students claimed school administrators demanded the students remove the MAGA clothing, but a district spokesperson told Arizona Central that the students were only asked to put the banner away.
February 25, 2019
Two students at Edmond Santa Fe High School in Edmond, Oklahoma, allegedly got into an altercation over a Trump banner and Trump gear.
Kenneth Dewayne Jones, 18, could be charged with assault and battery after he was given a court summons on Monday for confronting a white student wearing a red "Make America great again" hat and wearing President Donald Trump's banner as a cape, The Edmond Sun reported. The video obtained by the publication shows Jones, who is black, confronting the other student.
"Take it off or I'll rip it off … do you want me to rip it off?" Jones can be heard saying.
The parents of the student who was confronted by Jones decided on March 4 that they would proceed with pressing municipal charges against Jones, KFOR reported.
February 25, 2019
An elderly man was assaulted inside a New Jersey supermarket after he was confronted for wearing a "Make America great again" hat, WCBS reported. The 81-year-old man from Franklin Township was shopping at ShopRite when he was confronted about his red hat, according to authorities. The Somerset County Prosecutor's Office announced on February 27 that they arrested Ryan M. Salvagno, 19, for the attack. Salvagno was charged with assault, a disorderly person's offense and harassment, and a petty disorderly person's offense, TIME reported.
February 20, 2019
A student from California is taking a stand after being told she could not wear her "Make America great again" hat on her school's campus. Maddie Mueller, a student who attends Clovis North High School in Fresno, is part of a group called the Valley Patriots. The group was asked to wear the hats at school, but the Clovis Unified School District said she could not wear the hat on campus.
February 17, 2019
An employee at a Vans clothing store in Overland Park, Kansas, was fired from his job for swearing at a teen for wearing a "Make America great again" hat. A video posted to social media showed the mother of the teen confronting the store manager at the store at the Oak Park Mall about the expletive that was directed to her son the day before. The company confirmed that the employee who said the expletive was fired, saying, "The actions and comments from one employee in our Oak Park location are in contrast with our company's values."
February 16, 2019
A couple from Kentucky claimed a man who was food shopping with his mother drew his gun and pointed it at them while they were wearing "Make America great again" hats.
Terry Price said James Phillips, 57, took out his loaded Glock .40 caliber gun and pointed it at the couple while they were shopping at Sam's Club in Bowling Green. He allegedly flipped off the couple because of their hats, stuck the gun in Price's face and said, "This is a good day for you to die."
February 15, 2019
Rosiane Santos was arrested in Falmouth, Massachusetts, and charged with disorderly conduct, assault and battery for knocking off a man's "Make America great again" hat, USA Today reported. The incident was captured on video by the victim, Bryton Turner. Santos now faces deportation following the incident for being an unlawful resident from Brazil living in Falmouth.
January 18, 2019
A student from a Catholic High School in Park Hills, Kentucky, wearing a MAGA hat went viral after a video surfaced on social media claiming he made racist remarks toward activist Nathan Phillips. Covington Catholic student Nick Sandmann and his friends went viral after a video of them wearing "Make America great again" hats while confronting a Native American beating a drum following two rallies at the National Mall. Initial reports were wrong: A longer video showed that the teens did not actually start the confrontation.
The quick video accused Sandmann and his friends of being racist toward Phillips, which led to a slew of death threats. Sandmann said the video was spreading "misinformation" about the incident. Sandmann's attorney sent more than 50 letters to media outlets, celebrities and individuals for possible libel and defamation lawsuits.