A woman in Tampa, Florida whose leg was amputated after a pedicure recently received a $1.75 million settlement for the incident, local news station WFLA reported.
Clara Shellman developed an infection after receiving a pedicure from Tammy's Nails 2 in 2018. The infection soon spread from her toe—which was cut by the nail technician performing the service—to her lower leg.
Morgan & Morgan attorney Paul Fulmer, who represented Shellman, told Newsweek that Shellman first thought the infection was "typical." About 22 days later, however, someone stepped on Shellman's foot while she was at work, and she "doubled over" in pain.
She then went to the ER, where she was told she had a serious infection that had broken the bone in her toe.
Sometime later, doctors amputated only one of her toes, but the pain was so severe that they were forced to amputate a second toe.
Part of Shellman's leg was ultimately amputated as a result of the infection.
Morgan & Morgan claimed that "careless cleaning and improper sanitation of nail tools" caused the infection, according to WFLA.
"When she patronized this salon, Ms. Shellman had a reasonable expectation that the professionals working there would keep their tools clean to protect her health and safety," Fulmer told WFLA.
"While the infection the salon allegedly caused Ms. Shellman began with a small cut, it spread quickly due to her severe peripheral arterial disease," he added.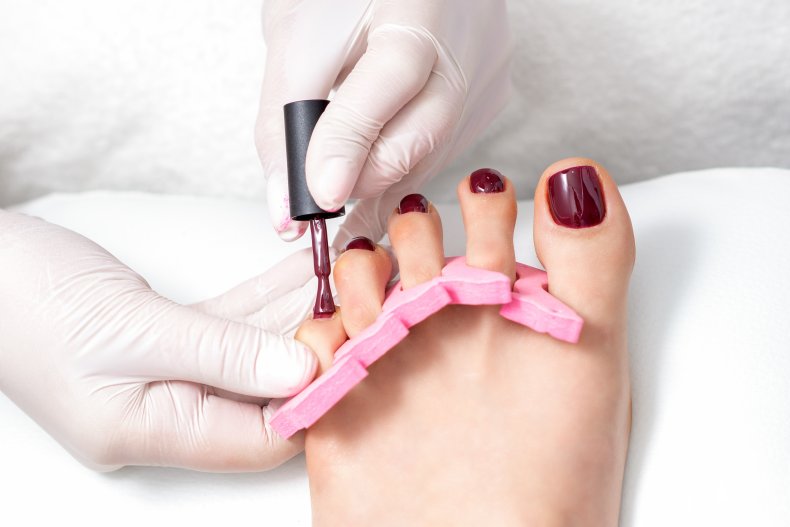 Shellman isn't the first Florida woman to undergo amputation as a result of a pedicure. In 2019, Lisa Scarborough was forced to have multiple parts of both feet amputated after receiving a pedicure at La Mer Nail Salon in Melbourne, Florida.
Newsweek reported that Scarborough fell into a coma after being cut by the technician's scissors.
She told Orlando's WESH News at the time that she was "near death" after the accident, and shared that she heard the voice of her dead brother.
"He was saying to my mother, 'Lisa's coming, mom! Lisa's coming!'" she said.
Podiatrist Joy Rowland, DPM told the Cleveland Clinic that people can receive skin and nail infections if tools aren't cleaned and sterilized properly. These infections include bacterial, fungal and viral infections.
To have the safest experience possible, Rowland recommended that people "pre-screen" their chosen salon.
"Visit the place you want to go. As you're in the waiting area, watch and see what they do. Make sure they bring out new instruments for each client and clean and disinfect their bowls after each use," she urged.
She added that those who have been cut by a technician during the process should not use the footbath.
"Sometimes the skin gets cut during the pedicure, then you put your feet inside the bowls. The bacteria from the legs, which is the natural flora from the skin, is swirling around inside the bowl and gets inside the cut," Rowland explained. "This can cause an infection inside the skin."
Regarding the settlement reached between Shellman and Tammy's Nails 2, Fulmer told WFLA: "While no amount of money can truly make up for such a life-altering injury, I'm happy that this settlement will compensate her for a world of pain and suffering that wasn't her fault."
Update 12/23/2021, 5:15 p.m. ET: This article has been updated with comment from attorney Paul Fulmer.