A woman decided to write a resume for heaven as her obituary, stating her experiences, volunteer work, training and references.
Beatrice Fediuk, née Hamel, passed away on February 12 in Winnipeg, Canada, aged 94.
Fediuk, who was one of seven children, decided to write her own obituary, which isn't uncommon. However the former teacher injected some humor into her parting statement.
The local newspaper, the Winnipeg Free Press, printed her obituary in their pages, and online, where it has captivated the imagination, and hearts, of people from around the world.
It starts: "Dear Lord, Please accept my application for Eternal Life. My resumé is as follows."
She divided her obituary into sections—not unlike a real resumé—under objectives, references, training, experience, volunteer work, hobbies and additional information.
The mom-of-one gave a summary of her life history, saying she was born on October 22, 1927, to "loving parents" Eugenie, née Painchaud, and Alfred Hamel.
Chatting about her siblings, she said: "They, along with my nephew Guy, and my husband John are already with you in Heaven and can provide references for me.
"I have left my daughter Michelle, her husband Perry, my granddaughter Kali, my sister-in-law Simone and many nieces and nephews on earth, as there are no openings for them in Heaven just yet."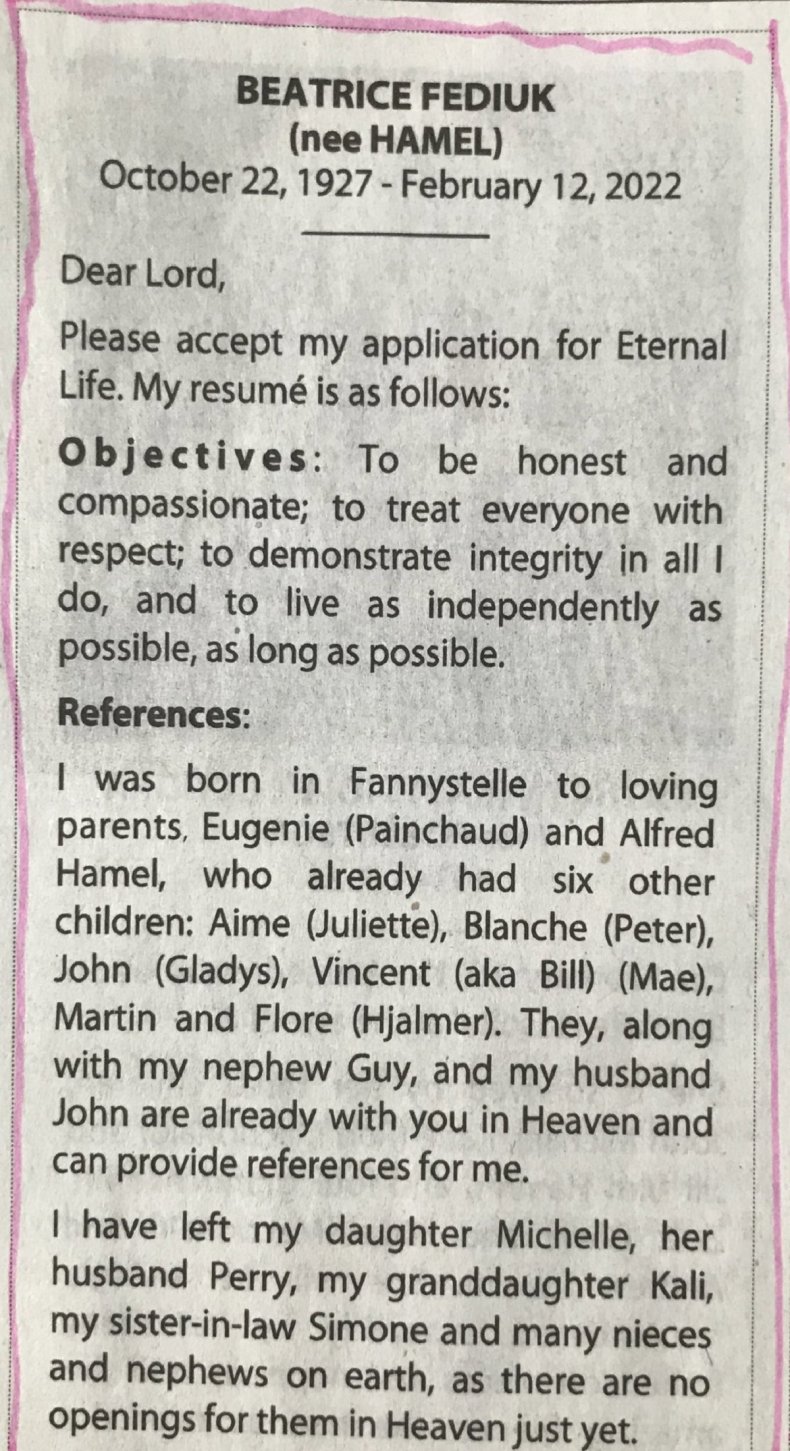 Data from the Population Reference Bureau, citing the 2021 World Population Data Sheet, revealed the average life expectancy in Canada was 84 for women, and 80 for men. That compares to 80 for women in the U.S., and 75 for men.
Fediuk chatted about her early years, schooling and career, as she began teaching in 1948, before moving to a town called Tyndall.
She said: "It was there that I met the love of my life, John, and we were married in June 1951. Our one and only daughter, Michelle was born 11 years later."
Fediuk shared her memories, saying: "Lord, you know that I never had any 'teacher's pets,' for gifted children already have a greater chance of success. Rather, I put my heart into teaching those with learning challenges, or difficult family situations. It was here that I feel I did my best work."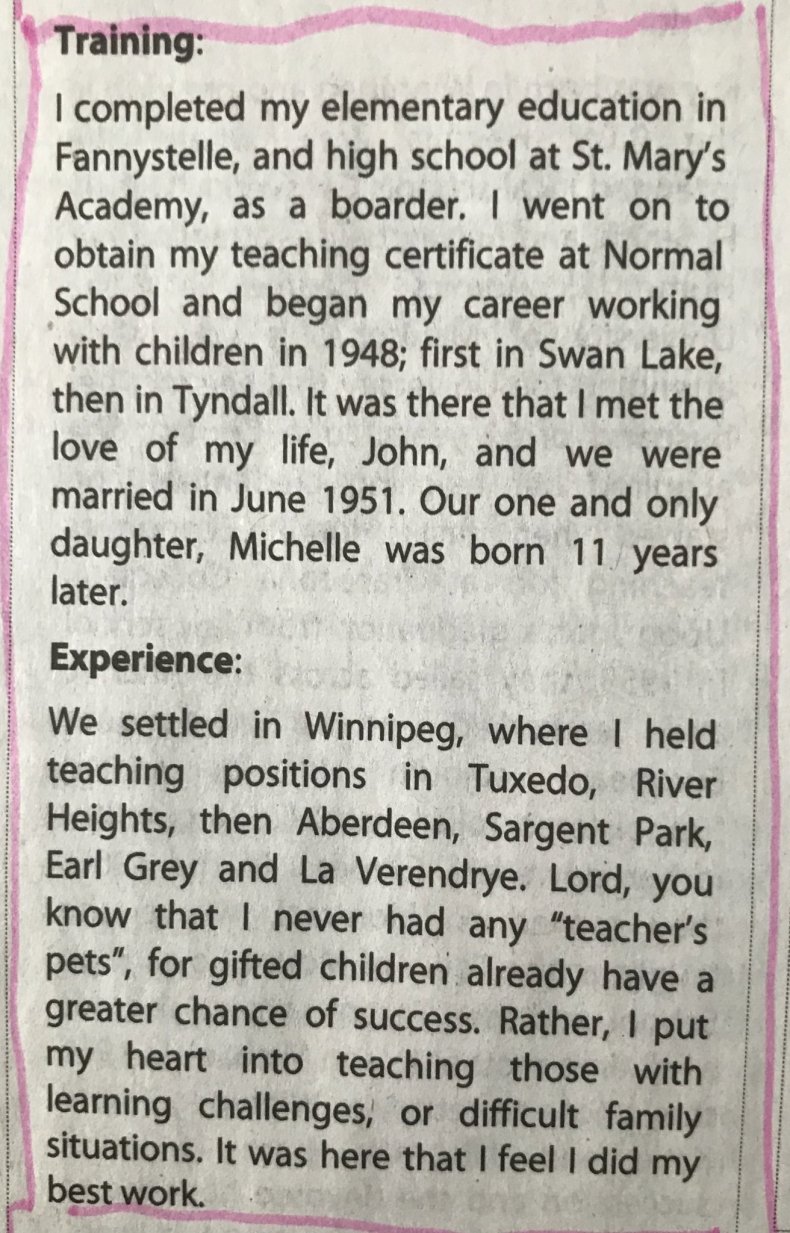 Fediuk continued volunteering with children, and became known as "Aunty Bea," as revealed: "When it was discovered that our granddaughter had an intellectual disability, I redirected my efforts to educating myself about her diagnosis, so I could support her in achieving her goals.
"And Lord, she taught me more about what is important in life than I ever taught her."
She loved animals as well as children, admitting she had numerous "fur babies" over the years.
Fediuk and her husband traveled, as she pointed out: "John and I were 'Winter Texans' for over 10 years and enjoyed socializing with friends and family in Magic Valley." While she continued volunteer work, knitting scarves for underprivileged children.
As the years went on, Fediuk shared how her life changed, writing: "At last, I had to face my greatest fear—the loss of my independence—and in February, 2021, I moved to Tuxedo Villa Personal Care Home. Thankfully, I had an amazing group of caregivers on Station 2, who kept me safe from COVID-19, as it ravaged the facility and the world."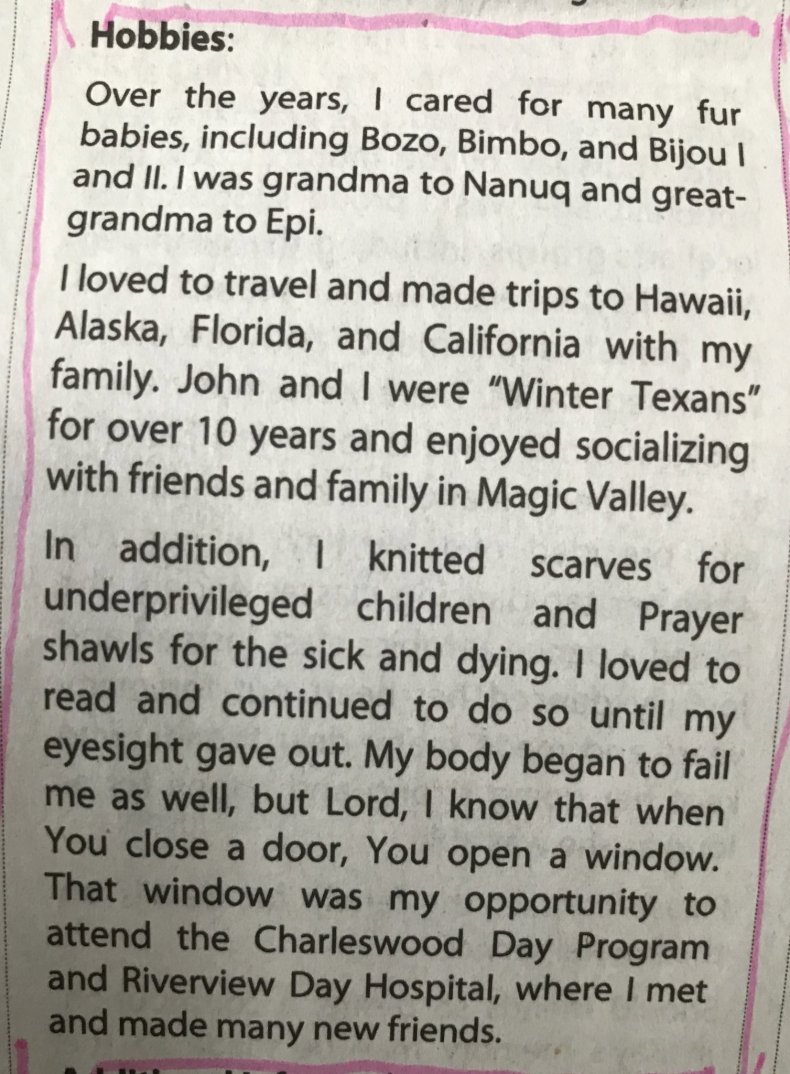 She praised staff at the care home, and to her "friends and family still on Earth" suggested making a donation to causes close to her heart.
Summing up her CV, she added: "Lord, I hope that you will find that I have met my Objectives and deserve a place in Your heavenly home. You know where to find me to further discuss my qualifications."
The obituary ends by revealing there was a mass to honor her life on Saturday, with a livestream of the event, before a private interment of her cremains at a later date was scheduled.
Her quirky obituary was shared to Twitter by Winnipeg Free Press journalist, Kevin Rollason, where it was re-shared online. Rollason confirmed the obituary was placed by the woman's family in the Passages section of the paper.
Rollason wrote on Sunday: "I've seen people who have written their own obits and write funny ones, but Beatrice Fediuk is the 1st to put in a resume to get to Heaven.
"She has references, experience, volunteer work and she says if the Lord needs more you know where she is #RIP."
Numerous people commented on the post, as Mary said: "Sweet Beatrice is definitely in heaven. She lived life to the fullest and fulfilled her goals. May she rest in peace."
Dianne Zuk wrote: "It takes a teacher, lovely ... hope your application was accepted!"
While Enzos mom added: "I read this and thought, what a lovely lady!! Wish I had known her..."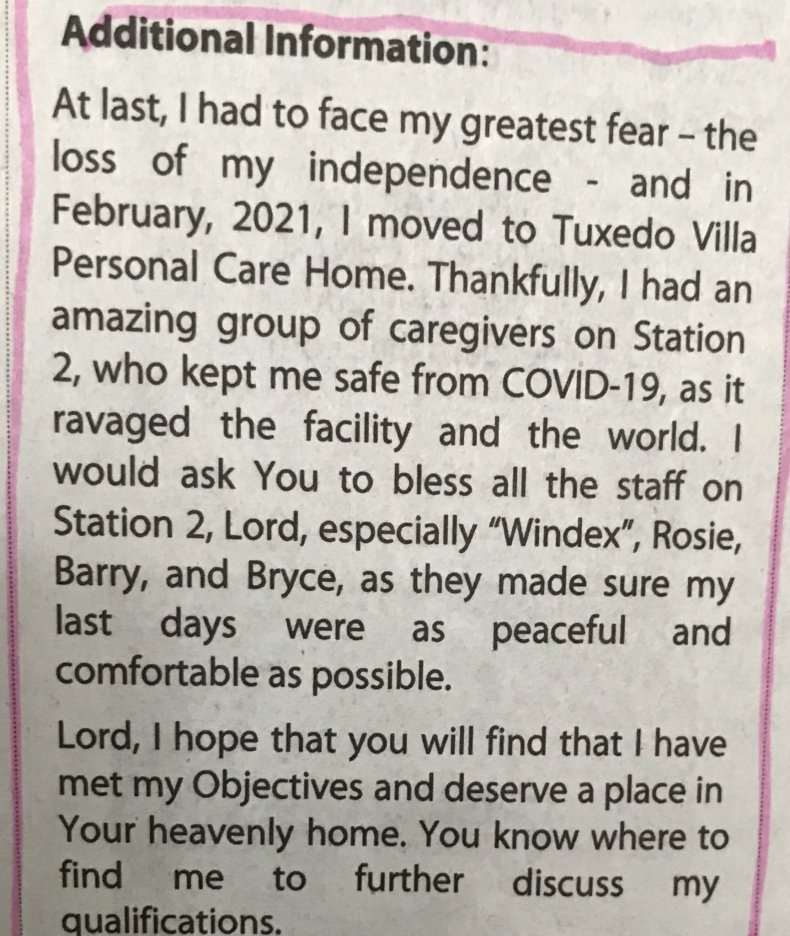 Update 2/22/22, 4:04 a.m. ET: This article was updated with photos from @KevinRollason.