Woman's Story About Meeting 'Authentic, Candid' DMX on Flight Goes Viral
A woman's story about meeting the rapper DMX, who is in a "grave condition" in hospital after a heart attack, has gone viral on Twitter.
Jennifer Fraser posted a thread on Wednesday, recalling how she met the rapper on a flight to San Diego in 2016. The thread has been retweeted more than 8,000 times and has amassed close to 30,000 likes.
Fraser explained that she and her stepdaughter Mia were going on a trip to celebrate Mia's college graduation and that she had upgraded their seats to first class for the short flight.
She wrote that she hadn't recognized the person who sat beside her at first, but it was "obvious" he was famous. He introduced himself as "D," she said.
"I repeated back 'D, the letter?' He replied, 'Yes, D, @DMX.'"
"I introduced myself in return," she wrote. "He added his real name was Earl. His music was present during many fun nights in college."
Fraser revealed that during the flight, the pair discussed topics including social media, race and the rapper's past incarceration.
"He was so authentic and candid," Fraser said, adding that he had at one point played her a song about his grandmother.
"He talked about his kids, he has a lot of kids. He worried about them and told me how much he enjoyed being a father returning again to stories of his grandmother and her influence in his life and as a parent. He talked about her illness, cancer. He talked about his faith," Fraser wrote.
She said they also discussed the musical Hamilton and the merits of posting images directly on Twitter to increase engagement. Her thread includes a retweet of a post by the rapper in June 2016, which Fraser is tagged in.
In another tweet, she said the "flight was short and made shorter by an engaging conversation."
Fraser continued: "DMX was well read and religious. As we stood to retrieve our bags overhead he asked for my phone number and asked if we would come to his performance as his guests."
She went on to say that she had assumed the rapper was being polite, but later that evening, she got a call from him asking to meet at his downtown hotel.
"DMX appeared and welcomed us, thanking us for coming. We walked outside to the bus and he called Mia and I away to a SUV waiting in the alley. The bus was for the entourage," she wrote.
At the venue where he was performing, she said he greeted staff "politely."
Alongside a photo of herself and her stepdaughter with the rapper, Fraser added: "DMX was very gracious. He narrowed his focus preparing to perform. We sat on stage and watched him perform a set. He took a break and sat with us. Mia was all over snapchat documenting her night."
She concluded the thread by writing: "@DMX is a talented artist, a loving father and a kind soul. I hope they release the song about his grandmother, I remember it being very different and personal."
Fraser told Newsweek that she shared the story "to reflect my positive experience with DMX through a brief encounter many years ago."
She added: "Knowing he was in critical condition, I just wanted to share the human side of the entertainer. I wish him well and a speedy recovery."
DMX, whose real name is Earl Simmons, was admitted to White Plains Hospital in New York on Friday after suffering a heart attack.
Hundreds attended a prayer vigil, organized by the 50-year-old rapper's family, outside the hospital on Monday.
In a statement released on Sunday, his family said: "We ask that you please keep Earl/DMX and us in your thoughts, wishes, and prayers as well as respect our privacy as we face these challenges."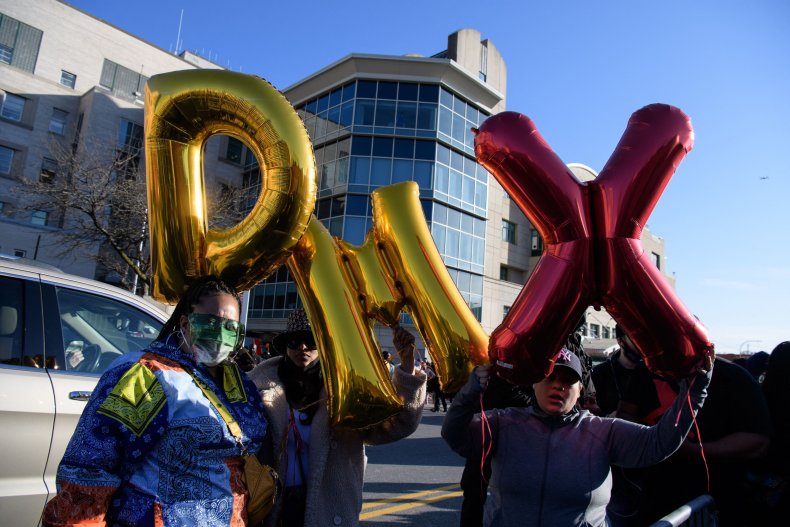 Update 4/8 4.58 a.m. ET: This article has been updated to add comments from Jennifer Fraser.