We live in a country that willfully neglects and devalues women—and lets them die.
We are one of the only countries in the world with no form of paid leave. We invest less in child care than nearly every OECD nation. We rank 71 in women's political representation. We have one of the highest maternal mortality rates in the developed world, one that continues to rise, and until recently we did not even officially count maternal deaths. The gender wage gap and motherhood penalty barely budge. Gender-based harassment and assault remain commonplace and often unchecked. The rape kit backlog is an abomination, and out of 1,000 sexual assaults in the United States, 975 perpetrators will walk free.
And now, after chipping away at choice for years, we are finally on the verge of losing the right to abortion care altogether—which is the loss of the right to self-determination and privacy and bodily autonomy.
These attacks have been building for years. Even in the midst of a historic pandemic during which women—especially women of color—have borne unimaginable burdens, lasting federal solutions like paid leave were sidelined.
In my role as Director of Paid Leave for All and in my own experiences as a mom, I've talked with so many women on the front lines of this crisis—women who have kept us safe. Women who have managed virtual learning and care closures, or risked everything continuing to go into work, often as essential workers and often without any guarantee of paid leave.
Women have put their bodies on the line, and yet, not only has all legislation to address this crisis stalled, but now women's rights and economic independence are being attacked further.
Paid leave and abortion access are related: The lack of paid leave will disproportionately harm women in the states most affected by the overturning or weakening of Roe. In the leaked Supreme Court opinion that will likely overturn Roe, Justice Samuel Alito notes that "leave for pregnancy and childbirth are now guaranteed by law in many cases." If only that were true! The "leave" that is available applies to fewer than 60 percent of the workforce and it is unpaid—disproportionately excluding lower-paid workers and single parents.
The reality is, none of the dozens of states with laws that would restrict abortion offer paid family leave if Roe falls. Only 23 percent of private sector workers nationwide have access to paid family leave through their jobs, and only 6 percent of the lowest-wage workers—already with the least access to abortion care—have access to paid family leave.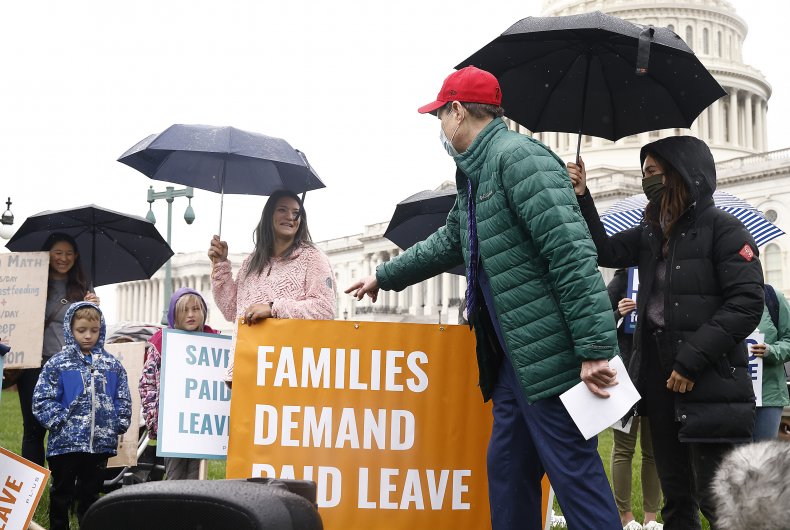 The idea that America in the 21st century supports women in the workplace and therefore reproductive choice is unnecessary is a dangerous lie.
Too often, policies seen as "women's issues" have been sidelined, considered social or soft rather than economic imperatives. Instead of supporting women, we embrace policies and practices from birth to death that keep women from positions of power, deprive them of resources and prevent them from knowing their own worth. Members of Congress with no respect for women's lives who are out of touch with their own constituents continue to stifle our ability to enact badly needed policies like paid leave.
But here are some statistics that those policymakers would be wise to keep in mind: Women are the majority of voters. Women have registered and voted at higher rates than men since 1980, with the turnout gap only growing.
Women are also the majority of volunteers, and direct the majority of consumer spending—now controlling some $10 trillion in U.S. financial assets; by the end of the decade, that will rise to $30 trillion.
Women are an increasing number of political donors, too, and in key 2022 battleground states, a majority of voters from every party support paid family and medical leave, including 94 percent of Democratic women, 71 percent of Independent women, and 61 percent of Republican women. These women reward champions of paid leave at the ballot box.
Women are simply the majority. Women, particularly women of color, have carried this country through a public health and economic crisis. And women hold up families, communities and our economy. Women won't stand by as lawmakers refuse to enact policies that protect us and our families while actively working to undermine our autonomy. We will be using our voices and our votes—because control of Congress, freedom, and our lives all hang in the balance.
Dawn Huckelbridge is the Director of Paid Leave for All, a growing collaborative of organizations working together to win federal paid family and medical leave for all working people. She has held leadership positions at Supermajority, American Bridge, Planned Parenthood, People For the American Way, and the Barbara Lee Family Foundation. She graduated from the London School of Economics and Political Science with a master's degree in gender and social policy.
The views in this article are the writer's own.