President Joe Biden's swift and decisive executive actions address the pain caused by the Trump administration. But more than that, the executive actions are a result of years of organizing, much led by women of color, and offer a hopeful and expansive path toward a country that serves all communities. The following are just five actions that Biden has taken, and the hidden women behind them:
1. Gender equity
Since taking office, Biden has signed an executive order banning discrimination on the basis of gender identity or sexual orientation. In addition, the Biden-Harris administration announced the formation of a White House Gender Policy Council, whose focus is "to guide and coordinate government policy that impacts women and girls, across a wide range of issues such as economic security, health care, racial justice, gender-based violence, and foreign policy, working in cooperation with the other White House policy councils." What makes this office distinct from previous presidential administration efforts? The office focuses on equitable policy for Black, Indigenous, immigrant, LGBTQ and disabled women and girls of color.
This victory is due in large part to the organizing effort of Tina Tchen, president and CEO of TIME'S UP Now, and Fatima Goss Graves, president of the National Women's Law Center, who coordinated dozens of groups to address the needs of women of color who have suffered under the weight of the COVID health crisis and job loss.
2. Keystone XL pipeline
Biden revoked the permit for the controversial Keystone XL pipeline—a 1,200 mile pipeline projected to carry 830,000 barrels of crude oil per day from Canada to the U.S. that would have cut through Indigenous lands. When Donald Trump announced the project in March 2017, environmental groups, landowners and several Native American tribes came out in opposition—including Joye Braun.
Braun is a member of the Cheyenne River Sioux Tribe and front-line organizer with the Indigenous Environmental Network. She is a wife, mother and grandmother. Braun was the first camper at Standing Rock and stayed until forced eviction in February 2017, spending 10 months on the ground. She has fought tirelessly to protect her own homeland against the Dakota Access Pipeline and the Keystone XL pipeline, while supporting threats of uranium and gold mining in the Sacred Black Hills. She is the Indigenous Environmental Network's Keystone XL campaign organizer.
3. Immigration and DACA
Biden has tackled Trump's xenophobic and inhumane immigration policies by signing an executive order revising his immigration enforcement policies and a memorandum strengthening the Deferred Action for Childhood Arrivals (DACA). The executive order revokes Trump's policy that targeted sanctuary cities—communities that protected undocumented immigrants from deportation. The memorandum preserves and fortifies DACA, a program that protected undocumented immigrants who arrived in the U.S. as children from deportation. The Obama-era program was under constant threat during the Trump administration, which sought to dismantle it.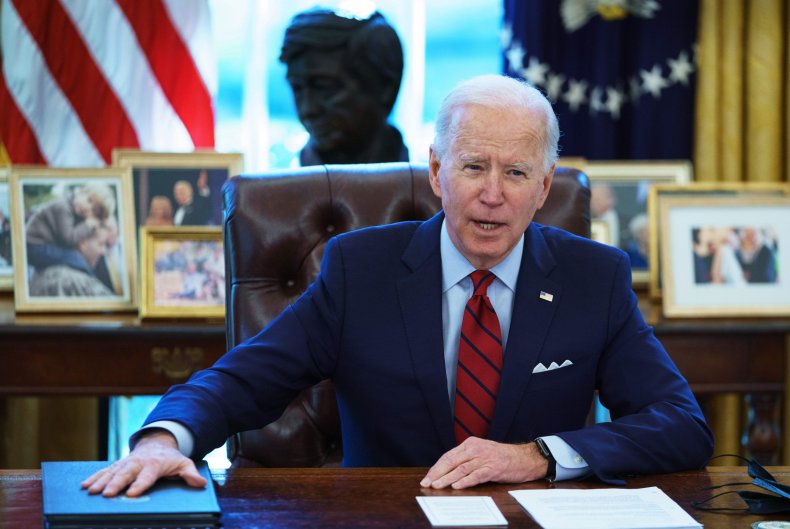 Immigrants' rights advocate Alida Garcia is a key figure behind this major shift. Garcia is the vice president of advocacy for fwd.us, an advocacy organization focused on passing comprehensive immigration reform.
In 2012, she served as the national Latino vote deputy director for President Barack Obama's reelection campaign. She fought to ensure that the Supreme Court did not side with the Trump administration to end DACA and has committed her career to bridging the gap between D.C and the people impacted by policies gained or stalled in our nation's capital.
4. Transgender rights
Biden signed an executive order reversing the transgender military ban, which prevented them from serving openly, and ordered the defense secretary to "immediately prohibit involuntary separations, discharges and denials of reenlistment or continuation of service on the basis of gender identity or under circumstances relating to their gender identity."
This is a big win for Imara Jones, creator of TransLash Media, a cross-platform journalism, personal storytelling and narrative project, which produces content to shift the current culture of hostility toward transgender people in the U.S. In 2019 she chaired the first-ever UN High Level Meeting on Gender Diversity with more 600 participants. Her work as a host, on-air news analyst and writer focuses on social justice and equity issues and has been instrumental in raising awareness about transgender issues and championing transgender rights.
5. Muslim ban
Biden signed a proclamation ending the ban on U.S entry from majority-Muslim countries, reversing one of Trump's most hateful and racist policies. The president also ordered plans within 45 days of signing the proclamation to resume visa processing.
Linda Sarsour has been at the center of this fight. Sarsour is the former executive director of the Arab American Association of New York and the co-founder of the first Muslim online organizing platform MPower Change. In addition, she has been named among 500 of the most influential Muslims in the world and is a frequent media commentator on issues impacting Muslim communities.
This is just the beginning. Creating much needed change in gender and racial justice requires legislation. Because of the strength of these women and the thousands like them, the new administration was able to act swiftly to right the wrongs of its predecessor.
Now we get to the work of legislation: raising the minimum wage, a COVID bill, police reform and expanding education and health care.
Thanks to our multicultural coalition, the foundation has already been set.
Aimee Allison is founder and president of She the People, a national network of women of color in politics. She is a regular Newsweek contributor.
The views expressed in this article are the writer's own.