Women Can Permanently Obtain Abortion Pill Through Mail as FDA Ends In-Person Pick-Up Rule
The U.S. Food and Drug Administration (FDA) has ruled that women seeking abortion pills can get them through the mail.
The FDA on Thursday said that a rule allowing people to order mifepristone, a progesterone blocker that prevents pregnancy, through telemedicine services should be kept in place. The change was meant to be temporary due to the COVID-19 pandemic and would be set to be revoked once it was determined safe to do so. However, the new FDA ruling shows that it might not be revoked for a while.
According to the official ruling sent to the California Academy of Family Physicians, the FDA said the benefits of mifepristone outweigh any potential risks that the user might experience. It also determined that the pill must be more easily accessible to those who need it, removing "the requirement that mifepristone be dispensed only in certain healthcare settings, specifically clinics, medical offices, and hospitals." Further, it required that all agencies and doctors' offices that distribute the pill "be specially certified."
The decision comes as the U.S. Supreme Court continues to determine the fate of reproductive rights around the country. SCOTUS ruled last week that Texas would be allowed to uphold some parts of its controversial abortion ban. One previous Texas law that continues to be upheld is the ban on mifepristone through telemedicine services, with penalties being given to providers who do. It is unknown whether the FDA will challenge Texas, along with the 19 other states that prohibit such distribution.
Mifepristone was approved for use by the FDA in 2000 and is often used with another drug, misoprostol. If taken less than 10 weeks into a pregnancy, it can terminate the development of a fetus. According to the FDA, 200 mg of mifepristone can be taken, with 800 mcg of misoprostol taken 24 to 48 hours later. Users are required to follow up with their healthcare provider around seven to 14 days after taking the regimen, especially if they develop any side effects.
"Today's news is a victory for public health and health equity. Let's be clear: The FDA followed the science in arriving at this decision. There is overwhelming evidence that medication abortion can be safely and effectively provided through telehealth," Alexis McGill Johnson, the president and CEO of Planned Parenthood Federation of America, said in a statement obtained by Newsweek.
"Abortion is time-sensitive, essential health care, and this decision will remove a sometimes insurmountable barrier for patients seeking an abortion," Johnson continued. "With abortion rights at risk like never before, the FDA's decision is a long overdue step toward expanding people's access to safe medication abortion."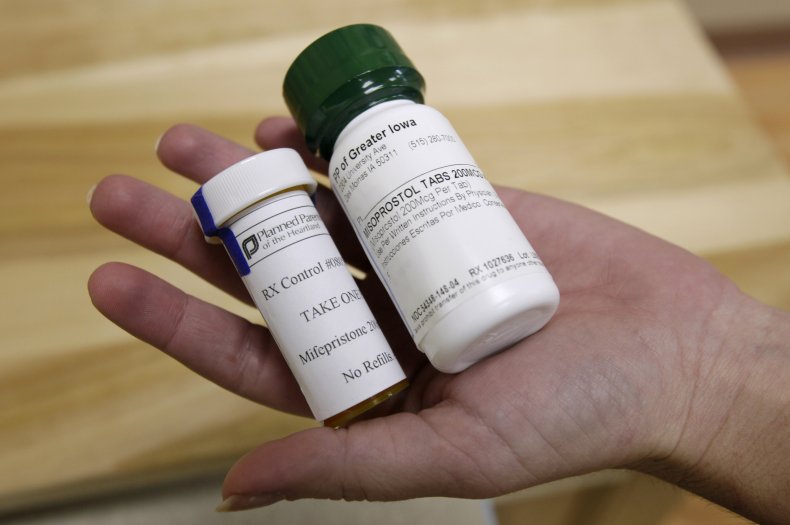 The decision is the latest shift in the polarized legal battle over medication abortion, which has only intensified amid the disruptions of the COVID-19 pandemic.
It is certain to spur legal challenges and restrictions in Republican-led states amid the ongoing battle over abortion.
Earlier this year, the FDA stopped enforcing the in-person dispensing requirement because of the pandemic. Under Thursday's decision, the agency will permanently drop the rule, which has long been opposed by medical societies and pro-abortion groups.
The Associated Press contributed to this report.
Update 12/16/21, 6:40 p.m. ET: This article was updated with a statement from Alexis McGill Johnson, the president and CEO of Planned Parenthood Federation of America.