In the spring of 2017, I was a sophomore at Fresno State University in California. Like many of my peers, I had personal, educational and professional aspirations. I didn't have much money, but I did have a desire to finish my college education and reach my goals.
While on campus one day, I visited a pro-life information table, where students were handing out 12-week fetal models. The model showed that each child at that stage has arms, legs, fingers, toes and all the facial features of any human being. At the time, I did not consider myself either pro-life or pro-choice, but I liked the model, so I took one and displayed it on the rearview mirror in my car.
Soon after, I found out I was pregnant. Like most other college-age women in my situation, I felt alone, scared, unsure of my future and incredibly underprepared. I visited a local Planned Parenthood, where a counselor tried to convince me that I was irresponsible, that I wasn't ready to be a mom and that abortion was my only option.
When I returned to my car, I found the fetal model hanging in my car. Its features, so similar to my own, reminded me that the baby in my womb was a fellow human being. After speaking with my boyfriend, I decided to choose life for my child.
A few months later, I gave birth to my daughter. That same semester, I earned a 4.0 GPA and reconnected with the group that gave me the fetal model, Students for Life at Fresno State, eventually joining their leadership team to help support pregnant and parenting students at the university. I finished my undergraduate degree, completed a Masters in Speech Language Pathology and now work full-time as a speech language pathologist.
The abortion movement doesn't want you to know about stories like mine.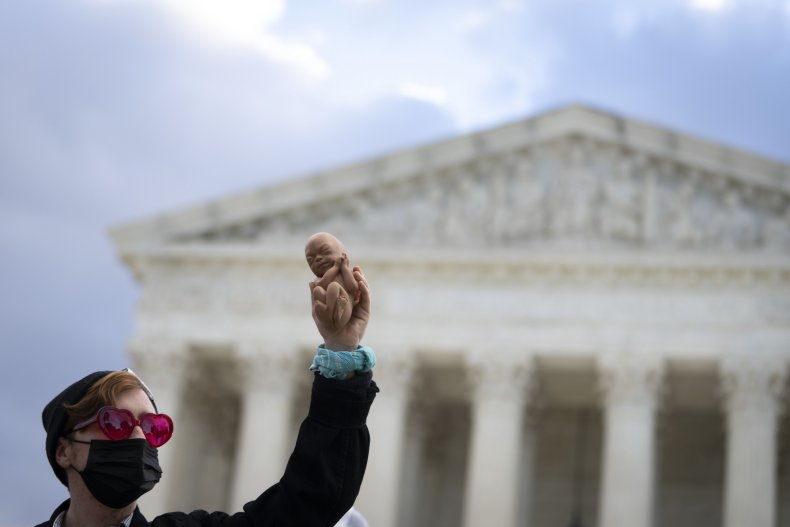 Next week, the U.S. Supreme Court will hear oral arguments for Dobbs v. Jackson Women's Health Organization. The state of Mississippi is asking the Court to protect the health of pregnant mothers, the integrity of medical professionals and the dignity of the unborn by allowing the state to limit abortions at 15 weeks gestation. By 15 weeks, a baby has a heartbeat, all her vital organs and even starts to develop a sense of taste.
Jackson Women's Health Organization is clear: its number-one focus is abortion. In September, the abortion facility filed a brief with the Supreme Court, stating that unrestricted legal abortion up to the point of viability is "the only way...to avoid inflicting profound damage to individual autonomy and women's equal status in society." It disregards the many social support programs available for single and working moms, including the hundreds of millions of dollars in material resources that pregnancy centers across the U.S. provide yearly for free.
Women are repeatedly told that they can't have a baby and go to school—that motherhood means they won't reach their full potential. But my story, like so many other women's stories, prove that isn't true.
The brief goes on: "In particular, young women (of all socioeconomic backgrounds), women of color, and women who are poor or living with low incomes...are more likely to need abortion care.... The most common reasons for ending a pregnancy include concerns about economic security [and] the desire to finish an education." I checked all of these boxes. According to this "health" facility, I was the perfect target.
But abortion was not what I needed. What I needed was real information about pregnancy and fetal development, the truth about what I actually can do as a pregnant student and people to offer me moral and practical support. The abortion facility didn't tell me—and never would have told me—about any of that. But it was all available, and it's available to women now.
Fortunately, all those years ago, my daughter made it out of the California abortion facility alive. Millions of others can't say the same about their own children.
My daughter motivates me to do my best in every aspect of my life. She is the reason I excelled in college and graduate school, and now in my career. Don't listen to businesses like Jackson, which use vulnerable women to sell their best—and only—product. Women don't need abortion to be successful.
Jessica Riojas is a mom and a full-time speech language pathologist-certified fellow in Central California.
The views expressed in this article are the writer's own.