Year of the Woman? Female Candidates Could Win Big in 2018, but We're Still Far From Parity
The true "Year of the Woman"—when women in state politics will finally hold as many legislative seats as men—won't be coming anytime soon.
Or, for that matter, anytime this century. It might be on track for 2150.
It may seem counterintuitive: Last month, the 11 women who were sworn in to the Virginia House of Delegates helped women reach an important milestone in representation. For the first time in history, women comprise more than 25 percent of the country's state houses, outpacing the proportion of women currently serving in Congress, which still hovers around 20 percent.
But the election patterns analyzed by Newsweek indicate it takes more than a single shock to bring lasting change for women. If women keep getting elected to state seats at the sluggish rate of the past 25 years, it's going to take more than 100 years before there is gender parity in America's statehouses. History shows that women's drive to get on ballots often diminishes after major victories, and that deep-seated patterns of sexism, partisanship and poor voter turnout still overpower most momentum.
Barring a rapid and unprecedented change of pace, the fight for equality is destined to drag into the 22nd century.
It's not always obvious which states would have the highest percentage of female state legislators, or the largest gains in women's representation over the years. Arizona, a red state, has consistently led the country on this front. In 1992, female state lawmakers made up 34.4 percent of Arizona's state legislature. In 2018, the state continues to lead, with women holding a solid 40 percent of seats in its statehouse. Only Vermont has a ratio that good.
Some states have fared worse over time. Female representation in statehouses in New Hampshire, South Dakota, West Virginia, Wisconsin and Wyoming has declined in the period of time Newsweek analyzed. West Virginia and Wyoming both had the biggest dips in representation, losing 7.5 and 13.4 percentage points respectively between 1992 and today.
The states that made the greatest leaps toward parity include Rhode Island, New Mexico, Virginia—where women, including transgender candidate Danica Roem, unseated 11 male Republican incumbents in 2017—and New Jersey, where a record number of women ran for state legislative office this past Election Day. Nevada had the best improvement, jumping from 19 percent female representation in 1992 to almost 40 percent today.
Other states have remained stubbornly static. In 1992, Arkansas, Louisiana, Mississippi and Kentucky all had percentages of female legislators hovering in the single digits. Alabama was the lowest, with women making up just 5.7 percent of the state legislature there. More than a quarter-century later, these Southern states still noticeably lag behind the rest of the country.
Over the past two decades, the number of women in office has only increased by an average of 7 percentage points total. From year to year, Americans can expect an average increase of about 0.2 percent, even including spikes in women elected to office, like in 1992, which increased representation almost 2 percent, and more recent years, which have seen increases averaging 0.5 percent.
"As much as people think they woke up [after President Donald Trump's victory] to a completely different world, the truth is, our system moves relatively slowly," Debbie Walsh, director of the Center for American Women and Politics, told Newsweek in November. "It's important for women who are new to this process to be in it for the long haul—for the marathon, not the sprint."
The historic state victories in 2017, the record number of women running for office in 2018 and a changing culture pitted against misogyny, suggest that gains are just around the corner. But they're not. There will be a time when women's victories and political power are no longer a novelty or a trend; but it is unlikely that any of us will live to see.
One Giant Leap for Womankind
As a girl, Carolyn Maloney could not conceive of a future where she was a congresswoman. Maloney said in Virginia Beach, Virginia, where she grew up, all of the women she knew were nurses, librarians or teachers—she thought women had to choose among these three options.
"My role models weren't women in Congress," Maloney, who represents New York's 12th district in the House, told Newsweek. "I never thought about running."
Maloney was a public school teacher and administrator in New York City before taking a job as a state assembly staffer—until community members told her they didn't want to just see her work for someone else. Maloney won a seat on the city council in 1982, and was elected to the House of Representatives in the historic "Year of the Woman" in 1992.
In that year, a record number of women were elected to Congress following a five-year campaign from the Feminist Majority Foundation to start a surge in women's political activism. It sparked speculation about a turning point for women in politics, one that could trickle down from Capitol Hill to statehouses and charge ahead from then on. "Calling 1992 the 'Year of the Woman' makes it sound like the 'Year of the Caribou' or the 'Year of the Asparagus,'" Senator Barbara Mikulski (D-Md.), one of the congresswomen who had been elected that year, remarked at the time. "We're not a fad, a fancy or a year."
Instead, it turned out to be the beginning of a plateau for female lawmakers, as the same obstacles from prior generations remained unmoved.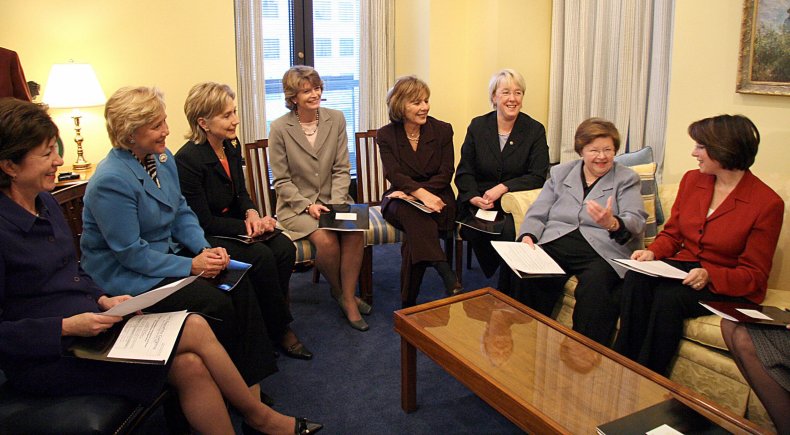 Systematic and internalized sexism still explain much about why women don't run in high numbers, regardless of any apparent progress. A 2013 American University study shows young men are more likely to imagine themselves as political leaders while young women are less likely to think they're qualified and, later in life, less likely to be recruited to run. If women are interested in policy, they are more likely to join a nonprofit or volunteer to raise funds for another political candidate than launch their own campaigns, much like a young Maloney.
After interviewing both men and women who served in state legislatures, Walsh said she realized women are conditioned to believe they're not good enough. "Men overwhelmingly said no one suggested they run—they just woke up one morning, looked in the mirror, said, 'I'd be a great state legislator,' and ran," Walsh said. "Women needed someone to tell them, 'We're looking for a candidate, and you'd be good.'"
Getting more women to run is, of course, the most crucial step to getting more women elected. As Walsh and other advocates for women in politics probably tire of repeating (or, maybe not): When women run, they win. A 2012 Smart Politics analysis as well as a 2016 study from Harvard University found women are elected and re-elected at the same rates as their male counterparts. The hard part is getting party leaders, political activists and women themselves to believe it.
"I make a point of encouraging women who visit my office to consider running—it's something I've done since I first got to the Senate," Senator Patty Murray (D-Wash.), who was also elected in the Year of the Woman, told Newsweek by email. "I remember once just after I was first elected—and remember, there were only six of us women then—I asked a young woman who stopped by if she had considered elected office. She looked at me and said, 'I want to see how you do first.'"
But in the age of Trump, women might not need the same cajoling to get them to run, a phenomenon that could signal enduring momentum for women in politics.
For all the harm Trump has wreaked on women's rights and progress, his election may have been a kind of political gift for feminist movements. Since his victory, women have signed up to run for office at every level in record numbers, showing a surge not seen since the 1992 races. His inauguration was followed by the single largest protest in American history: The Women's March, whose "Power to the Polls" anniversary events promised to channel women's rage into electoral victories in 2018.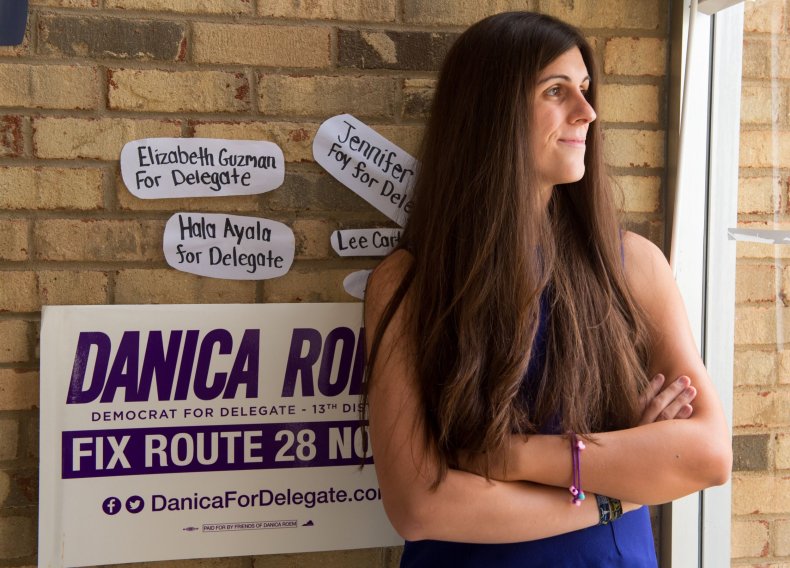 The women running in this election cycle defy much of the conventional wisdom surrounding what it takes to convince women to put their names on a ballot.
"These women aren't waiting to be asked," Walsh said. "No one's waiting to see if there's the perfect seat and the perfect opportunity. They're just running."
A Long Path to Parity
Still, there are other systematic barriers standing in the way of women. Voter turnout is crucial for any candidate who wants to win, and it's historically been a problem during non-presidential years. Jennifer Lawless, director of the Women & Politics Institute, said the major victories for women in 2017 races were partly thanks to female Democrats mobilizing high voter turnout—"largely because of Trump," she told Newsweek. Virginia's gubernatorial race drew the highest turnout in 20 years. The number of voters in the state's 2017 races trumped the last two election cycles by 5 and 10 percentage points respectively.
Even the structure of state legislatures themselves creates a barrier for many women, since they typically meet annually or biannually and pay little, making state legislator jobs most accessible to those with the financial means to get by on what is essentially a part-time job. That rigs the system against some aspiring candidates who also want to be mothers.
Then there's the partisan issue: As of 2017, there were 705 Republican women in state legislatures, compared to 1,112 Democrat women. Female candidates running on the Republican ticket may also have a difficult time raising funds, at least in the case of Republican female challengers in House elections, who, as of November, had only raised an average of $14,907 to Democratic women's $118,037. In order to close the gender gap in their own party—as well as the gender gap in the country's state houses—Republicans will need to make their own concerted effort to run female candidates.
"If we're going to get to gender parity in state houses, it can't all happen on the back of the Democratic party," Walsh said. "It has to come from both sides of the aisle."
Equality...Eventually
Experts are cautiously optimistic that women lawmakers might finally find equity in their lifetimes, even in the face of Newsweek's finding that gender parity in state legislatures is more than a century away.
"That number is predicated on the assumption that nothing ever changes," Lawless said. The grim projection "in a lot of ways represents a worst-case scenario that suggests there will never be any kind of jolt or shock to the system."
If women made up half of the state governments across the country, American life as a whole could be revolutionized. Women sponsor and co-sponsor legislation more than men do and are more likely to give attention to issues affecting women and families, according to a 2011 study in the American Journal of Political Science. A 2016 study from the Journal of Consumer Research also showed women are better at compromising, stating compromise is "nearly guaranteed when a woman is involved in decision-making pairs."
Issues like birth control, abortion and paid family leave might not be up for debate if more women had a say. The decisions about what women can do with their bodies and thus their lives would be driven by women, rather than a roomful of men.
But that future will not be possible until women candidates finally break the cycles that keep gender parity out of reach. It will take every American to help them: If we can't imagine a future where women lead and govern in the same numbers as men, not only will gender parity continue to elude us, but so will gender equality.
"We're still convinced if half of the Congress was women, women's health wouldn't be a political issue," Eleanor Smeal, the Feminist Majority Foundation's president, said. "You can't keep begging white men for your rights."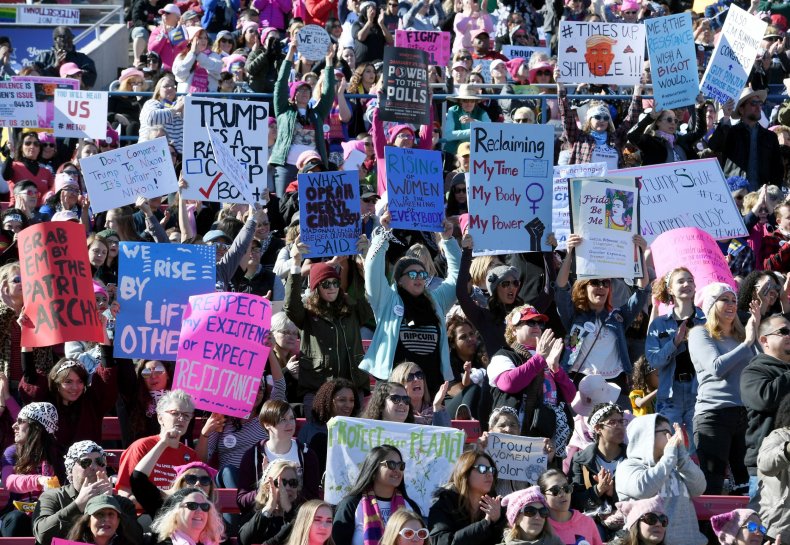 How We Got the Numbers
Newsweek came up with four calculations to estimate how long it will take to reach gender equality in all 50 statehouses based on the progress of the past. Each calculation showed that gender equity is more than a century away:
• One method subtracted the percentage of women lawmakers in each state in 1992 from the percentage in 2017 and divided it by 25 to find the rate of change over 25 years. We averaged the result for all 50 states and projected how long it would take, under that rate, for gender equity in all 50 states.
• The second method calculated the rate of change for the number of women lawmakers in each state for each year accounting for each year from 1992 to 2017. We used this rate of change for each state, and averaged all the states.
• The third method used the fastest rate of change for each state from both the first and second calculations, and then averaged that result for all 50 states.
• The fourth method used a weighted rate for the results of the third method, taking into account that some states have more legislators than others. It then multiplied the rate of change by the total number of legislators.
The calculations and results were guided and analyzed by Devon Bracher, a master's student at Northeastern University in Urban Informatics, and by Michael McClellan and Sam Silva, who are both atmospheric science Ph.D. candidates at the Massachusetts Institute of Technology, at the request of Newsweek.