Women for Trump Co-Chair Claims Women 'Are Truly Equal for the First Time Ever' Thanks to the President
Gina Loudon, co-chair of Women for Trump 2020, praised President Donald Trump, claiming his policies have benefited women and made them "truly equal for the first time ever."
Loudon made the comments, which were shared in a clip by Right Wing Watch, during an interview on right-wing show YourVoice™ America hosted by Bill Mitchell. During the segment, Loudon, who also serves on the Trump campaign's media advisory board and is a member of the president's Mar-a-Lago club, argued that the current administration's support for women was "unparalleled."
"He has been the women's president. This president has done more for women— it's unparalleled. There's no president that even comes close to having done for women what this president has done for women, and the things this president has done for women will be a legacy to our daughters, to our granddaughters, to our great-granddaughters," Loudon told Mitchell.
She went on to claim that the president's support for female voters is why Women for Trump is pushing for the president's re-election. "We are truly equal for the first time ever," Loudon claimed. "And we have to re-elect this president."
A June poll conducted by The Hill and Harris X found that 62 percent of registered women voters said they were unlikely to vote for Trump in 2020. Of those, 53 percent said it was very unlikely, while 9 percent said it was somewhat unlikely. Another poll conducted by Greenberg Research and Democracy Corps last month found that white working class women, who came out strongly for Trump in three years before, were evenly split in matchups of Democratic candidates former Vice President Joe Biden or Senator Elizabeth Warren against Trump.
"That brings an end to Trump's white working class revolt in 2016, as the women are a majority of the white working class," a memo connected to the poll said.
Many women's rights groups have slammed the president's policies, arguing that they negatively impact women nationally and internationally. A key criticism is that the Trump administration has worked to roll back reproductive rights nationally, while cutting funding to international aid organizations that discuss or promote reproductive rights abroad.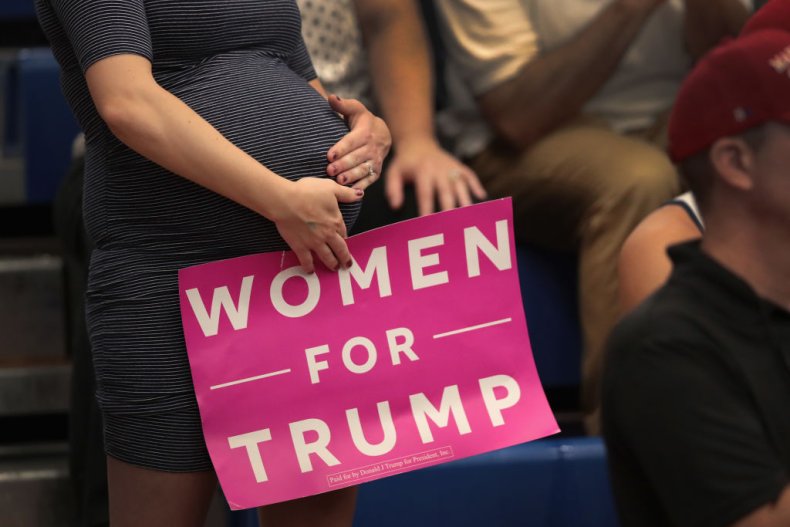 "It is appalling to dictate to civil society groups and health care providers how they can spend their own money and force them to withhold from women critical information about and access to the full range of reproductive health care," Nancy Northup, president and CEO of the Center for Reproductive Rights, said in a 2017 statement.
The president has also been accused by multiple women of rape and sexual assault. Lost Tycoon, a 1993 book about Trump, included one account of him violently attacking his first wife, Ivana Trump, provided during a 1989 deposition related to their divorce. During the 2016 election a leaked Access Hollywood tape surfaced in which Trump could be heard bragging about grabbing women's genitals without their consent. Earlier this year, writer E. Jean Carroll came forward with her own claim of sexual assault by Trump. The president has consistently denied all allegations of rape or sexual assault against him.