'WomenAgainstTrump' Resurface Clip of Barbara Bush Criticizing His Treatment of Women
"WomenAgainstTrump" are taking over the Twitterverse. The phrase, hashtagged, trended on August 3, as women who oppose President Donald Trump voice their issues. A common subject in the hashtag? The sexual assault allegations surrounding Trump.
On Monday afternoon, the hashtag #WomenAgainstTrump was the top trend in the United States. Over 41,000 people were Tweeting about it at the time.
Despite his claims that he is respectful towards women, many feel differently, including former First Lady Barbara Bush. The Twitter trend resurfaced an interview from May 2016, featuring Bush's scathing remarks against Trump.
Bush told CBS This Morning that she couldn't believe how Trump treated women. Bush called it "unbelievable," and said that she didn't know "how women could vote for someone who said what he said about Megyn Kelly." "It's terrible, and we knew what he meant, too."
In August 2015, Trump told CNN's Don Lemon about Kelly's role as a moderator for a Republican debate that month. "Does that sound to you like the temperament of a man we should elect as president, and how will you answer the charge from Hillary Clinton, who was likely to be the Democratic nominee, that you are part of the war on women?" Kelly asked Trump during the debate. He responded: "I've been very nice to you, although I could probably maybe not be, based on the way you have treated me. But I wouldn't do that."
The next day, the then-GOP candidate said that she "had blood coming out of her eyes, blood coming out of her wherever" during the debate. "She gets out and starts asking me all sorts of ridiculous questions," Trump added.
In the 2016 clip, Bush went on to say that money doesn't buy everything. "It's accomplishments, and what you're doing and giving," she continued, adding, "it's incomprehensible for me."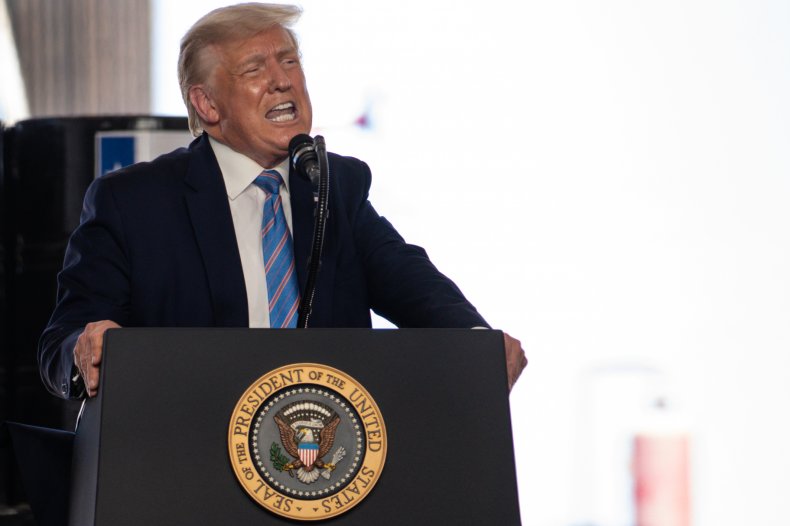 Other women against Trump listed other reasons they object the president, including anti-science propaganda, misogyny, racism, sexism, anti-immigrant and anti-LGBTQ+ policies, his handling of the coronavirus pandemic, and others.
Some celebrities even spoke out against the president.
Bette Midler wrote that Trump is "so horrible." "In every arena, on any subject, he is always on the wrong side. Happy to help and hope #womenagainsttrump goes all the way to #1. It's the least we can do," she tweeted.
Kathy Griffin tweeted that "of course" she would be a woman against Trump. She shared a screenshot of a picture of a 2017 tweet where Trump slammed the comedian for sharing pictures of herself holding a bloody decapitated model head resembling the president.
Moms actress Kristen Johnston said she was proud to a woman against Trump.
Comedian Rosie O'Donnell simply echoed the sentiments of the Twitter trend.
Newsweek did not receive comment from President Donald Trump at the time of publication.