Women's March on Washington: Empowering, Joyful and Bigger Than the 1960s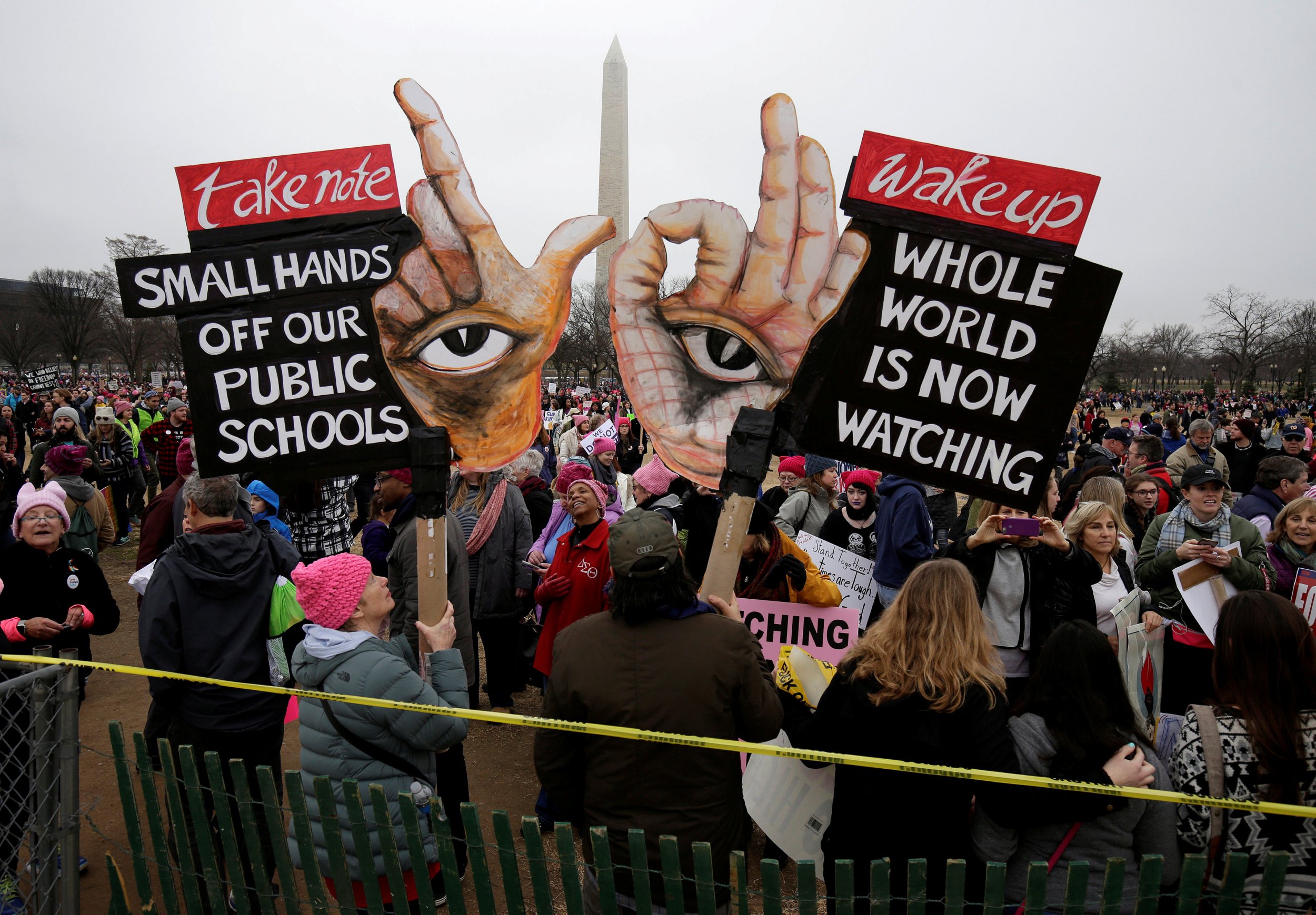 For the hundreds of thousands of women who attended the historic Women's March on Washington on Saturday, it was not only an event they will likely never forget. The march was a welcome chance to feel energized and positive for perhaps the first time since the election of President Donald Trump last November.
It also was a much bigger rally than expected for several women who marched in Washington during the 1960s, whether for civil rights or against the Vietnam War.
"I've been here many times. It's bigger and better than anything we did in the 60's," Vicky Neumeier, 67, tells Newsweek outside L'Enfant Plaza in southwest Washington.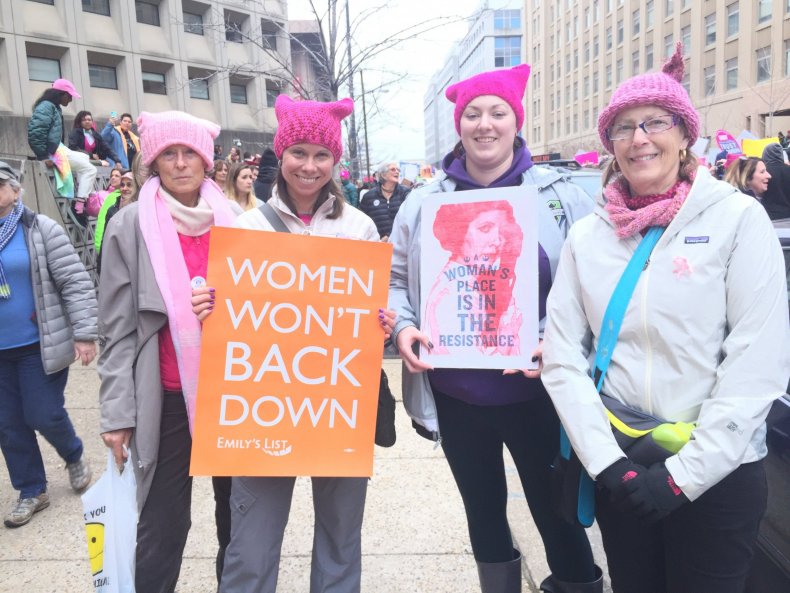 Marching with her sister, daughter and niece, Neumeier, who took part in the 1963 March for Jobs and Freedom led by Martin Luther King, Jr. and the October 1967 anti-Vietnam War protest, said that while the Women's March appeared somewhat disorganized due to the estimated half a million people who showed up, it's "fabulous." Around 250,000 people marched in 1963, while the 1967 Pentagon protest gathered roughly 100,000 people.
"It speaks to how upset people are," she adds. Neumeier said she was expecting huge crowds but was surprised by how many people, like her, came from Seattle.
Liz Neumeier, 66, says the march "feels very energizing. It makes me feel very optimistic" and had a "buoyant, calm" feel.
"Everyone is going to have to go home and mobilize," she added. "If this is not a record crowd in this city, I would be very surprised."
Women's Marches, led by the event in Washington, D.C., drew millions of people to the streets around the globe. In the nation's capital, an estimated 500,000 people marched, while Chicago, Los Angeles and Boston all saw hundreds of thousands turn out. Women's Marches went ahead in several small towns across America—in Longville, Minnesota (population: 153), 66 people turned out—and were held in cities in the heart of solid Trump country, such as Anchorage, Alaska and Helena, Montana.
Related: Women's March on Washington: Hundreds of Thousands Rally
Washington, D.C. police said not one single arrest was made on Saturday in relation to the Women's March. Throughout the day, Women's March attendees thanked police, many of whom were sporting pink "pussyhats" like the protesters. Compare that to the 230 people who were arrested for protesting on Inauguration Day, most of whom will be charged with felony rioting.
The Women's March was indeed packed. For about an hour, Newsweek was essentially trapped near the Department of Health and Human Services building at the corner of 3rd St. SW and Independence St. SW. Unbeknownst to them, people assembled behind a barricade, which police eventually opened due to the sheer size of the crowd. Still, everyone was patient and polite and to pass the time, chants of "Let us march," "Black lives matter" and (using the Lakota peoples' language) "Mni wiconi, water is life" carried through the crowd.
At around 1:45 p.m., several people read an Associated Press news alert on their phones. The crowd they stood in was so large, it said, that official plans to march to the White House were abandoned because participants filled the entire parade route. News echoed through the crowds to cheers, and the march pushed forward.
Walking along the route was Carol Mysorewala, 60, who wore an orange sash that read "Patriotic Muslim." Mysorewala, from Miami, is married to a man from Pakistan, and said about the Trump presidency: "This whole thing makes me sick." Her daughter, Tarah Mysorewala, 20, marched alongside her mother.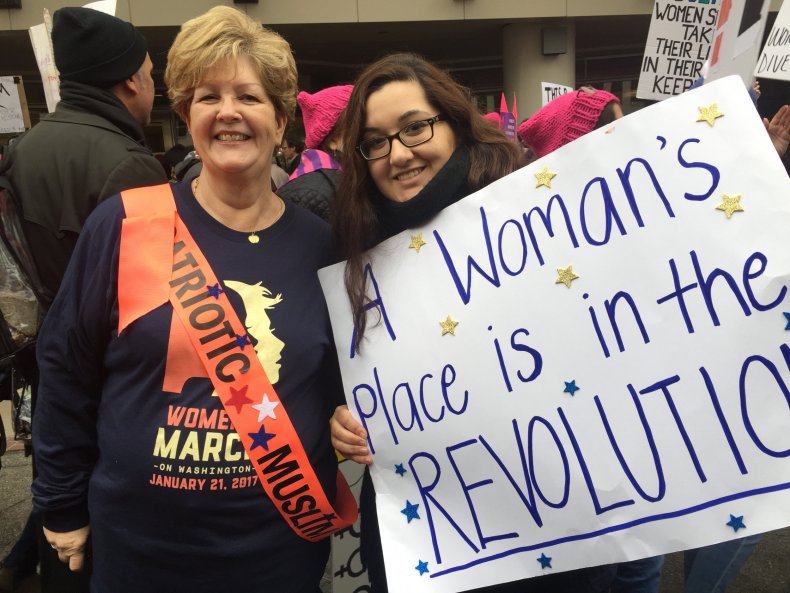 "It's inspiring," Carol Mysorewala said of the Washington march. "Something in the pit of my stomach is rejoicing right now." Like many women at the march, she says she's never seen so many people march together, "only on TV in the 1960s."
Joan Erskine, 62, was waiting for a bus back to New York City after the march. "Compared to the Vietnam era, this is much mellower," she says. "People seemed to be good-natured about it."
Erskine, from Brooklyn, New York, was happy to see many women in their 20s and 30s organizing around the march. "They can handle this," she says.
Trump, who spent a large portion of Saturday preoccuiped with the size of the crowd at his inauguration, tweeted about the Women's March on Sunday morning, saying: "Watched protests yesterday but was under the impression that we just had an election! Why didn't these people vote? Celebs hurt cause badly." Official estimates state that attendance at the Women's March on Washington outnumbered that of his inaugration.