Women's March on Washington: Hundreds of Thousands Rally in Defiance of Trump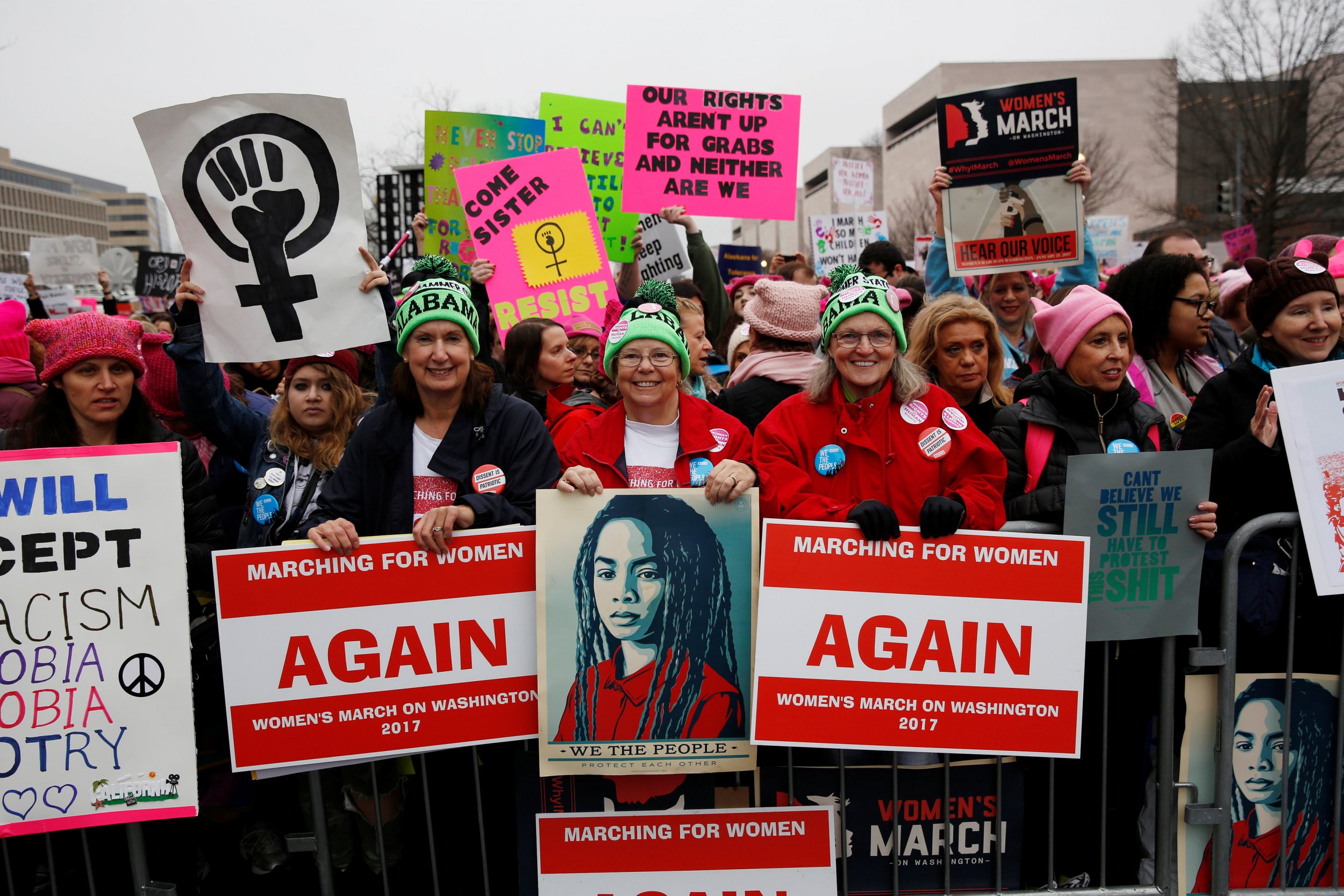 Hundreds of thousands of people gathered along the National Mall at the Women's March on Washington on Saturday to support the rights of women and minorities one day after the inauguration of President Donald Trump.
The march, believed to be one of the largest-ever demonstrations in the history of the United States, started as a Facebook post in the days after the 2016 presidential election. Within two months, it morphed into the largest event in defiance of Trump's presidency over inauguration weekend.
It's also expected to be the largest gathering of people with disabilities in U.S. history.
Newsweek woke at 4 a.m. on Saturday to catch a bus to Washington. As it pulled away from Union Square in New York City just after 6 a.m., the dozens of women, and some men, on board cheered. Then they went back to sleep. Amid a smattering of "pussyhats" in varying hues of pink and rolled up signs ready to be unfurled on the National Mall sat Molly Cutler, 27, who works in advertising and social media in New York.
"I want to be a part of something historic, something that's bigger than me. It seems like I'm too young to have to worry about future generations, but obviously we all have to do that," says Cutler, who lives in Brooklyn. "When I have kids some day, I want to be able to tell them what happened in 2016 and what I did to make sure that they don't have to deal with it ever again."
Cutler, who supported Hillary Clinton since the primaries, watched Trump's speech on Friday, which was "so volatile" and an attempt by Trump to try "and convince people he's a legitimate president." She hasn't protested since she was in college in New Orleans.
"Not only did we get a male president, we got a male president who's a sexual predator and somebody who's very dangerous towards women," she says.
Related: What you need to know about the Women's March on Washington
Eli Forant, 12, was the only boy and one of few males on the bus.
"I think it's important to fight for what we want. I'm really excited to make history today in one of the biggest marches ever, probably," says Forant, who is attending the march with his mother, Carolyn Montgomery-Forant. "Both my best friends are going," says Eli.
Montgomery-Forant, a performer who lives in Hell's Kitchen, Manhattan, says she had photos on her social media pages of her voting for Hillary Clinton in November.
"I very grandly and broadly pronounced, 'My son is watching his mother vote for the first female president,'" she says. On election night, Montgomery-Forant sat in a restaurant with her sister and "switched from iced tea to tequila" as the results came in.
"I moped and took it personally for about three days and then thought, no, this is really serious, we've got to roll up our sleeves and make sure we don't actually get set back 60 years," she says.
Related: Mothers and daughters will walk together at Women's March
The pair will carry a sign featuring a quote from Gloria Steinem: "Human beings are linked, not ranked."
The sun rose as the bus drove through New Jersey; in the fog, an anti-abortion billboard became visible through the fog. Showing a fetus, it declared, in red letters, "babies in the womb" can feel pain. Four and a half hours later, we arrived in Washington.
Before the two-mile-long march there was a rally that saw speakers including Angela Davis, Michael Moore, Ashley Judd and Scarlett Johansson, and performers such as Janelle Monae, Maxwell and Angelique Kidjo. The march itself begat at 1 p.m.
The Women's March has not yet released an official headcount, but an estimated 200,000 people were expected to descend on Washington for the event. While the official, and largest, Women's March was held in the U.S. capitol, sister marches were also held around the world and in cities in all 50 U.S. states. More than two million people said they will be attending a march outside of D.C.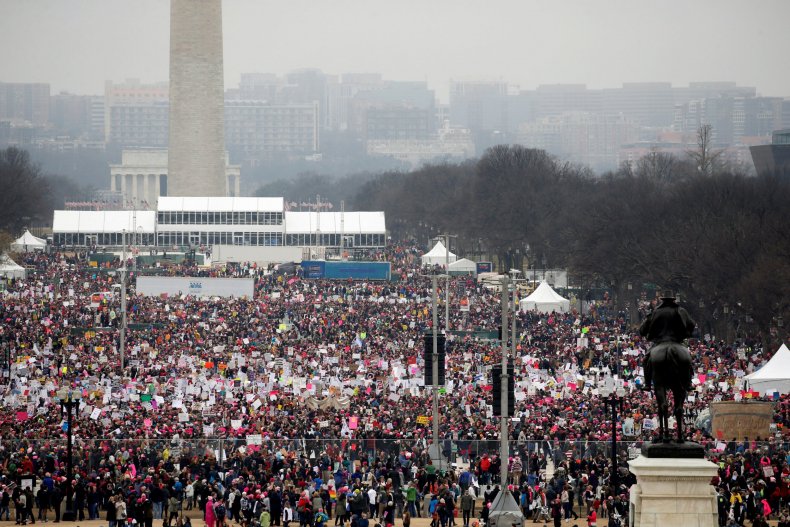 Statistics suggest that the Women's March was also more popular than the inauguration itself. The Washington Metro service reported that as of 11 a.m. Friday morning, 193,000 trips were taken on the Metro that day compared to 317,000 at the same time on January 20, 2013, and 513,000 on January 20, 2009.
Arriving in Washington, D.C., hundreds of people were heading in the same direction: The National Mall. Minutes after stepping off the bus, three women in green t-shirts with temporary tattoos in the shape of fists on their faces, shouted: "You just missed Jake Gyllenhaal!" Entrepreneurs sold bootleg Women's March t-shirts and pins on street corners, but look the other way and there's a camouflage tank flanked by two men.
There are signs everywhere and they're, predictably, wildly creative. Many read: "Free Melania!" while others urged Supreme Court Justice Ruth Bader Ginsberg to "hang in there!"
Waves of whoops and cheers carried through the crowd. "I'm just gonna say it again, I'm so glad we're here," one excited young woman told another.
Susan Dell, 71, says that for her family, "Nothing has galvanized and energized us as much as this election." Dell, from Waynesboro, Virginia, has family members at sister marches across the country, in San Francisco, and around the world, in London.
"The outrage we've seen in the past year, not just the new president but his supporters, the entire GOP who have not disavowed anything he's said," is the reason Dell is marching, she says.
"It's not about women, it's about everything," says Dell.
The inaugural parade route looked fairly empty compared to recent years, while Twitter users widely shared photos comparing the difference between the crowds on the National Mall on Friday compared to the 2013 election.
The Women's March organizers released their guiding vision and set of principles earlier this week, declaring their support for black, Native, poor, immigrant, Muslim and LGBT women, as well as all women who "deserve to live full and healthy lives free of violence against our bodies." The Women's March also believes in "accountability and justice for police brutality and ending racial profiling and targeting communities of color."