Trump Presidency Spurs Mothers and Daughters to March on Washington Together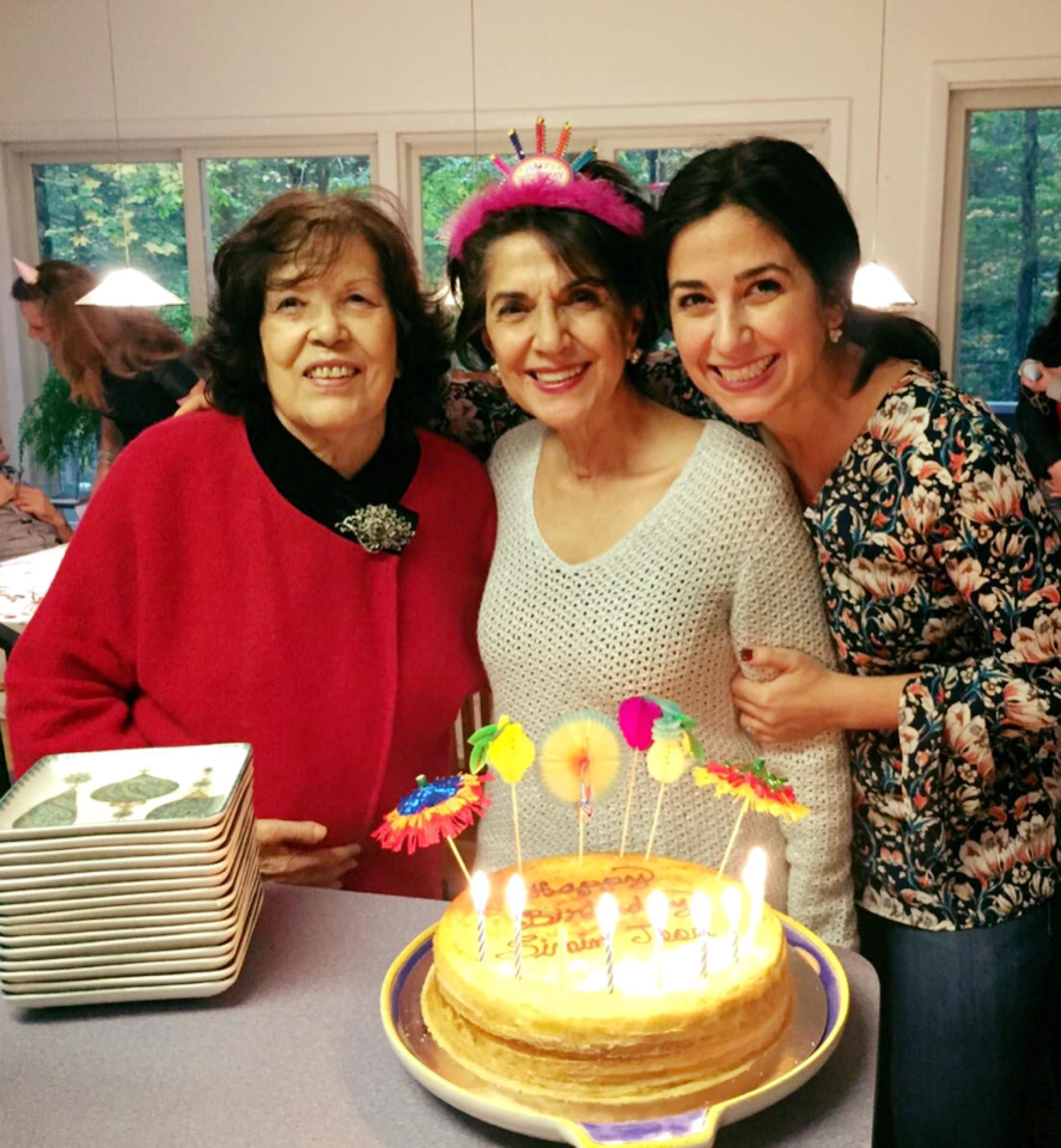 Sarah Ross was getting ready for a date with her boyfriend earlier this month when her mother, Susie Ross, told her about the Women's March on Washington.
When she heard about the march, which takes place on Saturday, Susie Ross said she "instantly knew that's where I need to be." Excited, she asked her daughter if she wanted to come along.
"I said, 'Yeah, I do, let's go,'" says Sarah Ross, 23, a student at St. Petersburg College in Clearwater, Florida. "This is a once in a lifetime thing to do, to march for women and women's rights and to say women's rights are human rights."
Both Ross women consider themselves politically active: They voted for Hillary Clinton and make a point to cast a ballot during the midterm elections. But like many of the women Newsweek interviewed for this article, Donald Trump's impending inauguration and a tumultuous campaign year that saw the president-elect be accused of sexual assault by more than a dozen women were catalysts to get down to Washington. For some mothers, marching alongside their daughters is a way to show support for a younger generation that could face unprecedented attacks on health care and reproductive freedom. For their daughters, the presence of their mothers, aunts and grandmothers is a reminder that far from being alone, concerns about the next four years span generations.
Related: What you need to know about the Women's March on Washington
In the space of about two months, the Women's March on Washington has emerged as the main event in defiance of Trump's presidency. Being held a day after the inauguration, it's not specifically an anti-Trump event. Instead, an estimated 200,000 participants will attend this inclusive rally in support of policies that Trump's presidency threatens, including women's health care and LGBT rights. Sister marches will be held in all 50 U.S. states, as well as in cities around the world, with more than a million people expected to take part from Australia to the Kakuma refugee camp in Kenya.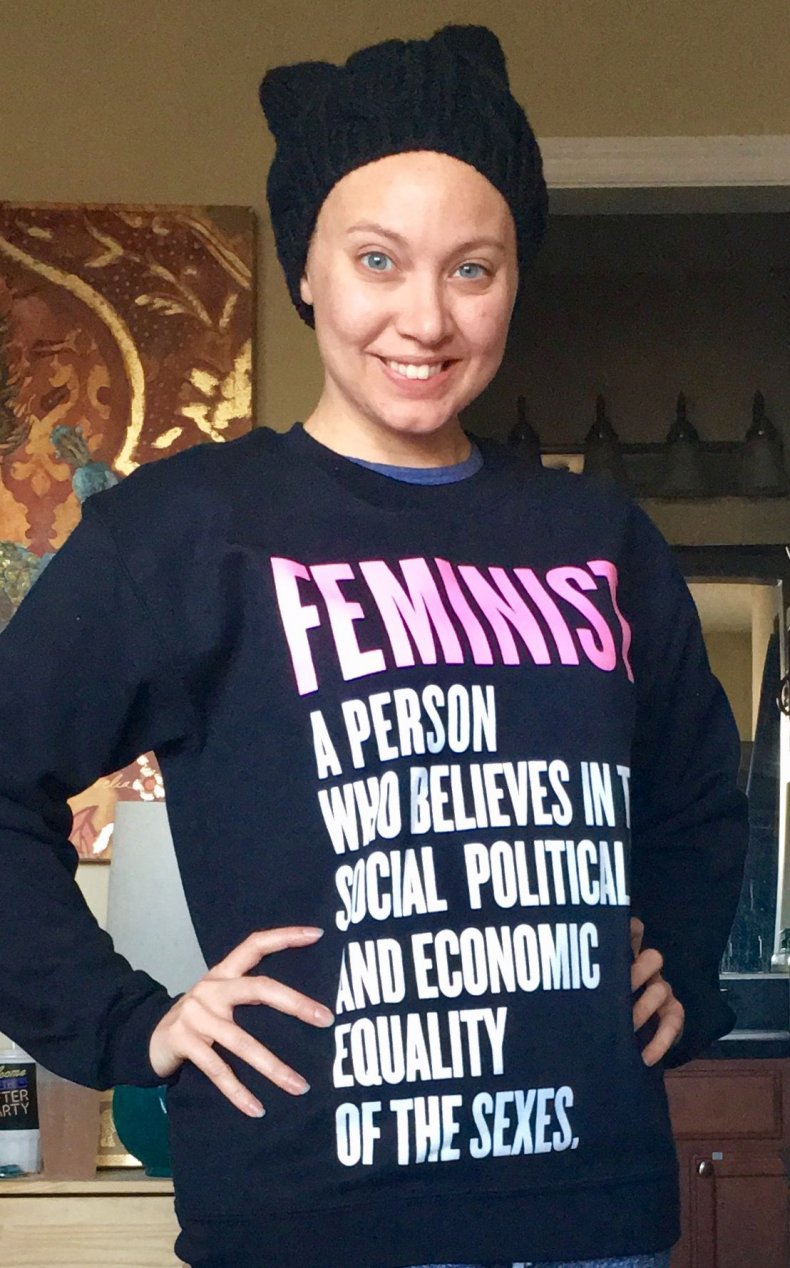 Despite multiple marches to choose from closer to home, some families are traveling across the country to experience the heart of the action in the capital. Rachel Zanoni, 19, and her mother, Ruth Zanoni, are driving nearly 1,000 miles from Marion, Iowa to Washington, D.C. Natalie Morin, 24, an entertainment editor at tech company Graphiq, will fly more than 2,800 miles from San Francisco to Washington with her mother. "We decided that this was important and potentially historic enough to us that it was worth flying out to the epicenter of the movement," she says.
"This Has Awakened a Passion in Me"
Many of the women Newsweek spoke with said Trump's election and the Women's March mark the start of political activity decades into their lives. For others, it's a reawakening.
"I have a big mouth and I've not been using, I've not been vocal," says Susie Ross, 56. "This has awakened a passion in me that has been lying dormant for so long."
Agnes Rabolli will drive from New Jersey to the Washington march with her two daughters, ages 12 and 10. "I have never been involved in politics, but with current events I've been called to spring into action," she says. "I don't have any deep words of wisdom or reference to feminism or politics or history. Instead, I can tell you I cannot be passive anymore. I just had enough and it's the least I can do."
As is the case for many women, the march is the first time Emma Carter, 19, and her mother, Heather Dittbrenner, 55, are taking part in political activity together. Carter is particularly concerned about threats to the landmark Supreme Court abortion ruling Roe v. Wade—"If that goes back, if they take that away, I'm not sure what would happen," she says—while Dittbrenner is marching for the rights of women and immigrants.
"It's a shame I'm so old before I'm stirred to action," says Dittbrenner, who protested on her college campus during Ronald Reagan's presidency.
The Women's March is also the first time Morin and her mother are taking part in politics as a team, "which is why, in part, it is so important to us," she says.
"Although we both express our views openly in our private lives, being at the march with my mom feels like a tangible difference we can make in the visibility and fight for gender equality," says Morin. "I feel like I'm marching in support of my mother—to thank her for all the sacrifices she's made in her lifetime and to thank her for teaching me to be proud to be a woman."
Related: These lawmakers will boycott Trump's inauguration on Friday
Marching together is also a way for mothers to guide their daughters through what promises to be a rocky few years and impart lessons on how to stand up for themselves and the rights of others. "I hope I can not exactly inspire her, but let [Emma] see how important it is to me and hopefully it'll be as important to her as she goes on through life," says Dittbrenner.
"I want her to keep a tender heart, but be tough-minded," Susie Ross says of her daughter. "I want to be an example to her. I want to leave a legacy of her life helping other people."
Why We March
While cast as an event broadly in support of women's rights, there are many reasons for attending Saturday's historic march. Sarah Ross, who also goes by "Beck," is concerned about access to women's health care. "Right now, they would take choice from women when it's not even their bodies," she says. "I'm pro-life for myself, but for other women, they need to choose, it's their body. You don't know what they've been through."
Her mother says equality is paramount. A Japanese-American and an evangelical Christian, Susie Ross says she's bothered by some in the evangelical community who are against refugees and immigrants entering the U.S. She's particularly disturbed by the idea of a proposed Muslim registry under Trump, which reminds her of her own family's experience. She was born in Japan, and when the family returned to the U.S. in 1961, the interracial marriage between her Japanese mother and American father was not recognized.
"I worry for my daughter and I worry for other young women about the legacy we're leaving them," says Susie Ross.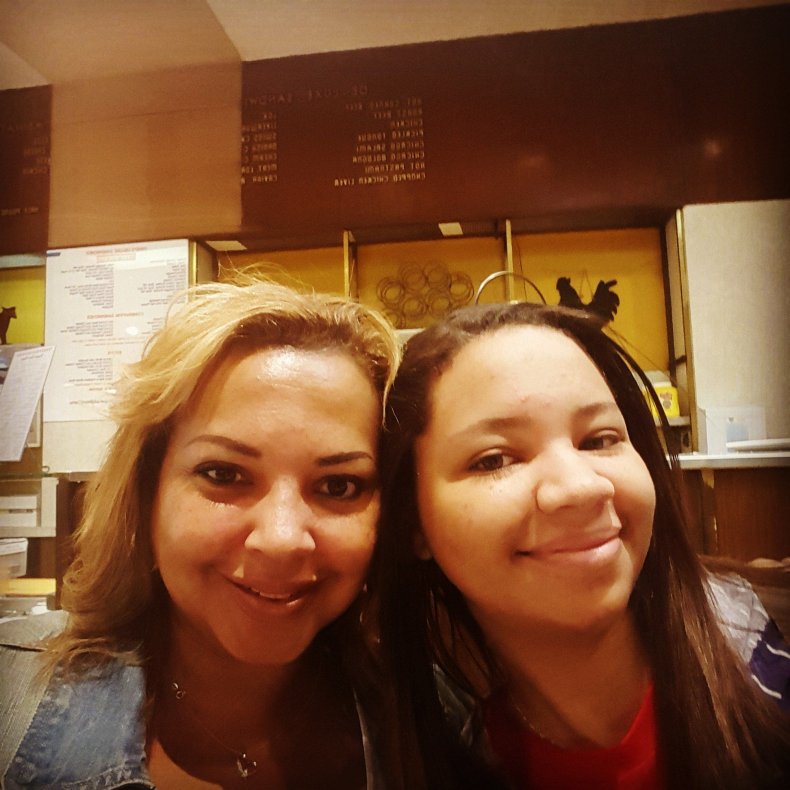 Daedra Gilliard and her daughter, Gemma Gilliard, say that racial inequality in America is an important reason for marching together. Gilliard, 42, has spoken with Gemma, 18, about how the coming administration "could potentially affect us as women, and especially as black women," she says.
"I was explaining to Gemma, as far as being black women in America under this [next] administration, things are a little bit scary right now. We don't have gender equality. There's a big problem with racial profiling—I've been a victim of racial profiling myself," says Daedra Gilliard, who lives in Silver Spring, Maryland. "We both talked about being paid equally, the same as men. I want her to be able to do the work she loves to do, but be able to get paid for it the same as a man who's doing that work."
Sarah Grossman, 32, is attending the New York City women's march with her mother, aunt and 9-year-old daughter. Grossman's Jewish heritage spurred to her march; the famous quote from Martin Niemöller, "First they came for the Socialists," which suggests the German public's complicity with the Nazi government, "rings in my ears," she says.
"I don't see how anyone with a conscience or a sense of humanity cannot just be outraged," says Grossman. "I don't understand how I couldn't go."
Protesting runs in Grossman's family. Her mother, Chana Mesberg, who is helping to organize the New York City women's march, spent two nights in a Washington jail in the 1970s for protesting the Vietnam War and U.S. involvement in Cambodia.
"When my daughter looks back and when she's speaking to her children, I think it's so important that she's able to say we all stood up and said no [by marching]," says Grossman, whose daughter, Ella, is autistic. "Having memories of strong women who stood up is imperative."
Hava Noordam, 39, lives in New York City and says she's marching because "I feel that as a nation we've lost that will to demonstrate and push for change, as so many people did in our past." Noordam says marching alongside her mother "is a way to celebrate all that my mother, as an immigrant and a woman, has achieved here in the United States and to push forward an agenda to help others, male or female, like her." An immigrant who moved from Iran in the late 1970s, her mother raised two children alone. While it's not the first time the pair have taken part in political activity together, it is "by far the most important," says Noordam.
"Part of our motivation in joining this movement is to participate in history," she says. "Clearly, it's not enough to vote anymore, you have to get out there, pound the pavement and ask for what you want."
Molly Caldwell marched during the Mobilize For Women's Lives rally in Washington in November 1989 and says "it'll be interesting to see what the atmosphere is like at this march." Held at the height of the AIDS crisis, that rally was "an incredibly emotional experience and powerful experience," she says.
Caldwell, a lesbian, will be in Washington with her mother, sister and cousin. In addition to marching for LGBT rights—"Obviously [Trump's] cabinet is atrocious for gay rights, particularly for trans rights. I have a lot of trans friends and they're concerned about their safety," she says—Caldwell says she is proud of her mother for raising two children and getting a master's degree on her own.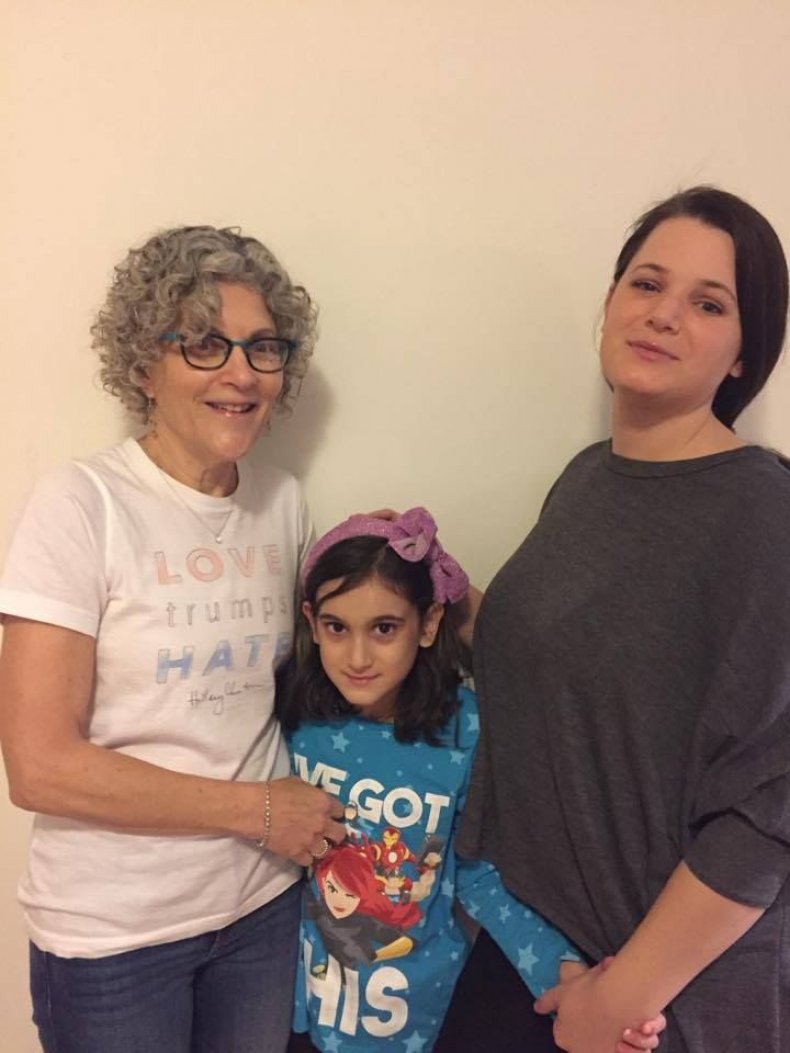 "I'm happy to be there with my mom because it shows how far she's come," she says. "It's kind of amazing, We're all very close and it feels like we've done that together."
A Response to Anxiety
The march is, for many women, also a way to work through feelings of fear and uncertainty about the incoming administration. Natalie Younger, 26, says for her and her mother, Jane Hanlon, deciding to attend the march "was the response to anxiety" around the election. Younger is married to an African-American man and says: "When the racism is so open and encouraged, it gets really scary."
"Marching for us is not necessarily because we think we're going to make a difference that way, it's a cathartic way of dealing with the world," she says.
Younger, who works for a nonprofit governance organization in Washington, says the idea of marching with her mother has made her realize that she's not alone in her concerns. "It's reinforcing to me that she feels the same way I do, it's not just a generational thing," she says. "It's not just because I'm young. The outrage I'm feeling is legitimate."
Sutton Crawford, a freelance child-wrangler for photo shoots who lives in Astoria in New York City, said she spent the two days after the election in November crying. "It was like somebody had died. I didn't know exactly what to do or how put those feelings in a way I could understand," she says. Crawford is attending the march with her grandmother, Sydney Crawford, and aunt, Jennifer Crawford.
The march allows her to transfer those feelings into action: "If my 82-year-old grandmother is going, I can't miss it."