These Lawmakers Will Boycott Donald Trump's Inauguration on Friday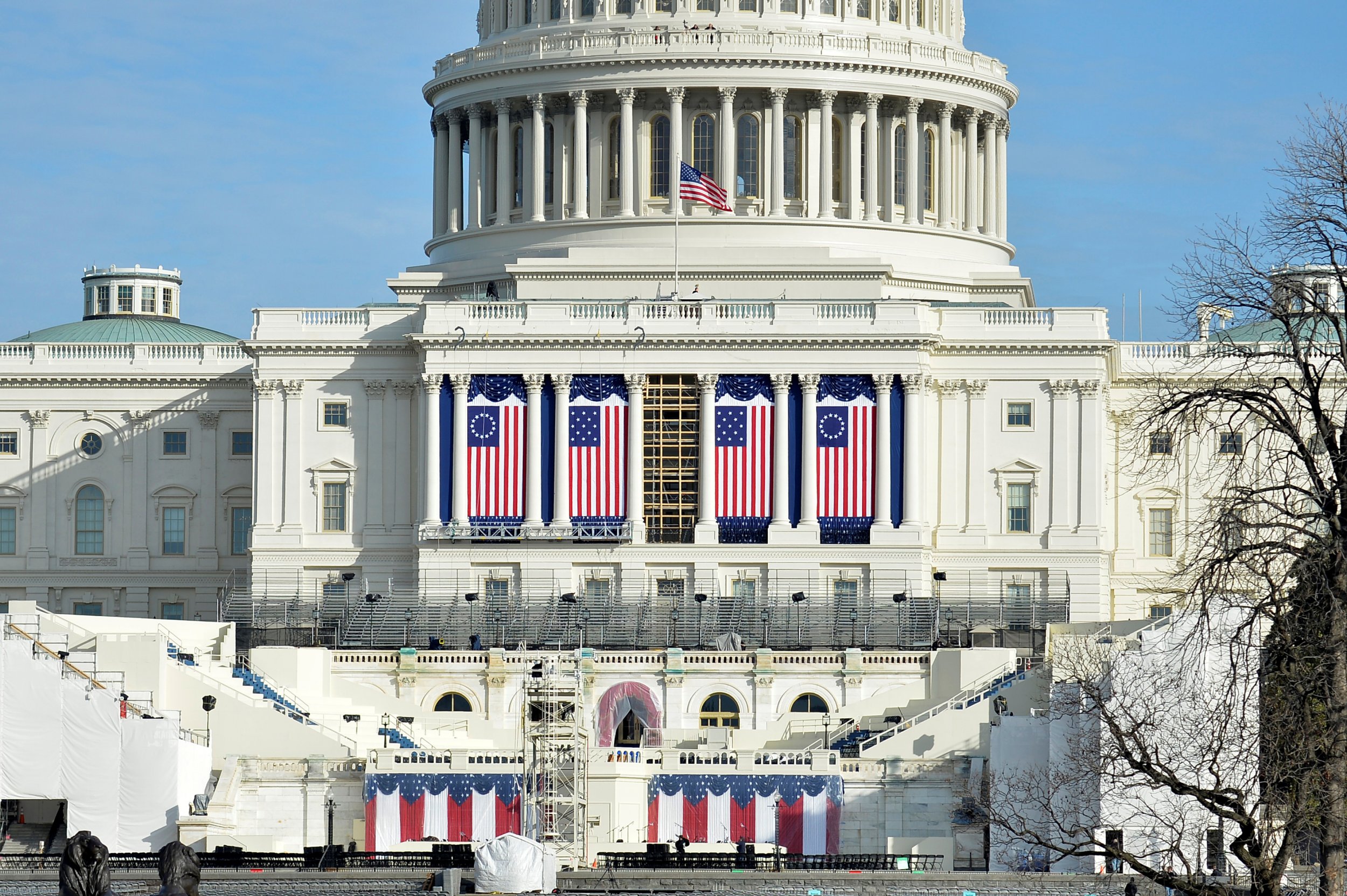 Donald Trump apparently hasn't accepted the idea, but he is heading into his presidential inauguration on Friday with a historically low approval rating, according to a recent poll. His 40 percent favorability among Americans trails that of at least the past six presidents, according to data released Tuesday by The Washington Post and ABC News. By comparison, 79 percent of citizens approved of President Barack Obama when he began his second term in 2009.
Related: The schedule of events for Donald Trump's inauguration
But the incoming 45th president of the United States has called the polls "phony." "The same people who did the phony election polls, and were so wrong, are now doing approval rating polls. They are rigged just like before," Trump tweeted in response to the results. Just two months ago, the billionaire lost the popular vote to Democratic rival Hillary Clinton by nearly 2.9 million votes.
It's up to each elected official to decide whether to attend the inauguration. Clinton will be there with her husband, former President Bill Clinton. Former President George W. Bush and former first lady Laura Bush, as well as former President Jimmy Carter, also plan to attend. Former presidents typically are present for the ceremonial transfer of power. But Bush's father, former President George H.W. Bush, will miss the ceremony because of health problems. (He has been in the hospital since January 14.)
It's common for some lawmakers not to attend. As The Washington Post points out, members of Congress have the week off, and some would rather spend the time at home instead of sitting outside in the D.C. winter. This year, dozens of Democratic members of Congress are saying they won't attend the inauguration—and many are boycotting it. Among their explanations, the legislators cite Trump's Twitter battle with Representative John Lewis, the civil rights leader, shortly before Martin Luther King Jr. Day, and his ongoing refusal to rebuke Russia's president. Some even plan instead to stand in solidarity with women by speaking out against Trump's inauguration at the Women's March on Washington, which will start Saturday morning. Others say they simply have scheduling conflicts.
Here's the expanding list of those Democratic lawmakers as of early Wednesday, along with their statements explaining what led them to their decisions. Exactly half of the states are represented so far, among at least 50 congressional members. We will update this article if more information becomes available.
Arizona
Representative Ruben Gallego
Representative Raúl Grijalva
"My absence is not motivated by disrespect for the office or motivated by disrespect for the government that we have in this great democracy, but as an individual act, yes, of defiance at the disrespect shown to millions and millions of Americans by this incoming administration, and the actions we are taking in this Congress," the Arizona Democrat said last week on the House floor, according to The Washington Times.
California
Representative Karen Bass
Representative Judy Chu
Representative Mark DeSaulnier
Representative Jared Huffman
Representative Barbara Lee
Representative Ted Lieu
"I respect members of Congress who choose to attend the inauguration of President-elect Donald Trump or choose not to, just as I respect members of Congress who attended or did not attend the two inaugurations of President Barack Obama. I view this as a personal decision because no votes are being taken and no policies will be enacted at this ceremony. While I do not dispute that Trump won the Electoral College, I cannot normalize his behavior or the disparaging and un-American statements he has made," he said in a statement last week.
Representative Zoe Lofgren
"I acknowledge the fact that he is the incoming president, but I'm not in the mood to celebrate that fact," he told the Los Angeles Times.
Representative Jerry McNerney
The Los Angeles Times reported that McNerney won't attend the inaugural.
Representative Grace Napolitano
The Los Angeles Times reported that Napolitano won't attend the inaugural.
Representative Lucille Roybal-Allard
"I thought long and hard about attending the inauguration because I value our democracy and respect the office of the presidency, regardless of party. However, the disparaging remarks the president-elect has made about many groups, including women, Mexicans, and Muslims, are deeply contrary to my values. As a result, I will not be attending the inauguration," a spokesperson told Fusion. "For the sake of our nation, and a world which looks to America for moral leadership, I hope the president-elect will change the tone of his rhetoric and govern responsibly, respectfully and compassionately, in accordance with our American values."
Representative Raul Ruiz
"A real president doesn't attack the press because they ask tough questions," he told The Desert Sun this week. "A real president doesn't insult and bully celebrities or everyday Americans because they disagree with him. A real president doesn't use the office to make millions more for his own wealth or his family's wealth."
Representative Mark Takano
Representative Juan Vargas
Representative Maxine Waters
Related: Infamous moments that shaped past presidential inaugurations
Florida
Representative Darren Soto
"I am deeply disappointed with Trump's attacks against civil rights hero John Lewis and will not be attending the inauguration as a result," he told Orlando's WFTV Channel 9.
Representative Frederica Wilson
She has a wedding to attend the day of Trump's inauguration, she told a Miami reporter.
Georgia
"I believe in forgiveness. I believe in trying to work with people. It's going to be hard, it's going to be very difficult. I don't see this president-elect as a legitimate president," he said in an interview with NBC News's Meet the Press ahead of Martin Luther King Jr. Day. "I think the Russians participated in helping this man get elected, and they helped destroy the candidacy of Hillary Clinton. I don't plan to attend inauguration." The civil rights icon marched with King in the 1960s.
Illinois
Representative Luis Gutiérrez
"I want to be able to look my two beautiful Latina daughters and my beautiful half-Puerto Rican, half-Mexican, 100 percent American grandson in the eye with a clear conscience," he said in a statement last week.
Kentucky
Representative John Yarmuth
Maine
Representative Chellie Pingree​
Maryland
Representative Anthony Brown
Massachusetts
Representative Katherine Clark
Michigan
Representative John Conyers Jr.
Minnesota
Representative Keith Ellison
Mississippi
Representative Bennie Thompson
"Mr. Trump's recent insensitive and foolish remarks about civil rights hero John Lewis were far beneath the dignity of the Office of the President," Cory Horton, legislative director for Thompson, told The Clarion-Ledger. "Additionally, Congressman Thompson continues to have concerns about the role that Russia had in our country's democratic process."
Missouri
Representative Lacy Clay
Clay's spokesperson said the congressman will be "back home in St. Louis speaking to school kids" on Inauguration Day, the St. Louis Post-Dispatch reported.
New Hampshire
Representative Carol Shea-Porter
New Jersey
Representative Bonnie Watson Coleman
New York
Representative Yvette Clarke
Representative Adriano Espaillat
Representative Jerry Nadler
Representative Jose Serrano
Representative Nydia Velazquez
North Carolina
Representative Alma Adams
Representative G. K. Butterfield
Ohio
Representative Marcia Fudge
Oregon
Representative Earl Blumenauer
Representative Peter DeFazio
DeFazio told Oregon Public Broadcasting that his decision not to attend the inauguration is typical for him because he usually avoids "pomp and circumstance events in Washington."
Representative Kurt Schrader
"I'm just not a big Trump fan," Schrader said, according to Oregon Public Broadcasting. "I've met the guy and never been impressed with him. He's the president of the United States now, so I'll do my best to work with him when I think he's doing the right thing for the country. But he hasn't proved himself to me at all yet, so I respectfully decline to freeze my ass out there in the cold for this particular ceremony."
Related: These women are in with Planned Parenthood for the long run
Pennsylvania
Representative Brendan Boyle
Representative Mike Doyle
Representative Dwight Evans
Tennessee
Representative Steve Cohen
Texas
Representative Joaquin Castro
"I come from a family and a place, Texas, where respect is a fundamental value—respect for people regardless of what they look like, where they were born or whether they share your view of the world," Castro said in a statement, according to the San Antonio Current. "Donald Trump has shown an utter lack of respect for so many Americans. His attack on civil rights hero John Lewis is the latest example."
Representative Lloyd Doggett
Representative Al Green
"I will not attend the inauguration because conscience says it is the right thing to do," he said in a statement earlier this week.
Virginia
Representative Don Beyer
Representative Gerry Connolly
"After long reflection, I have decided that I cannot attend the inauguration of Donald J. Trump on Friday. His behavior and harmful words during and after the campaign have left the country I love with open, bleeding wounds. Instead of binding those wounds, he has poured salt on them. Instead of unifying us, he has reveled in driving wedges between us," the Virginia Democrat said Wednesday in a statement.
Washington
Representative Pramila Jayapal
Representative Adam Smith
Smith said he will spend the day working at his Washington state office and meeting with his constituents, Seattle's KING 5 News reported.
Wisconsin
Representative Mark Pocan