International Women's Day: Why Some Are Striking (And Why Some Aren't)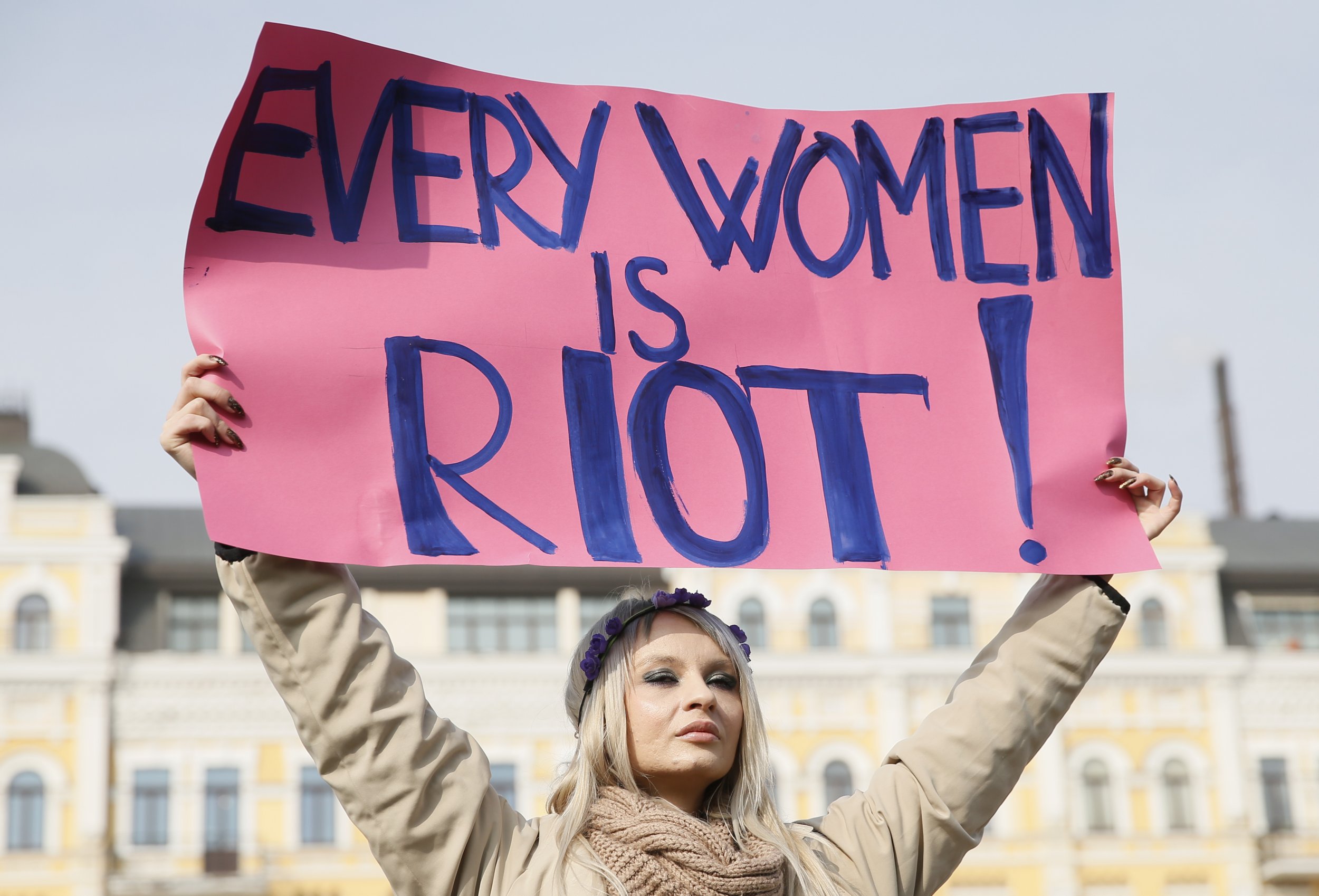 This year's International Women's Day is also A Day Without a Woman.
Celebrated every year on March 8, International Women's Day highlights the many achievements of women around the world—as well as the struggles, including the wage gap, sexual violence and widespread gender discrimination.
Following on the Women's March, which saw several million people across the U.S. protest the day after the inauguration of President Donald Trump in January, women across the U.S. and around the world are striking for the day. They have been encouraged to take the day off from paid and unpaid labor, whether it's a 9-to-5 job or childcare and domestic responsibilities. Strike participants are also asked to avoid shopping for the day, unless the money will be spent at women- and minority-owned businesses. Supporters have been encouraged to wear red to show solidarity with the strikers.
The goal of the Day Without a Woman strike, according to Women's March organizers, "is to highlight the economic power and significance that women have in the U.S. and global economies, while calling attention to the economic injustices women and gender nonconforming people continue to face." As part of the day of action, Women's March organizers are holding a rally at noon in New York City's Central Park. Ilyse Hogue, president of NARAL Pro-Choice America, said A Day Without a Woman "sends a clear message to President Trump and his allies in Congress as they work to roll back the clock on women's equality and freedom: A world without us simply doesn't function."
Related: Texas legislators double down in next big abortion fight
The U.S. strike follows a strike action in Poland in October, when women stopped working to protest a strict proposed abortion law in the country. As many as six million women went on strike, an action that was held nearly 40 years after women in Iceland staged a "day off" to protest gender discrimination.
Among the U.S. strikers on Wednesday is Sabrina Stein, a program coordinator at the Conflict Prevention and Peace Forum who lives in the Brooklyn borough of New York City. The 2016 election, she says, "was a wake-up call and a call to action for all of us. I think it really put into perspective how fragile some of the gains of the women's movement have been so far and how much work we still have ahead of us."
Like many women, Stein says discussions about International Women's Day have revolved around the question of "who will be able to strike and how only women with certain privileges will be able to partake." She says women who head single-parent households or who work for hourly wages will have a more difficult time taking the day off than women in higher socio-income groups.
But whoever can participate should, says Stein.
"I think the strike has symbolic significance that needs numbers, and while there are women who cannot participate I really think those that can should," she says. "We've seen how numbers are important to this administration; we saw this during the Women's March and I hope this will also be the case [on Wednesday]."
Not everyone is striking, of course. Camira Powell, who works for a women's human rights organization, Global Fund For Women, says her way of advocating for gender equality "is doing my job." As she also runs the organization's social media, she says she'll spend the day "interacting with people and encouraging them to take action in support of women and girls everywhere."
Powell says her company's CEO encouraged staff to participate in the strike in whatever way they see fit, whether that's not going to work or finding the time to attend a rally. "It's easy to think the only options are 'to strike' or 'not to strike,' but there's so much more you can do to support women's rights," she says. That includes learning about the work of grassroots women's groups; posting stories about women; and donating to groups that support women and girls, she says.
"I also try to remind friends that International Women's Day is just one day of the year," says Powell. "So while it's great to do something on March 8, every day is a chance to champion women's rights."