Wonder Woman on Friday became the first major studio tentpole blockbuster release to center around a female superhero. Starring Gal Gadot and directed by Patty Jenkins, the film has been an across-the-board success, scoring high marks from critics and raking in more than $100 million at the box office over the weekend.
Related: "Wonder Woman" faces ban in Lebanon for its Israeli star Gal Gadot
So successful was Wonder Woman in her first weekend that she managed to best a few notable male superheroes. As The Hollywood Reporter points out, her haul of $100.6 million is the 16th highest for a superhero film's opening-weekend domestic box office. Considering the number of superhero films that have been released over the past 15 years, this is really good.
How good? Good enough to kick the ass of opening weekend debuts from Thor, Captain America and even Iron Man. It also was the highest-grossing opening weekend ever for a film directed by a woman.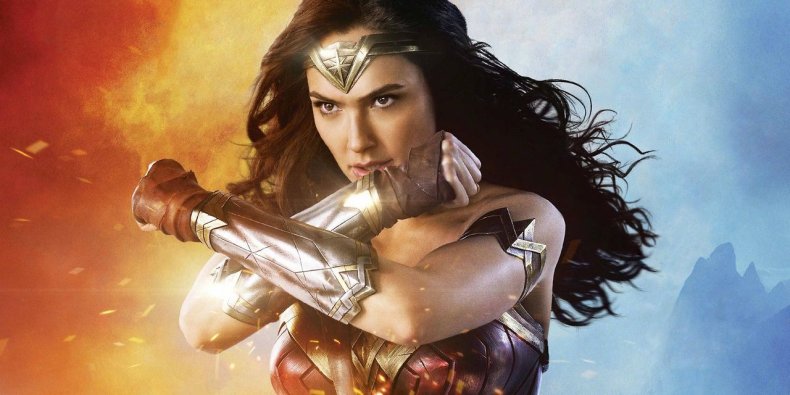 The top spot for superhero films belongs to The Avengers, which opened to $207.4 million in 2012. Its sequel, Age of Ultron, is second with the $191.3 it brought in in 2015. The rest of the top 15 includes both Guardians of the Galaxy films, Spider-Man, Iron Man and Captain America sequels, Batman v. Superman: Dawn of Justice, Deadpool and more. Though Dark Knight and Dark Knight Rises both bested Wonder Woman's opening weekend, the trilogy's first film, Batman Begins, raked in only $48.7 million in 2005, rendering Batman another one of Wonder Woman's box office victims. Other superhero films Wonder Woman vanquished in her first few days include Hulk (2002), Green Latern (2011) and X-Men (2000).
In case you're wondering, Spider-Man, the 2002 film that truly kick-started the modern boom of superhero films, grossed $114.8 million in its opening weekend.
Though critically lauded and financially successful, the release of Wonder Woman hasn't come without controversy. After the Alamo Drafthouse, which is based in Austin, Texas, announced it would hold all-female screenings of the film, men's rights activists protested. So did a law professor at Albany Law School, who has come to the defense of protesters, calling the female-only screenings illegal. He even filed an administrative charge with Austin's city's Equal Employment and Fair Housing Office.
"It's the principle of the thing," the professor, Stephen Clark, told The Washington Post. "I'm a gay man, and I've studied and taught gay rights for years. Our gay bars have long said that you do not exclude people because they're gay or straight or transgender—you just can't do that for any reason."
While it may be legally questionable to hold an all-female screening of Wonder Woman, it's also worth questioning the motives of people so upset by the idea that they would take action to prevent it from happening, of which there have been plenty. One thing is for certain, though: Wonder Woman kicked ass this weekend, and it will continue to do so. The superhero movies above it on the list of opening-weekend box office earners better watch out too, because sequels are coming.