In a new interview with The Guardian, filmmaker Woody Allen said that he hasn't "suffered at all" professionally as a result of sexual abuse allegations that have been made against him.
Near the end of the lengthy piece, which was published on Friday, the interviewer notes that while Allen writes about the allegations with some anger in his recently released memoir, the 84-year-old does not seem angry when discussing the scandal that has tarnished his legacy. When the interviewer comments on Allen's even tone, the director says that he's suffered personally because of the allegations, mentioning that he's been estranged from two of his children, journalist Ronan Farrow and author Dylan Farrow, both of whom have stood by allegations that Allen molested Dylan when she was a child. But Allen also claims that his career hasn't been affected.
"I'm angry that I was deprived of seeing my children grow up and I'm angry at what's been done to Dylan and Ronan," Allen told The Guardian. "I haven't spoken a word to the children in over 25 years and they've been raised to think the worst of me. So sure, I was angry about that. But, professionally, I haven't suffered at all."
Despite his assertion that he hasn't suffered professionally, The Guardian points out that Allen lost a four-movie deal with Amazon Studios following a 2018 interview, in which he said that he "should be the poster boy for the #MeToo Movement," because "not a single [actress] has ever suggested any kind of impropriety at all." Allen sued Amazon, and both parties settled in 2019, but Allen's latest film, A Rainy Day in New York, was not released in the U.S. It was, however, released in Europe. Additionally, several actors who have worked with Allen in the past have denounced the filmmaker in recent years, including Evan Rachel Wood, Ellen Page, Colin Firth and Greta Gerwig.
Another star who has expressed public regret over his decision to collaborate with Allen is Timothée Chalamet, who appeared in A Rainy Day in New York. In the Guardian interview, Allen claims that Chalamet only did so to improve his Oscar chances when he was up for an award for 2017's Call Me By Your Name. "Timothée afterward publicly stated he regretted working with me and was giving the money to charity," the director told The Guardian. "But he swore to my sister he needed to do that as he was up for an Oscar for Call Me By Your Name, and he and his agent felt he had a better chance of winning if he denounced me, so he did."
The allegations against Allen date back to 1992, when Allen's former longtime partner, actress Mia Farrow, first accused Allen of molesting then-7-year-old Dylan Farrow. The director denied it and alleged that the child had been coached into making the accusation. In 1993, a judge ruled that there was no evidence to support Allen's claim that Dylan had been coached, and the director's custody bid and visitation rights were denied. Months before the accusations, it was also revealed that Allen had been having an affair with another of Farrow's adopted daughters, Soon-Yi Previn, who was 21 at the time while Allen was 56. Allen has maintained that the allegations of child molestation were fueled by Farrow's outrage over the affair.
The allegations against Allen have received renewed attention since Dylan Farrow published an open letter in the New York Times in 2014 detailing her account. The #MeToo movement has brought increased scrutiny on the director as well.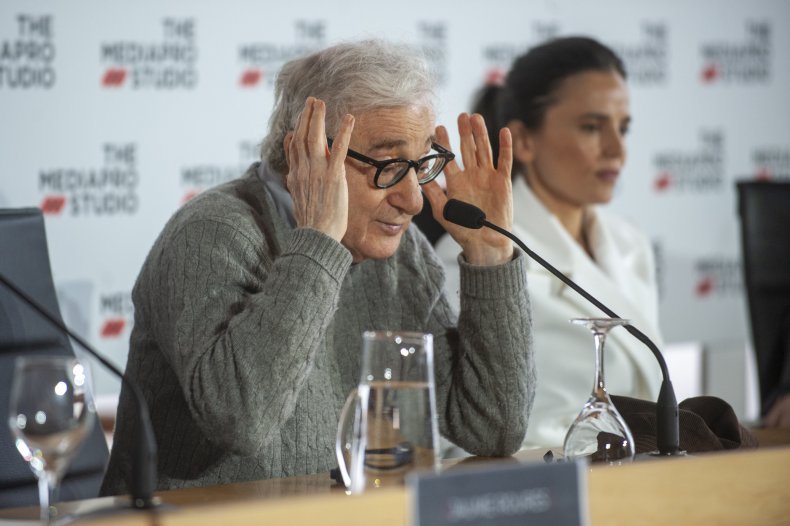 In the interview with The Guardian, Allen was also asked if he felt he brought the accusations on himself, citing his infamous "The heart wants what the heart wants" response in a 1997 interview. He replied that he did not. "I realised [the relationship with Soon-Yi] had dramatic impact and was not usual: one could make criticisms about the rectitude of it, the appropriateness of it; I understood all of that. But these false accusations that have hurt the psychological life of Ronan and Dylan; I don't feel for one second that I brought that on myself."
A spokesperson for the Farrow family said that it would not comment on Allen's interview. "The family's not going to comment on yet another rehash of Woody Allen's lies that attempts to deflect from credible allegations of abuse backed up by court decisions, evidence, witnesses, and Dylan's first-hand, unwavering account," a spokesperson said in a statement on behalf of the Farrow family.
Allen's agent did not respond to Newsweek's emailed request for comment in time for publication. MacMillian Publishers, Dylan Farrow's publisher, did not respond to Newsweek's emailed request for comment in time for publication.
Updated 5/29/20 11:52 a.m. EST: This story has been updated to include comment from the Farrow family spokesperson, which was obtained after the story was originally published.