Woody Harrelson Video Defending Ivermectin Goes Viral After 'SNL' Monologue
A resurfaced clip of Woody Harrelson talking about ivermectin has gone viral after he broached the topic during his recent appearance on Saturday Night Live.
The White Men Can't Jump star, 61, who hosted the NBC show for the fifth time over the weekend, started by saying he'd read the "craziest script" since he last hosted the show, in 2019.
He said the script described "the biggest drug cartels in the world" buying up politicians and the media to "force all the people in the world to stay locked in their homes."
He continued: "And people can only come out if they take the cartels' drugs and keep taking them over and over."
Harrelson said he "threw the script away," adding: "I mean, who was gonna believe that crazy idea? Being forced to do drugs? I do that voluntarily all day."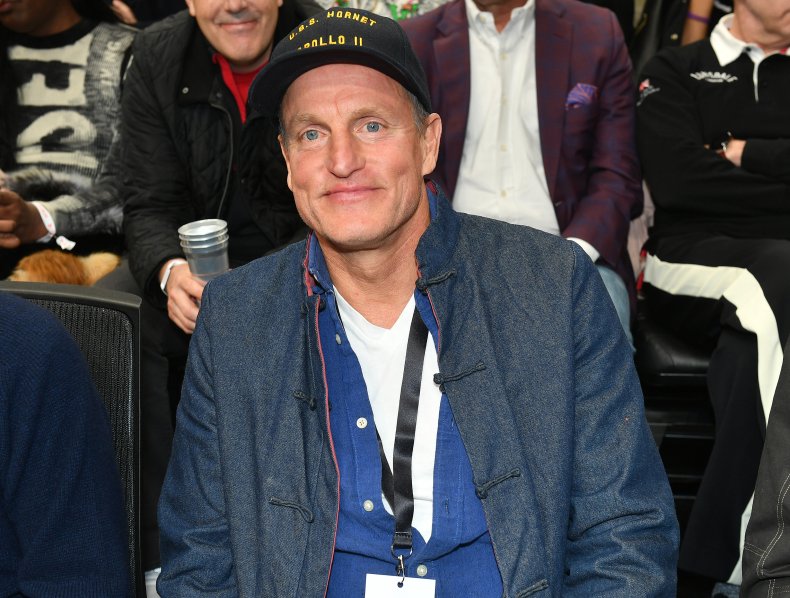 Harrelson was referring to the early days of the COVID-19 pandemic when many countries required people to stay home to avoid the spread of the virus and later encouraged people to get the new vaccines to protect themselves.
While he received plenty of backlash for what was viewed as an anti-vaccine conspiracy theory, one fan dug up an old interview with the self-described "redneck hippie."
In the interview with comedian Bill Maher on his Club Random podcast in September 2022, Harrelson said that "the last people I would trust with my health is Big Pharma and Big Government because neither one of those strike me as caring entities."
"Most Americans would not normally trust the government with helping them," he said in the clip, shared to Twitter on Sunday. It has racked up 3.3 million views.
"What does the government actually do to help you? They help big corporations, industries, all the people that got...those people into Congress, or ultimately to become president. Those people all got to get taken care of."
He continued: "They're all about profit, they're all about profit. It's obscene the profit they've made."
Harrelson then mentioned ivermectin and hydroxychloroquine—which at one point were described by conspiracy theorists as suitable treatments for COVID—and suggested they were demonized to allow "Big Pharma" to profit off the COVID vaccines.
"Ivermectin got made into a horse tranquilizer. Hydroxychloroquine got made ridiculous, and there was only one thing that could work, and that's the vaccine, and ultimately, because of that, billions of dollars were made," he said to Maher.
The U.S Food and Drug Administration (FDA) has not authorized or approved ivermectin for the treatment of COVID, and it is only approved for use in humans to treat infections caused by some parasitic worms, head lice and skin conditions such as rosacea.
The FDA also warned that "it is not okay" to take large doses of ivermectin and that clinical trials assessing ivermectin tablets for the prevention or treatment of COVID are still ongoing.
"The most effective ways to limit the spread of COVID-19 include getting a COVID-19 vaccine when it is available to you and following current [Centers for Disease Control and Prevention] guidance," the FDA's website says.
Hydroxychloroquine and chloroquine are approved by the FDA to treat or prevent malaria and to treat some autoimmune conditions such as chronic discoid lupus erythematosus, systemic lupus erythematosus in adults and rheumatoid arthritis. But the FDA said they are not shown to be safe or effective in the treatment of COVID.
"They are being studied in clinical trials for COVID-19, and we authorized their temporary use during the COVID-19 pandemic for treatment of the virus in hospitalized patients when clinical trials are not available, or participation is not feasible, through an Emergency Use Authorization (EUA)," the FDA says on its website.
It added: "The EUA was based upon limited evidence that the medicines may provide benefit, and for this reason, we authorized their use only in hospitalized patients under careful heart monitoring."
The actor is no stranger to promoting conspiracy theories about the pandemic, including the one claiming that 5G cellular networks were linked to the virus.
He also said in Vanity Fair he didn't believe face masks work to limit the spread of COVID. "As one who doesn't believe in the germ theory, I find it rather absurd," he told the magazine last year.
Newsweek reached out to Harrelson's representatives for comment.