Woolsey Fire News: Malibu Under Mandatory Evacuations Due to California Brushfire
The city of Malibu is under mandatory evacuation orders as the Woolsey fire continues to threaten Ventura County and its surrounding communities in California on Friday.
The Woolsey Fire has already scorched 8,000 acres and is at zero percent containment as of Friday, fire officials told Accuweather. The alert for the mandatory evacuations were sent out on Friday. The mandatory evacuations are now in effect for all of the city of Malibu and areas south of 101 Freeway from the Ventura County line to Malibu Canyon and southward to the ocean, according to the alert sent by the city.
The city alert advises evacuees should travel on the Pacific Coast Highway (PCH) and avoid canyon roads. The alert also advises caution while traveling due to the power outages in Big Rock and Carbon Beach areas in Malibu. There are also traffic signal outages on the PCH from Topanga Canyon to John Tyler, according to the alert.
There is currently a large animal evacuation center set up at the Zuma Beach parking lot in Malibu and another at the Hansen Dam Equestrian Center, according to the alert. The nearest evacuation center for residents in Malibu is Palisades High School.
There have also been mandatory evacuation orders already in place north of 101 Fwy from Valley Vista to Reyes Adobe, as well as communities of Agoura Hills, Westlake Village, and Calabasas, due to the Woolsey Fire.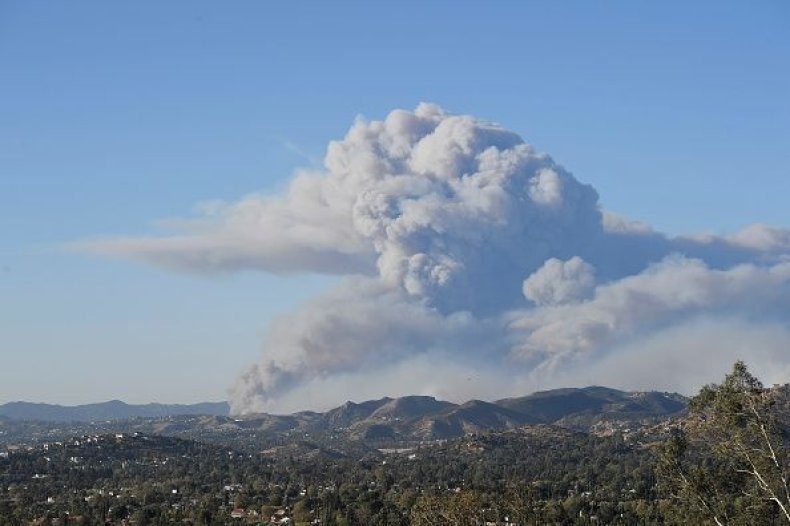 The brush fire scorching through parts of southern California had burned multiple structures as of Friday, according to the Los Angeles Times. The Ventura County Fire Department told the publication that about 75,000 homes in Ventura and Los Angeles counties were under mandatory or voluntary evacuation orders due to the blaze.
"The wind is definitely pushing this thing toward the ocean just like the Springs Fire a few years ago," Ventura County fire captain Brian McGrath told the Los Angeles Times. "It's very fast."
The fire sparked around 2:25 p.m. on Thursday. The Los Angeles County Fire Department tweeted a list of evacuation centers on Friday for those leaving their homes; they include the Borchard Community Center, Rancho Santa Susana Rec Center, Camarillo Community Center, 1000 Oaks Teen Center, Goebel Community Center, Taft High School and Pierce College.
On Friday, Pepperdine University announced it was shutting down its campuses in Malibu and Calabasas due to the Woolsey fire, The Malibu Times reported.
"Faculty and staff who work at the Malibu and Calabasas campuses should not report to work unless they are critical support personnel," Pepperdine said. Malibu schools were also closed, The Malibu Times tweeted.
This story has been updated to include that all of the city of Malibu is under mandatory evacuation.