Woolsey Fire Map: Latest Update Shows Over Two Thirds of 'Extreme' California Blaze Still Not Contained
Cal Fire estimated that the sprawling Woolsey fire raging in the Los Angeles area would not be fully contained by firefighters until some time on Thursday, as crews focused resources on protecting people and buildings.
According to Cal Fire's latest incident update, the Woolsey fire extended to 93,662 acres, and as of 7 p.m. PT on Monday, was only 30 percent contained.
Two people have died in the fire, and three firefighters have been injured. A total of 57,000 structures have been threatened, and 435 have have already been destroyed. Mandatory evacuations were in place across affected areas.
"Due to extreme fire behavior, firefighting efforts have been focused, and will remain focused, on the protection of life, and structures," Cal Fire said in its update.
"Crews will continue to reinforce containment lines throughout the evening. Steep terrain, limited access, and extreme fire behavior will continue to challenge crews. Weak to moderate Santa Ana winds will persist through the night with gusts around 30 mph."
The areas of California affected by the Woolsey fire include Thousand Oaks, Oak Park, Westlake Village, Agoura Hills, West Hills, Simi Valley, Chatsworth, Bell Canyon, Hidden Hills, Malibu and Calabasas.
Cal Fire said 83 percent of all National Parks Service land in the Santa Monica Mountains National Recreation Area has been burned by the Woolsey fire.
"All National Parks Service lands in the Santa Monica Mountains National Recreation Area are closed to public entry for safety," the fire agency said.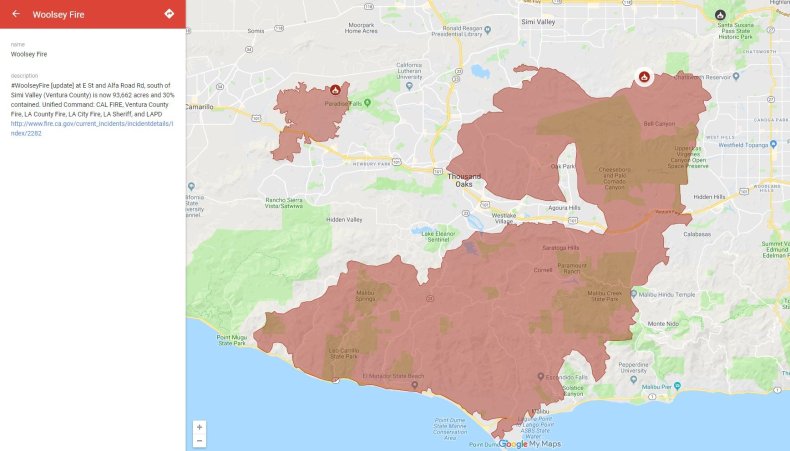 Among those evacuated from their homes are reality TV star Kim Kardashian West and her rapper husband, Kanye West, who live in Calabasas with their children. The couple had hired firefighters to defend their $60 million home by digging ditches as a firebreak and hosing down the area.
Other celebrities affected by the fire include Caitlyn Jenner, Cher, Lady Gaga, Guillermo Del Toro, Martin Sheen and Alyssa Milano.
Actor Gerard Butler posted a picture to Twitter of his destroyed home in Malibu.
"Heartbreaking time across California. Inspired as ever by the courage, spirit and sacrifice of firefighters," Butler wrote.
Singer Miley Cyrus also lost her home in the fire. She tweeted: "Completely devastated by the fires affecting my community. I am one of the lucky ones. My animals and LOVE OF MY LIFE made it out safely & that's all that matters right now. My house no longer stands but the memories shared with family & friends stand strong. I am grateful for."