Today's 'Wordle' Word #229 Answer and Clues—February 3
Wordle #229 is not the easiest to guess, but you can make things a little simpler for yourself by using Newsweek's hints and tips.
Everybody has their own strategy for working through these daily puzzles, whether you have a starter word you particularly are fond of using, or you just like to dedicate your first couple of goes to eliminating certain letters. Even Josh Wardle (the game's developer) admits to not being the best player in the world, but has a tactic that apparently serves him well.
In short, there are no right or wrong ways to play Wordle, which is obviously part of its core appeal. Fans like comparing their different approaches and varying results, using those color-coded grids that are now ubiquitous on social media.
It is that aspect of friendly competition (as you try and solve each puzzle in fewer attempts than your friends and relatives) that has made the game such a hit in English-speaking countries, to the point where the New York Times Company has now purchased it from Wardle for an undisclosed seven-figure amount. The below graphic, from Statista, charts this astronomic growth of Wordle users since October 2021.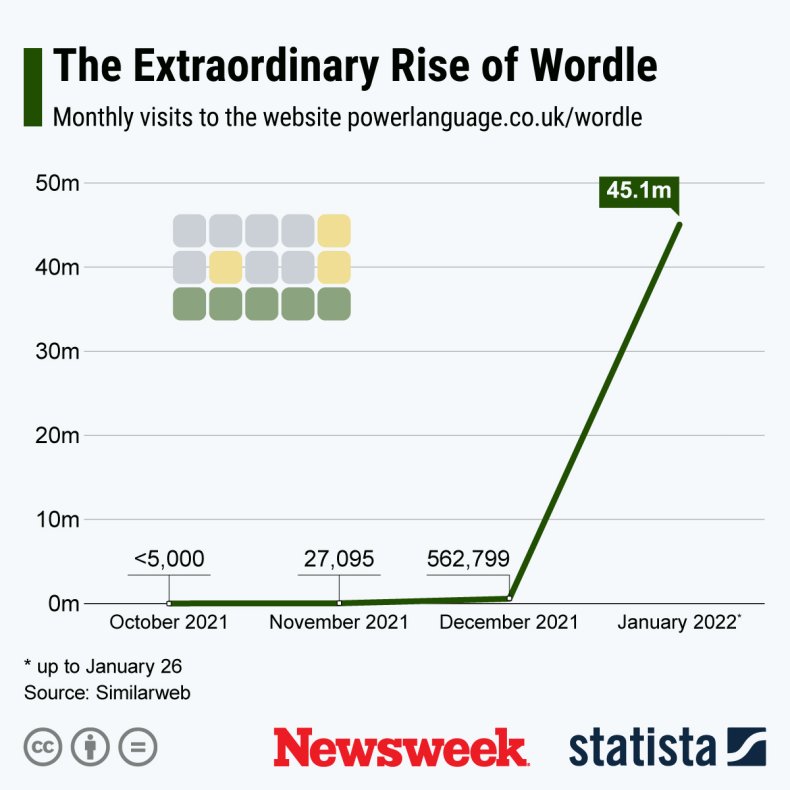 While finding you own unique way to crack Wordle puzzles is part of the fun, it can get a little frustrating when inspiration doesn't strike. With that said, Newsweek has prepared a short guide to help you with the latest word for Thursday, February 3.
Wordle #229 Tips for February 3
The answer for Wordle #229 is featured at the very bottom of this article, so that those who just want a nudge in the right direction don't have it completely spoiled for them.
Speaking of which, the following clues have been arranged in order of how much they give away, with them getting progressively easier.
Hint #1: There are no repeated letters in the word, nor are there any rarely used characters like "Q", "X" or "Z."
Hint #2: Today's puzzle starts with a consonant digraph. This means that the first two letters of the word combine to form a single phoneme, such as "TH", "CH" and "SH". For an extra hint, we can confirm that one of those examples is right in this instance.
Hint #3: There is only a single vowel in Wordle #229, so once you've figured that out you don't need to guess any of the others.
Hint #4: The answer rhymes with "card" and "bard".
Hint #5: It is a noun, with synonyms that include "fragment" and "chip."
Hint #6: Merriam-Webster defines Wordle #229 as a "piece [...] of a brittle substance."
Wordle #229 Answer
The answer to Wordle #229 on February 3 is "Shard." This wasn't quite as tricky as Wednesday's solution, but if you got hung up on trying to guess all the vowels then you may have wasted a few attempts.
Wordle is currently free to play via its own dedicated webpage. There's only one puzzle a day, which refreshes every 24 hours at 7 p.m. ET.